METALITALIA.com FESTIVAL 2014: il trailer ufficiale del festival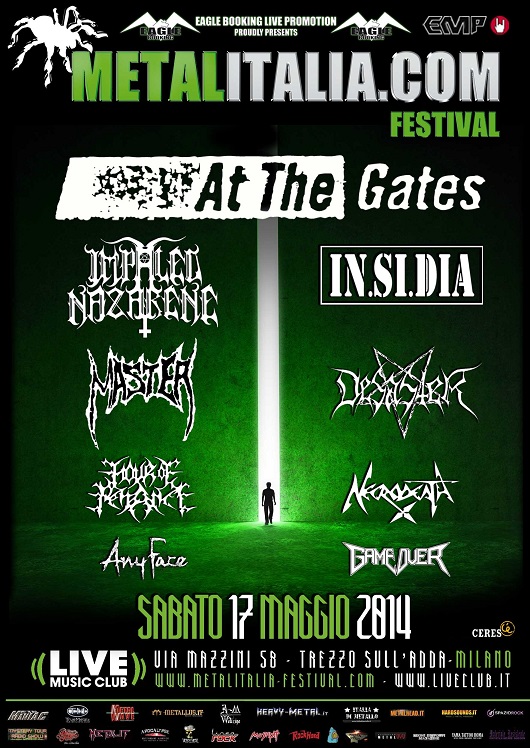 A questo indirizzo (
http://youtu.be/QG1BMW41X1c
) è disponibile il trailer realizzato da Nina Ramirez Art (
http://www.facebook.com/ninaramirezphotographer
) e dedicato alla terza edizione del METALITALIA.com FESTIVAL che vedrà alternarsi sul palco del Live Music Club di Trezzo Sull'Adda (MI) ben 9 band del panorama internazionale e nazionale.
Sabato 17 Maggio 2014
METALITALIA.COM FESTIVAL 2014
Live Music Club
Via Mazzini 58, Trezzo Sull'Adda Milano (MI)
AT THE GATES
IMPALED NAZARENE
IN.SI.DIA
MASTER
DESASTER
HOUR OF PENANCE
NECRODEATH
ANY FACE
GAME OVER
Nell'area estiva, appositamente attrezzata anche in caso di maltempo, oltre all'immancabile Metal Market con CD e merchandising saranno presenti anche punto ristoro, area relax e zona meet & greet dove sarà possibile incontrare le band!
Il Live Music Club è provvisto di ampi parcheggi gratuiti e un ristorante al piano superiore, dal quale è possibile assistere direttamente al concerto.
Evento Facebook:
http://www.facebook.com/events/503818519729193/
Il costo del biglietto è di €30 più diritti di prevendita. Prezzo in cassa €35
Le prevendite sono disponibili attraverso i seguenti circuiti e rivendite autorizzate:
TICKET ONE
M@ILTICKET
LIVE CLUB
Info:
METALITALIA.COM
http://www.metalitalia-festival.com
http://www.facebook.com/Metalitalia.comFestival
http://www.metalitalia.com
LIVE MUSIC CLUB
http://www.liveclub.it
EAGLE BOOKING LIVE PROMOTION
http://www.eaglebooking.com
EMP Mailorder Italy
http://www.emp-online.it
Supported By:
CERES
http://www.ceres.com
NINA RAMIREZ ART
http://www.facebook.com/ninaramirezphotographer
Inserita da:
Jerico
il 05.05.2014 - Letture:
1772
Articoli Correlati
Altre News di MetalWave
Notizia Precedente
Notizia Successiva