Necrodeath «Phylogenesis» (2009)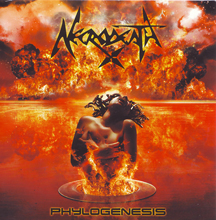 Autore:
Night Wolf

»
Recensione Pubblicata il:
--
Visualizzazioni:
2914
Band:
Necrodeath




Titolo:
Phylogenesis
Nazione:
Italia
Formazione:
Flegias – Voce
Peso – Batteria
Pier – Chitarra
Gl – Basso
Genere:
Durata:
48' 30"
Formato:
CD
Data di Uscita:
2009
Etichetta:
Distribuzione:
---
Agenzia di Promozione:
---
Recensione
Attendevo da molto questo momento, ovvero ascoltare "Phylogenesis", la nuova fatica dei nostrani Necrodeath, gruppo storico e pilastro della nostra penisola. Comincio a dirvi che sono cambiati, non del tutto, ma hanno subito mutazioni nel sound non indifferenti, "Phylogenesis" è sicuramente un disco thrash e cattivo a tutti gli effetti ma senza quella vena Black che si ascoltava agli esordi o nel fantastico "100%Hell", addirittura sembra che il quartetto si sia cimentato in una sorta di sperimentazione che a mio parere è un po' fuori luogo. In parte è un dispiacere non sentire più quel profondo tocco Black degno e caratteristico dei Necrodeath, fatto sta comunque che "Phylogenesis" non è assolutamente un cattivo album, anzi… La batteria di Peso è sempre un rullo compressore: tecnico e preciso, una vera macchina schiacciasassi, Pier come al solito fa filare quella chitarra in modo egregio, Flegias riesce sempre a far dei notevoli cambi con la sua voce: tra growl e screaming il giovane è ormai un vero asso e infine anche il nuovo acquisto GL è un bassista di buone doti. Questo lavoro sfornato da Peso e soci sarà un disco che piacerà sicuramente ad un appassionato o ascoltatore del genere ma deluderà i Fan più stretti; c'è da dire che lo stesso il sound è poco più limpido e pulito rispetto al solito. Comunque come già detto, a conti fatti "Phylogenesis" è un disco rispettabile che a suo modo si fa valere: massicci riff, assoli strabilianti ed una batteria da far paura che in un momento è forte è veloce e in un altro lieve e calmo. Bisogna tener conto di tracce come l' opener "Awakening Of Dawn", la tecnica "The Theory", "Propitation Of The Gods" e la successiva "Cloned World" particolare per avere una struttura piano/forte molto interessante. Con "Phylogenesis" siamo all' ottava uscita discografica dei leggendari Necrodeath, conoscendo un po' il pubblico Italiano di questa meravigliosa scena Hard'n'Heavy, penso ci saranno tanti complimenti ma a suo tempo anche tantissime critiche che non mireranno alla scadenza del disco perché "Phylogenesis" in complesso è un bel disco e su questo nulla ci piove ma si riferiranno più che altro al cambio di sound. Peso, Flegias, Pier e GL sono esperti e caparbi musicisti, tecnicamente il disco mostra delle finezze davvero lodevoli, dimostrando il valore dei ragazzi.
Track by Track
Awakening Of Dawn

70

I.N.R.I.

60

The Theory

75

Extreme Emotional Shock

75

Time Never Dies

60

Propitiation Of The Gods

70

Cloned World

70

Persuasive Memory

65

Final War

65
Giudizio Confezione
Qualità Audio:

70

Qualità Artwork:

65

Originalità:

50

Tecnica:

80
Recensione di
Night Wolf

»
pubblicata il --. Articolo letto
2914
volte.
Articoli Correlati