Necrodeath «Old Skull» (2010)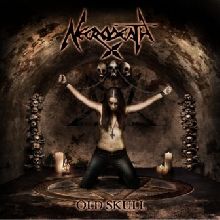 Autore:
Crash

»
Recensione Pubblicata il:
--
Visualizzazioni:
2685
Band:
Necrodeath




Titolo:
Old Skull
Nazione:
Italia
Formazione:
Flegias - Voce
Pier - Chitarra
GL - Basso, Cori
Peso - Batteria
Genere:
Durata:
43' 37"
Formato:
CD
Data di Uscita:
2010
Etichetta:
Distribuzione:
---
Agenzia di Promozione:
---
Recensione
E per festeggiare degnamente un quarto di secolo di carriera i Necrodeath, vero pezzo di storia vivente del metal italiano, ci propone nientemeno che un album di cover di alcuni dei brani che hanno maggiormente influenzato la loro carriera e non solo. I nomi sono dei migliori: si va dagli immancabili Slayer e Venom fino a Black Sabbath e Motorhead tra gli altri. Oltre alla manciata di cover Flegias e compagnia hanno pensato bene di inserire la celeberrima Mater Tenebrarum, sia nella versione demo dell'85 che in una recente re-registrazione. Sulle due Mater Tenebrarum c'è poco da dire, entrambe perfette ma per ragioni affettive, temiamo, la versione originale resta sempre la migliore. Mentre per quanto riguarda le cover, dobbiamo dire che quelle di Slayer e Bathory funzionano alla grande, un po' meno Pleasure to Kill dei Kreator ed Ace Of Spades dei Motorhead: la prima è talmente veloce e nervosa da smarrire la propria anima nella folle corsa, mentre l'adattamento riff della seconda non ci convince granchè. Molto bella Sodomy and Lust e davvero simpatica Paranoid. Ma il vero capolavoro è Am I Evil? dei Diamondhead, probabilmente la cover meglio riuscita che ci è capitato di sentire dei metallers inglesi. Ci auguriamo che qualche fan giovincello dei genovesi abbia così modo di conoscere qualche band fondamentale del passato, dato che i mala tempora che attualmente occurunt hanno creato un'orda di metallarozzi ignorantelli e imbecillotti, convinti che il thrash lo abbiano inventato i Trivium. In ogni caso, davvero un bel modo di festeggiare le nozze d'argento col metal.
Track by Track
Mater Tenebrarum

90

Black Magic (Slayer cover)

75

Raise the Dead (Bathory cover)

75

Pleasure to Kill (Kreator cover)

60

Paranoid (Black Sabbath cover)

80

Sodomy and Lust (Sodom cover)

75

Bloodlust (Venom cover)

70

Ace of Spades (Motörhead cover)

60

Am I Evil? (Diamond Head cover)

90

Mater Tenebrarum (versione 1985)

100
Giudizio Confezione
Qualità Audio:

85

Qualità Artwork:

75

Originalità:

60

Tecnica:

80
Recensione di
Crash

»
pubblicata il --. Articolo letto
2685
volte.
Articoli Correlati