METALITALIA.COM FESTIVAL 2018: gli ELDRITCH rinunciano, al loro posto i WHITE SKULL con uno show esclusivo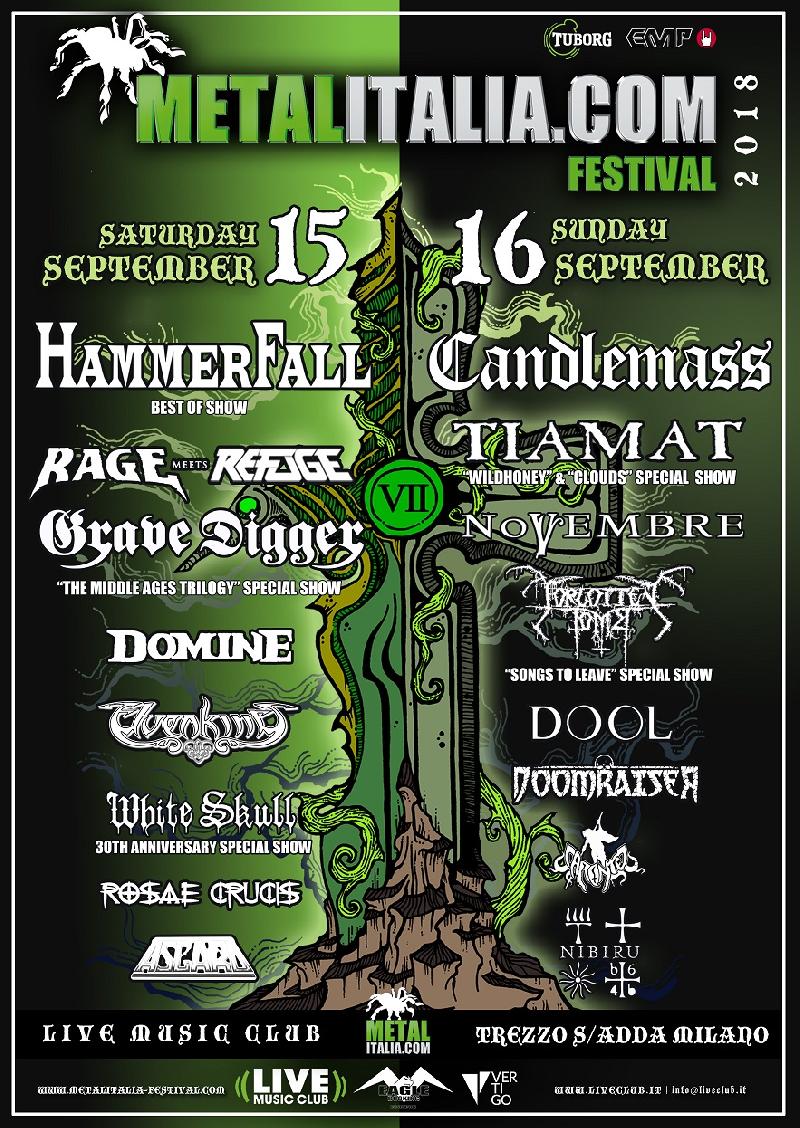 Gli ELDRITCH sono stati costretti ad annullare la loro partecipazione al Metalitalia.com Festival 2018 prevista per la giornata del 15 settembre. Ecco il comunicato della band:
"Ci spiace dover comunicare che noi ELDRITCH non potremo partecipare al MetalItalia.com Festival 2018 per motivi personali di un paio di elementi della band. Chiediamo scusa e speriamo di poterci rifare in altre occasioni."
Al loro posto siamo lieti di annunciare i WHITE SKULL che per l'occasione festeggeranno i 30 anni di carriera con uno show esclusivo dedicato ai loro album di maggior successo: "Tales From The North" e "Public Glory, Secret Agony"!
A questo indirizzo (
https://www.facebook.com/Metalitalia.comFestival/videos/666358067067379/
) è disponibile un video-invito della band.
METALITALIA.COM FESTIVAL 2018
WARM-UP – 14 SETTEMBRE 2018
CRIPPLE BASTARDS (30 years special show)
RAW POWER
SCHELETRO
VIDE
DAY 1 – 15 SETTEMBRE 2018
HAMMERFALL (best of show)
RAGE meets REFUGE
GRAVE DIGGER ('The Middle Age Trilogy' special show)
DOMINE
ELVENKING
WHITE SKULL (30th Anniversary Special Show)
ROSAE CRUCIS
ASGARD
DAY 2 – 16 SETTEMBRE 2018
CANDLEMASS
TIAMAT ('Wildhoney' & 'Clouds' special show)
NOVEMBRE
FORGOTTEN TOMB ('Songs To Leave' special show)
DOOL
DOOMRAISER
CARONTE
NIBIRU
BIGLIETTI:
Singola giornata in prevendita: €35.00 + diritti
Singola giornata in cassa: €40.00
Abbonamento in prevendita incluso warm-up: €60 + diritti
Abbonamento in cassa incluso warm-up: €70 + diritti
Warm-up in prevendita: € 10 + diritti
Warm-up in cassa: € 10
Prevendite disponibili su Ticketone, Mailticket e punti vendita autorizzati.
EVENTO FACEBOOK Festival a questo indirizzo:
https://www.facebook.com/events/168465813845744/
EVENTO FACEBOOK Warm-Up Party a questo indirizzo:
https://www.facebook.com/events/193497087860014/
Info:
METALITALIA.COM
http://www.metalitalia-festival.com
http://www.facebook.com/Metalitalia.comFestival
http://www.metalitalia.com
EAGLE BOOKING
http://www.eaglebooking.com
http://www.facebook.com/eaglebooking.livepromotion
VERTIGO
http://www.vertigo.co.it
http://www.facebook.com/vertigo.co.it
LIVE MUSIC CLUB
http://www.liveclub.it
Supported By
EMP Mailorder Italia
http://www.emp-online.it
Tuborg
http://www.tuborg.it
Inserita da:
Jerico
il 28.08.2018 - Letture:
1482
Articoli Correlati
Altre News di MetalWave
Notizia Precedente
Notizia Successiva