Judas Priest + Domine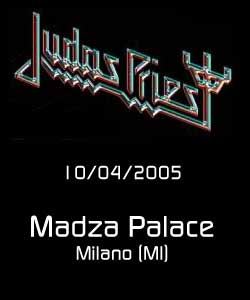 Data dell'Evento:
10.04.2005
Band:
Judas Priest
Domine
Luogo dell'Evento:
Madza Palace
Città:
Milano (MI)
Promoter:
Live in Italy

Autore:
Jo3p3rry

»
Visualizzazioni:
1833
Live Report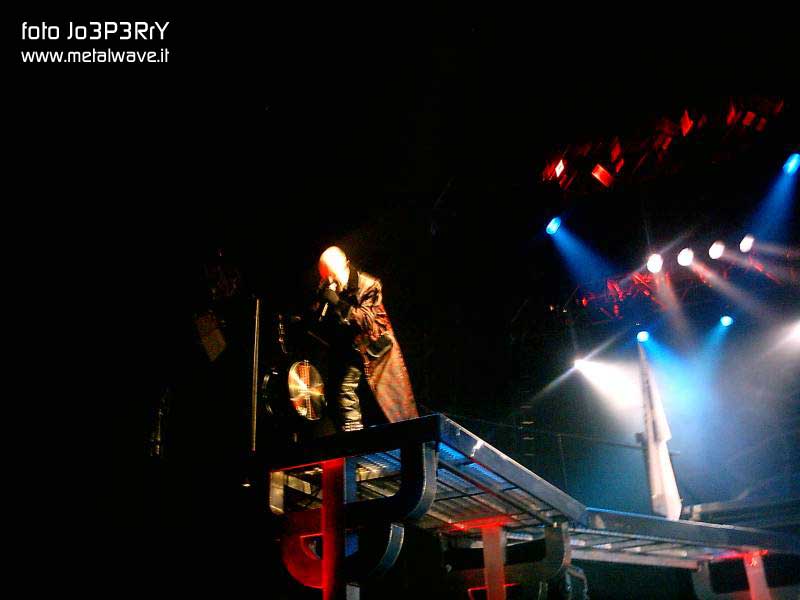 Quando una band come i Judas arriva in Italia è di ovvia immaginazione un tutto esaurito. E infatti è così. Molti fan sono presenti sin dalle prime ore del mattino per una attesa favorita da un sole non pesante, ma godibile. Dopo l'apertura dei cancelli e una breve attesa salgono sul palco i Domine. I toscani propongono un velocissimo set di poco più di trenta di minuti tra cui vi ricordo con piacere l'esibizione delle godibilissime Thunderstorm e della lunghissima The Aquilonia Suite. La band - che ha sostituito all'ultimo momento i Paradise Lost causa appendicite del chitarrista - ha sicuramente sofferto l'essere opener dei Judas Priest, ma sicuramente ha svolto il compito alla grande. Dopo una piccola attesa alle nove abbondanti salgono sul palco i Judas Priest e inizia finalmente lo show. Rob Halford entra dalla pupilla di un occhio gigante posto al centro dello stage ed è subito il delirio quando il singer inizia a cantare le prime note di Electric Eye. La scenografia è molto ben costruita con diverse piattaforme elevate. Il concerto continuerà attraverso un'alternanza tra i classici della band - molti - e i nuovi pezzi - molto pochi - tutti quanti salutati dalla band. Ben acclamate dal nuovo pubblico il nuovo singolo Revolution che rispetto alla versione dell'album risulta molto più godibile - così come Judas Rising e le altre nuove estratte. Ovviamente i boati avvengono per gli storici pezzi. E così il pubblico composto da gente di ogni età va in visibilio quando la band suona The Ripper, Diamonds & Rust, Victim Of Changes e una Painkiller tiratissima che chiude la prima parte di set. E poco importa quando la band sbaglia totalmente l'attacco di Breaking The Law per eccesso di show. La serata è stata la festa del metallo. Impossibile non citare l'esecuzione non impensabile ma di sicuro non attesa di Green Manalishi. Dopo una breve pausa la band sale sul palco per gli ultimi cavalli di battaglia. E' l'ora di Hell Bent For Leather cantata da Rob in Harley con tanto di acuti a diaframma ridottissimo - ma come fa??? - della storica Living After Midnight e di You've Got Another Thing Comin' che chiude 2 ore abbondanti del concerto di una delle storiche band che hanno scritto la storia del metallo. In generale quello dei Judas è stato un ottimo show sicuramente troppo ben costruito, ovvio in lunga parte, ma allo stesso tempo veramente affascinante. Sicuramente una signora prova.
Immagini della Serata
Recensione di
Jo3p3rry
Articolo letto
1833
volte.
Articoli Correlati