METALITALIA.COM FEST 2018: annunciata la line-up completa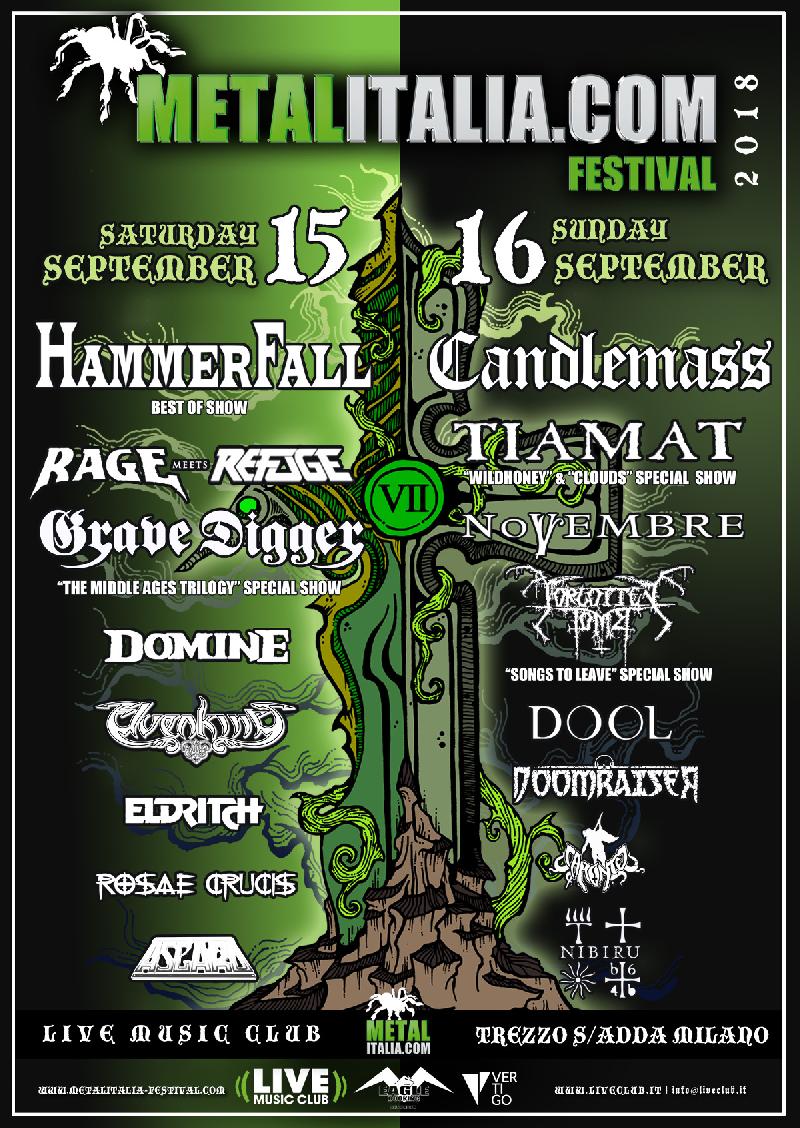 Ancora una volta il main fest si svolgerà nell'arco di due giorni: sabato 15 settembre e domenica 16 settembre. Per la prima volta nella nostra storia è stato programmato anche un warm up party. Lo spettacolo pre-festival si terrà venerdì 14 settembre!
Metalitalia.com Festival continua a sforzarsi di portare le più grandi band del mondo al Live Club di Trezzo sull'Adda (Milano), dando alle band emergenti la possibilità di supportare queste band e progredire in avanti mantenendo la scena fiorente!
Una bella collezione di classici / power metal, epici, doom, black metal e simili e persino uno speciale warm-up è stato messo insieme con la massima cura per divertimento oltre ad una audizione speciale, se vorrete. Riteniamo di essere riusciti a superare ancora una volta l'edizione dell'anno scorso. Date un'occhiata a ciò che abbiamo in serbo qui:
RISCALDAMENTO - Venerdì 14 settembre 2018: - Allinea presto il revelead! -
GIORNO 1 - Sabato 15 settembre 2018
Il primo giorno dell'evento principale sarà interamente dedicato al classico e al power metal in tutte le sue sfumature e glorie. Il conto sarà sormontato dagli eroi svedesi del power metal HAMMERFALL, che festeggiano il loro 25 ° anno di vita, insieme all'istituzione tedesca del power metal RAGE. All'inizio della serata, il frontman Peavy Wagner sarà affiancato dagli amici di lunga data Chris Efthimiadis e Manni Schmidt sotto il nome di REFUGE per eseguire i brani dei primi anni di RAGE insieme ai nuovi successi del loro album di debutto anticipato "Solitary Men".
Inoltre, siamo lieti di poter confermare gli highlander tedeschi GRAVE DIGGER: questi metallografi di lunga data eseguiranno un set molto speciale basato sulla loro ormai leggendaria "Trilogia del Medioevo", che include capolavori come "Tunes Of War", "Knights". Of The Cross "e" Excalibur ".
La formazione è completata dai leader epici metal italiani DOMINE, insieme all'istituzione metal folk ELVENKING, i metal progress ELDRITCH, l'epico power metal band ROSAE CRUCIS e speed metal newcomers ASGARD!
GIORNO 2 - Domenica 16 settembre 2018
Dopo aver orchestrato la gloria e l'oscurità attraverso festival e luoghi in tutta Europa e oltre, i maestri di doom metal CANDLEMASS saranno i protagonisti del secondo giorno della manifestazione. La band sta lavorando ad un nuovo album e ha appena pubblicato un nuovo EP intitolato "House Of Doom". CANDLEMASS saranno uniti dai connazionali TIAMAT. Johan Edlund ei suoi amici non visitano l'Italia da un po 'e per l'occasione si esibiranno in un set molto speciale che copre i loro capolavori "Clouds" e "Wildhoney" per intero!
Anche l'italiana melodic death-doom metal instituion, NOVEMBRE, si unisce al cast eclettico, insieme al famigerato commando black-doom / depressive black FORGOTTEN TOMB, che eseguirà il loro album di debutto molto influente "Songs To Leave" per intero! I dozzinali rocker DOOL sventoleranno la bandiera per i Paesi Bassi, mentre i classici DOOMRAISER di Roma, gli rocker-stoner CARONTE e i metal occulti doom NIBIRU completano un'invasione sotterranea italiana.
Inserita da:
Wolverine
il 09.06.2018 - Letture:
1443
Articoli Correlati
Altre News di MetalWave