METALITALIA.COM FESTIVAL 2018: il bill completo delle due giornate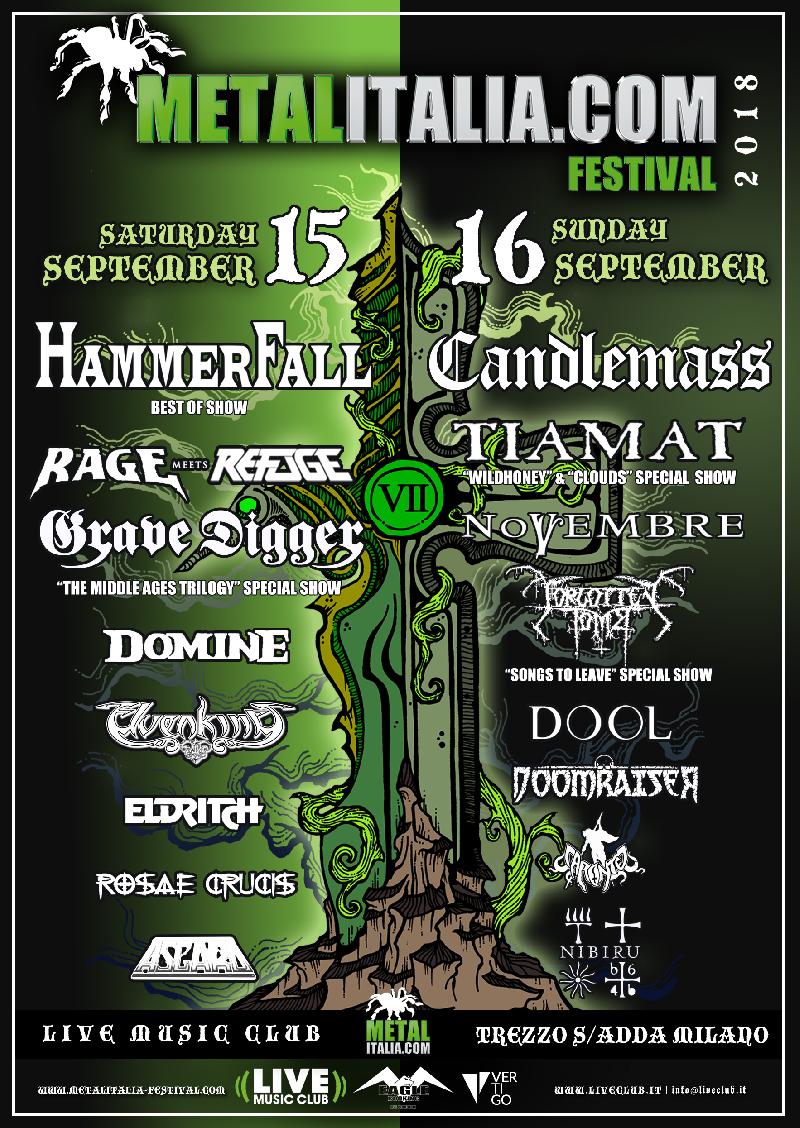 Metalitalia.com, Eagle Booking e Vertigo sono liete di annunciare tutte le band che suoneranno nelle due giornate principali del Metalitalia.com Festival 2018, evento che si terrà al Live Music Club di Trezzo sull'Adda (MI) nei giorni 14 (warm-up), 15 e 16 settembre 2018:
DAY 1 - Sabato 15 SETTEMBRE 2018
La prima vera giornata del Metalitalia.com Festival 2018 sarà dedicata al power metal nelle sue varie sfumature. Co-headliner saranno gli HAMMERFALL con un esclusivo e lungo best-of show di soli classici che coprirà l'intera venticinquennale carriera della band svedese!
Il secondo headliner sarà invece un'accoppiata che per la prima volta in Italia presenterà la storia di una band cardine del power europeo: RAGE con la formazione attuale e REFUGE con la lineup storica del gruppo, composta da Peavy, Chris Efthimiadis e Manni Schmidt per una carrellata di brani recenti e grandi classici presi da album seminali come "Trapped" e "The Missing Link"!
A precederli un'altra corazzata del power teutonico, i GRAVE DIGGER, anche loro con uno show speciale incentrato sulla "The Middle Ages Trilogy", ossia la tripletta di epici album "Tunes Of War", "Knights Of The Cross" ed "Excalibur".
Ancora epic power con gli storici DOMINE, mentre con gli ELVENKING ci sarà spazio anche per quelle influenze folk che da ormai vent'anni caratterizzano il sound di una delle band italiane più seguite a livello internazionale nel metal melodico.
Prima di loro il power progressive degli ELDRITCH, il classic power battagliero dei ROSAE CRUCIS e lo speed degli ASGARD!
DAY 2 - Domenica 16 SETTEMBRE 2018
La seconda e ultima giornata del festival sarà invece più oscura, pesante e doom! Con queste premesse non potevano certo mancare gli alfieri del doom metal CANDLEMASS! La band svedese capitanata da Leif Edling, attualmente al lavoro sul nuovo album e forte della presenza in formazione del fenomenale cantante Mats Levén, terrà uno show ricco dei classici che hanno fatto la storia del genere.
Ad affiancarli in veste di co-headliner i connazionali TIAMAT con uno show imperdibile per i fan del gothic doom. Johan Edlund e soci suoneranno infatti per intero gli album capolavoro "Clouds" e "Wildhoney"!
Prima di loro un'accoppiata italiana di assoluto livello: gli storici NOVEMBRE, da sempre portabandiera del panorama melodic death-doom grazie a dischi come "Arte Novecento", "Classica" o all'ultimo "URSA", e i FORGOTTEN TOMB che per l'occasione eseguiranno in esclusiva l'album seminale "Songs To Leave".
Ci sarà spazio anche per una band internazionale tra le più seguite del panorama doom rock psichedelico attuale: gli olandesi DOOL che con il loro album di debutto "Here Now, There Then" hanno raccolto grandi consensi in tutto il mondo.
Completano il programma della giornata i doomster vecchia scuola DOOMRAISER, i sempre più seguiti CARONTE dalle venature stoner e hard rock settantiano e infine i NIBIRU con il loro sludge doom occulto, per una giornata tra le più suggestive mai viste al festival!
WARM-UP - Venerdì 14 SETTEMBRE 2018:
Le due giornate del festival saranno precedute da un warm-up di cui vi daremo i dettagli a metà giugno!
Come in occasione delle precedenti sei edizioni, il Metalitalia.com Festival offrirà anche un'ampia area esterna dove sarà possibile incontrare gli artisti in meet & greet aperti a tutto il pubblico e nella quale saranno presenti numerosi stand di merchandise, CD, vinili, strumenti musicali, punti ristoro e molto altro. Il Live Club è inoltre provvisto di ampi parcheggi gratuiti e un ristorante al piano superiore, dal quale è possibile assistere direttamente al concerto.
METALITALIA.COM FESTIVAL 2018
WARM-UP - 14 SETTEMBRE 2018
-- tba--
DAY 1 - 15 SETTEMBRE 2018
HAMMERFALL (best of show)
RAGE meets REFUGE
GRAVE DIGGER ('The Middle Age Trilogy' special show)
DOMINE
ELVENKING
ELDRITCH
ROSAE CRUCIS
ASGARD
DAY 2 - 16 SETTEMBRE 2018
CANDLEMASS
TIAMAT ('Wildhoney' & 'Clouds' special show)
NOVEMBRE
FORGOTTEN TOMB ('Songs To Leave' special show)
DOOL
DOOMRAISER
CARONTE
NIBIRU
BIGLIETTI:
Singola giornata in prevendita: €35.00 + diritti
Singola giornata in cassa: €40.00
Abbonamento in prevendita incluso warm-up: €60 + diritti
Abbonamento in cassa incluso warm-up: €70 + diritti
Warm-up in cassa: € 10
Prevendite disponibili su Ticketone, Mailticket e punti vendita autorizzati.
EVENTO FACEBOOK a questo indirizzo:
http://www.facebook.com/events/168465813845744/
Info:
METALITALIA.COM
http://www.metalitalia-festival.com
http://www.facebook.com/Metalitalia.comFestival
http://www.metalitalia.com
EAGLE BOOKING
http://www.eaglebooking.com
http://www.facebook.com/eaglebooking.livepromotion
VERTIGO
http://www.vertigo.co.it
http://www.facebook.com/VertigoHardSounds
http://www.facebook.com/vertigo.co.it
LIVE CLUB
http://www.liveclub.it
Inserita da:
Jerico
il 01.06.2018 - Letture:
1411
Articoli Correlati
Altre News di MetalWave
Notizia Precedente
Notizia Successiva