THRASH METAL HELL FEST: tutti i dettagli del festival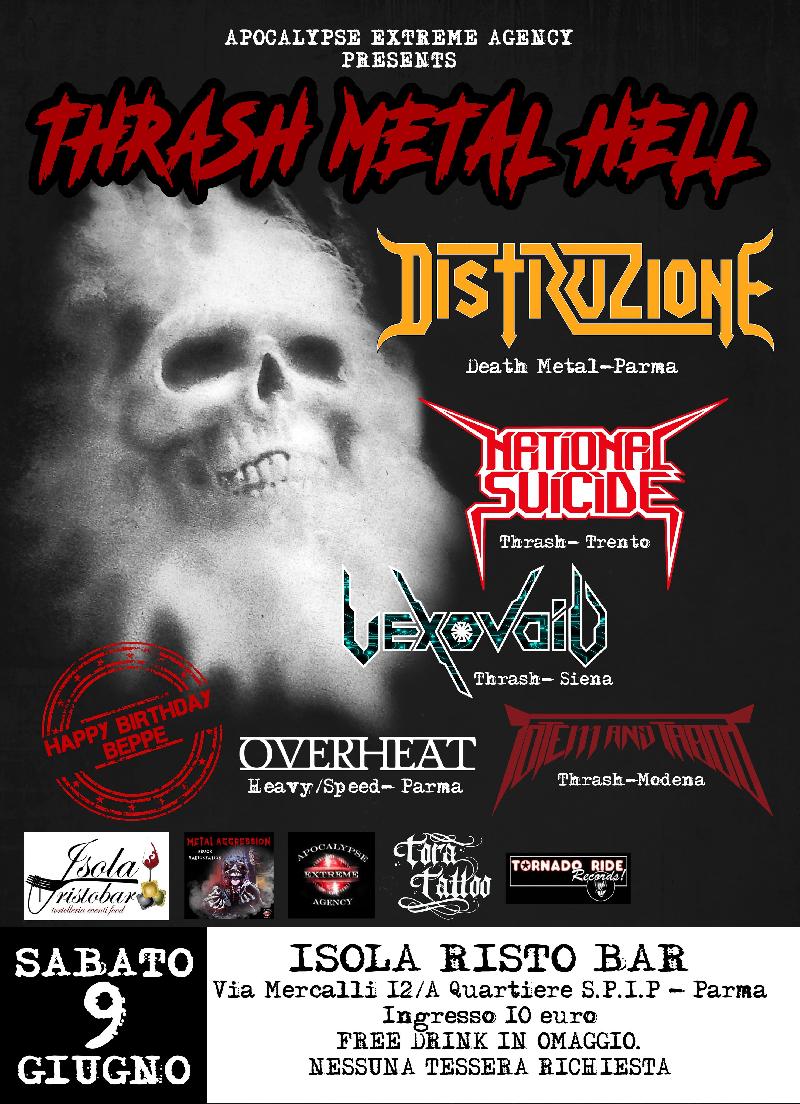 Manca poco al Thrash Metal Hell, festival open air, che vedrà protagoniste alcune tra le band più rinomate della scena underground italiana. L'evento si terrà sabato 9 giugno presso L'Isola Risto Bar di Parma.
Gli Headliners del festival saranno gli storici deathsters parmigiani DISTRUZIONE, attualmente in promozione il loro ultimo mini album "Inumana", e, da Trento, i NATIONAL SUICIDE, con il loro thrash metal old school senza compromessi.
Prima di loro, da Siena, ci saranno gli sci-fi thrashers VEXOVOID, mentre da Modena ci saranno i giovanissimi TOTEM AND TABOO. Il compito di aprire la serata, sarà affidato agli OVERHEAT, Heavy /Speed da Parma.
Siamo lieti di comunicare gli orari ufficiali della serata:
DISTRUZIONE 23:40
NATIONAL SUICIDE 22:30
VEXOVOID 21:40
TOTEM AND TABOO 20:40
OVERHEAT 19:50
Apertura Cancelli ore 19:30
Durante la serata e al termine dei concerti Dj Set old school all' nite!
A L'isola Risto Bar vi aspettano anche fiumi di birra ,panini e una vasta selezione di aperitivi e cocktails
SABATO 9 GIUGNO
THRASH METAL HELL OPEN AIR FEST
CON:
-DISTRUZIONE (Death/Thrash Parma)
-NATIONAL SUICIDE (Thrash Trento)
-VEXOVOID (Sci-Fi Thrash Siena)
-TOTEM AND TABOO (Thrash Modena)
-OVERHEAT (Heavy/Speed Parma)
Presso:
L'isola Risto Bar
Via Mercalli 13/A - Quartiere S.P.I.P.
Parma
INGRESSO 10 EURO CON FREE DRINK IN OMAGGIO
NESSUNA TESSERA RICHIESTA
Evento Facebook
http://www.facebook.com/events/373766409796170
L'evento si terrà anche in caso di maltempo.
Official Partners:
TORA TATTOO
Tornado Ride Records Italy
Punishment 18 Records
METAL AGGRESSION ON K-ROCK RADIO STATION
Info:
http://www.apocalypseextremeagency.com
Inserita da:
Jerico
il 01.06.2018 - Letture:
763
Articoli Correlati
Interviste
Live Reports
Spiacenti!

Non sono disponibili Live Reports correlati.
Altre News di MetalWave