ARMAGEDDON IN THE PARK 2013: nuove conferme e contest dedicato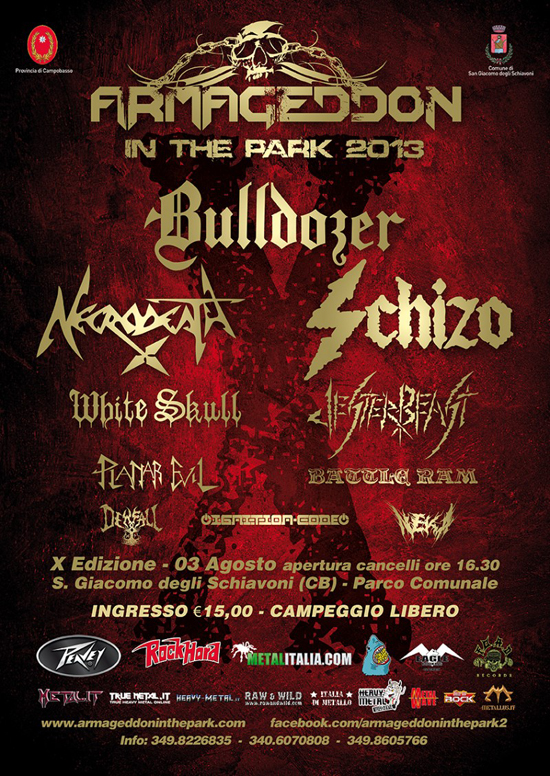 Armageddon In The Park in collaborazione con Bulldozer, Necrodeath e Schizo presenta:
"UNHOLY TRINITY CONTEST "
In occasione della decima edizione dell'Armageddon In The Park, lo staff AITP in accordo con Bulldozer, Necrodeath e Schizo metterà in palio 15 CD della Sacra Triade.
Basterà rispondere correttamente a queste tre domande:
1) Qual'è il titolo del primo demo storico dei Bulldozer del 1984, recentemente ristampato?
2) Qual'era il nome della prima incarnazione dei Necrodeath del 1984?
3) Come si chiama il progetto degli Schizo con cui insieme ai Necrodeath hanno realizzato un album?
Mandate una mail a contest@armageddoninthepark.com con scritto il vostro nome e cognome, città di provenienza e le 3 risposte corrette in ordine. Il contest inizierà lunedì 8 luglio e durerà fino alla mezzanotte di domenica 14 luglio, le mail inviate dopo questo limite o con dati mancanti non saranno considerate.
Dopo la chiusura del contest verrano sorteggiati e annunciati sui nostri canali web i 5 vincitori tra coloro che avranno risposto correttamente alle domande. Questi vinceranno 3 CD a testa (uno di ogni band, a scelta della band stessa) che potranno essere ritirati solo ed esclusivamente di persona all'Armageddon In The Park dopo l'esibizione dei Bulldozer. I vincitori riceveranno ulteriori comunicazioni per le modalità di ritiro del premio.
Inoltre annunciamo il bill definitivo dell'AITP 2013 con l'aggiunta di Dewfall (Epic Black/Death Metal da Bari), Ignition Code (Melodic Math Death Metal dall'Abruzzo) e Neka (Brutal/Death Metal da Foggia).
Si preannuncia una decima edizione tellurica e devastante, che vedrà le dieci band coinvolte dar fuoco alle polveri sin dalle prime ore del pomeriggio per una no-stop che si protrarrà fino a notte inoltrata!
Armageddon In The Park – Metal Fest
X EDIZIONE
Sabato 3 Agosto 2013
Parco Comunale
San Giacomo degli Schiavoni (CB)
BULLDOZER
NECRODEATH
SCHIZO
WHITE SKULL
JESTER BEAST
BATTLE RAM
PLANAR EVIL
DEWFALL
IGNITION CODE
NEKA
Ingresso: € 15 (no prevendita)
Apertura cancelli ore 16.30
Inizio concerti ore 17.00
ARMAGEDDON IN THE PARK Official Web Site:
http://www.armageddoninthepark.com
ARMAGEDDON IN THE PARK Official FB page:
http://www.facebook.com/armageddonintheparkofficial
ARMAGEDDON IN THE PARK Official FB profile:
http://www.facebook.com/armageddoninthepark2
Inserita da:
Jerico
il 08.07.2013 - Letture:
1550
Articoli Correlati
Altre News di MetalWave
Notizia Precedente
Notizia Successiva