Dewfall «V.I.T.R.I.O.L.» (2008)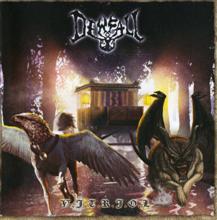 Autore:
Carnival creation

»
Recensione Pubblicata il:
--
Visualizzazioni:
2720
Band:
Dewfall




Titolo:
V.I.T.R.I.O.L.
Nazione:
Italia
Formazione:
Flavio Paterno :: Guitars
Matteo Capasso :: Vocals+ Guitar + Keyboards
Valerio Lorè :: Bass + Vocals
Andrea Puzo :: Drums
Genere:
Durata:
51' 25"
Formato:
Data di Uscita:
2008
Etichetta:
Distribuzione:
---
Agenzia di Promozione:
---
Recensione
Con mia incredibile sorpresa irrompono i Dewfall, una band italiana di quelle che resteranno nei miei discorsi del tipo "Oh, ma lo sai che ho scoperto sto gruppo qui..ecc..?".
E' proprio vero comunque, la bella musica è sempre poca, ma quanto arriva si sa fare apprezzare a dovere!!! Specie quella suonata con una passione sfrenata e con una tecnica giusta quanto basta per consacrare a "semi-capolavoro" una band.
I nostri hanno scelto "V.I.T.R.I.O.L." come titolo dell'album, acronimo che sta a significare "Visita Interiora Terræ Rectificandoque Invenies Occultum Lapidem", iscrizione latina che si presenta come un monito per l'umanità, esortandola ad una conoscenza dei lati più oscuri di sé al fine di rendere migliore la propria esistenza terrena.

E proprio di "semi-capolavoro" si tratta, caro metallaro e non che stai leggendo in questo momento; il disco, almeno in linea teorica, dovrebbe accontentare un po' tutti i palati..c'è proprio di tutto, dagli assoli tecnici, ai riff e fraseggi progressive con tempi dispari qua e là, sfuriate thrash-death e naturalmente growl e scream a rendere il tutto più violento..tuttavia non è proprio di musica violenta che stiamo parlando, di fatti le canzoni proposte dalla band appaiono sempre e comunque melodiche, talora sfiorando e ogni tanto abbracciando il power, la ballad, persino soluzioni Opethiane sono solite comparire (nelle canzoni più lunghe come ad esempio l'ultima traccia "Comfort Of a Night Rain", una delle migliori del disco a mio parere).

Se vogliamo essere proprio pignoli ci sarebbe un piccolo elemento negativo: raramente fanno capolino piccole imprecisioni nel riff, ma credo proprio che sia un elemento quasi positivo in quanto rende la canzone più vissuta e non tecnicamente perfetta, divina, finta e costruita come tanti gruppi (es. molte canzoni degli Into Eternity).
Potrei continuare a scrivere delle impressioni d'accordo ma vi toglierei il gusto di assaporare questo splendido album, a tratti epico a tratti furioso, perciò che ne dite di ascoltare i Dewfall? Non vi deluderanno!!!
Track by Track
Free Entrance To Hell

80

Forever Ghost

75

Skeleton's Rising

75

In The Shadows Of Ragnarok

78

Black Solitude

80

Ravens Of The Frost

79

The Secret Passage

80

The Serpent's Cave

80

Comfort Of a Night Rain

88
Giudizio Confezione
Qualità Audio:

78

Qualità Artwork:

70

Originalità:

75

Tecnica:

80
Recensione di
Carnival creation

»
pubblicata il --. Articolo letto
2720
volte.
Articoli Correlati