Dewfall «Legacy of Soul» (2005)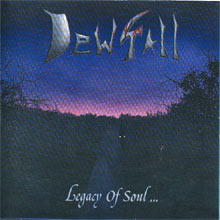 Autore:
Mark Keen

»
Recensione Pubblicata il:
--
Visualizzazioni:
2564
Band:
Dewfall




Titolo:
Legacy of Soul
Nazione:
Italia
Formazione:
Simone Simplicio :: Voce
Flavio Paterno :: Chitarra
Giuseppe Carnimeo :: Chitarra
Valerio Loré :: Basso
Andrea Puzo :: Batteria
Genere:
Durata:
25' 13"
Formato:
Data di Uscita:
2005
Etichetta:
Distribuzione:
---
Agenzia di Promozione:
---
Recensione
A tutti coloro che dicono che l'Heavy Metal Italiano non esiste, ascoltate i Dewfall e vi ricrederete.
E' così infatti, cinque ragazzi pugliesi con l'Heavy Metal nel sangue e tecnica alle spalle hanno prodotto recentemente, nel marzo 2005 per essere precisi, un demo piuttosto variegato ed interessante.
Andiamo ad analizzarlo insieme.

Il tutto ha inizio con quasi un minuto di introduzione piuttosto epica, non molto adatta al loro genere, ma accettabile.
E siamo subito nel puro Heavy Metal con "Escape of Madness".
La canzone è molto in stile Maiden e presenta infatti i loro punti fondamentali, come l'intreccio studiato delle chitarre e la melodia della voce, molto semplice da seguire grazie ad un ritornello coinvolgente e facilmente cantabile.
Nella seconda song di questo demo si può ascoltare un mix di Hard Rock, Heavy Metal ed un cantato piuttosto grintoso e "sporco". Il tutto da vita ad una miscela esplosiva, che pecca un po' per l'eccessiva presenza di virtuosismi alle chitarre, come in tutto il cd.
I Dewfall sono anche in grado di strappare lacrime e lo dimostrano con "Remembrance [Once upon a time…]", un pezzo lento, ma non da sottovalutare.
Sono poche le band in grado di spaziare da uno "stile" all'altro con disinvoltura, senza far rimpiangere l'aggressività vista in precedenza e loro ci riescono alla grande.
La tecnica non manca e Valerio Loré(bassista), non vuole rimanere nell'ombra. Ed è proprio in "Fateful Temptation" che emerge con un "tapping" assolutamente inaspettato, dimostrando di essere anch'egli un giovane di talento.
La voce, sempre adatta ad ogni canzone, qui tende invece ad esigere troppo recuperando però con una certa tecnica.
Si può dire che in questa traccia, i cinque baresi si siano cimentati in una musica più personale e "sperimentale".
Il demo si conclude con "Will to Kill", che riprende in parte la ritmica di "Escape of Madness", anche se la presenza più massiccia di cori rende il tutto molto più trascinante e coinvolgente.

Questi ragazzi hanno talento da vendere, ma tendono ad imitare troppo.
Il mio consiglio è di rischiare qualcosina in più, cercando di trovare uno stile più personale, anche se in un genere come l'Heavy Metal è praticamente impossibile.
Quando delle note originali e mai sentite usciranno dagli strumenti di questi musicisti, il quintetto darà del filo da torcere a molte band, ne sono sicuro.
In bocca al lupo Dewfall!!
Track by Track
Legacy of Soul

60

Escape of Madness

65

On the Road

65

Remembrance [Once upon a time...]

70

Fateful Temptation

75

Will to Kill

65
Giudizio Confezione
Qualità Audio:

70

Qualità Artwork:

75

Originalità:

45

Tecnica:

80
Recensione di
Mark Keen

»
pubblicata il --. Articolo letto
2564
volte.
Articoli Correlati