Schizo «Cicatriz Black » (2007)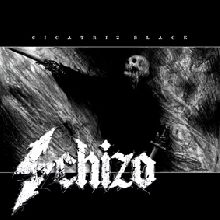 Autore:
EMPEROROFTHESUN

»
Recensione Pubblicata il:
--
Visualizzazioni:
3095
Band:
Schizo




Titolo:
Cicatriz Black
Nazione:
Italia
Formazione:
Alberto Penzin – Bass
S.B. Reder - Guitar/Vocals
Dario Casabona – Drums
Nicola Accurso - Vocals
Genere:
Durata:
39' 50"
Formato:
Data di Uscita:
2007
Etichetta:
Distribuzione:
---
Agenzia di Promozione:
---
Recensione
Dopo la ristampa del fondamentale 'Main Frame Collapse', datato 1989, ritornano con un nuovo full-lenght i leggendari Schizo, band che insieme a Bulldozer e Necrodeath ha creato un triangolo estremo anche nel nostro paese a partire dagli anni ottanta. La band ritorna 18 anni dopo l'ultimo album, nel mezzo solo un Ep, un demo e due singoli. Sicuramente la fiducia che i fan gli hanno conservato in questi anni di assenza è stata ripagata, perché il loro è un ritorno col botto. L'opener 'Odium Restituition' si abbatte nei nostri timpani, e li lacera con l'urlo dell'ottimo singer che ha sostituito Ingo. Il pezzo è velocissimo e violento, e ci assale con il suo Psycho/Thrash Metal, concludendosi presto nei suoi due minuti, lasciando spazio alla fenomenale 'Seen the Signs Before', in cui è eccezionale il lavoro svolto da S.B. Reder che macina riff su riff. Il terzo pezzo inizia con un pianoforte immediatamente distrutto dall'assalto ritmico della band, con il drummer che ci dà dentro ferocemente. Con questo pezzo e il successivo ci troviamo di fronte all'accoppiata migliore del lotto. Brani entrambi devastanti, con rallentamenti e sfuriate improvvise, da segnalare i "Death Grunts" di A.C. Wild dei Bulldozer sul quarto pezzo. Non è l'unico ospite sull'album, che vede anche la partecipazione di Flegias dei Necrodeath e Steve Sylvester dei Death SS, che canta un intero brano, ovvero 'Shine of Scars', con un risultato estremamente convincente. L'album non vede mai cali di tensione, anzi continua a colpire duramente, lasciando spazi anche a efficaci chorus come su "Demise: Desire" o su "Coma's Grip". L'atmosfera di pazzia e di nerezza che permea l'album non si attenua nemmeno sull'ultimo pezzo, una cover di Ennio Morricone, che viene ripresa dalla band in chiave personale, con un risultato stupefacente. Tutto questo a dimostrazione del carattere estremo della band, che si manifesta in musica, nei testi e nelle loro scelte. Ottima la produzione, e da segnalare anche l'accurato lavoro sul booklet, molto fedele alla band, che non fa altro che rendere l'acquisto di 'Cicatriz Black' un obbligo per tutti gli appassionati di musica estrema.
Track by Track
Odium Restitution

95

Seen The Signs Before

95

Lacrima Khristi

100

M.G. 1942

100

Demise / Desire

95

Agonizing

90

Phanatical X-x-x

95

Shine Of Scars

90

Coma's Grip

95

The Sicilian Clan

100
Giudizio Confezione
Qualità Audio:

95

Qualità Artwork:

96

Originalità:

100

Tecnica:

94
Recensione di
EMPEROROFTHESUN

»
pubblicata il --. Articolo letto
3095
volte.
Articoli Correlati