ROCK AGAINST CANCER: ospiti ed orari di questo Venerdì al Live Club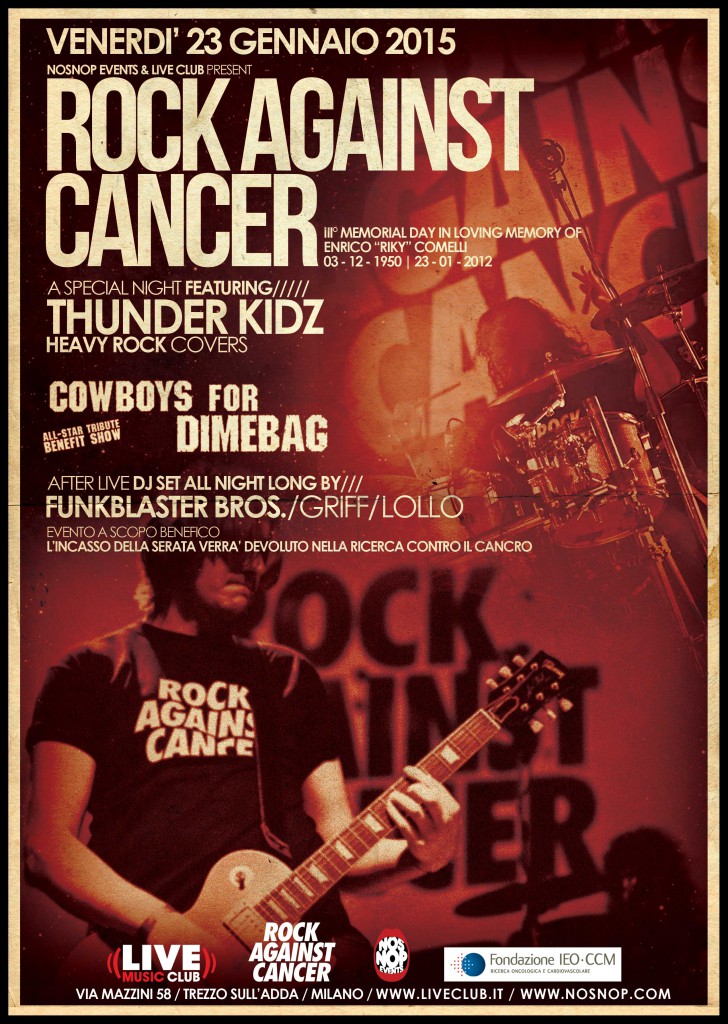 Pochi giorni alla terza edizione di Rock Against Cancer in programma per venerdì 23 gennaio al Live Club
Ancora una volta il rock prende a braccetto la solidarietà per una raccolta fondi destinata alla lotta contro il cancro
Sul palco THUNDER KIDS (hard rock -heavy metal cover) e COWBOYS for DIMEBAG ( all-star tribute benefit band)
Tra gli ospiti confermati per la serata anche Cesco Jovino, da anni batterista del teutonico U.D.O. (ex-Accept), Anna Portalupi, bassista della ex-Nightwish Tarja Turunen, i Destrage Gabriel Pignata e Ralph Salati e Briegel, bassista dei grandi Ritmo Tribale, che suoneranno nei Cowboys for Dimebag insieme ai veterani membri di Folkstone, Extrema, Skw, Anewrage, Exalt Cycle, Cayne e molti molti altri.
Apertura ore 22
Cowboys for Dimebag ore 22.45
Thunder Kids ore 00.15
Ingresso con offerta minima 5 euro
Il rock come stile di vita, il rock come approccio, stato d'animo, pensiero, musica…il rock e solo il rock! Live Muisc Club e NosNop Events vi invitano a una serata in cui scatenare il vostro lato primitivo, alzare le corna al cielo e muovere la testa al ritmo dei più grandi classici Rock di tutti i tempi! Una grande serata, una grande festa, un grande obiettivo:
RACCOGLIERE FONDI PER LA LOTTA CONTRO IL CANCRO!
Rock Against Cancer è una serata benefica che si prefigge di raccogliere fondi per la lotta contro il cancro attraverso concerti di musica rock.
L'iniziativa, che ha fatto la sua prima tappa il 25/01/2013 sul palco del Live Club di Trezzo sull'Adda, nasce dalla volontà di amici e parenti per commemorare Enrico "Riky" Comelli scomparso il 23/01/2012 a causa di questa terribile malattia. Nelle precedenti edizioni sono stati raccolti complessivamente 3100 Euro, devoluti interamente alla Fondazione Istituto Europeo di Oncologia.
Al centro di tutto l'evento rimane la musica rock suonata dal vivo e per l'occasione è nata la band dei THUNDER KIDZ: una formazione "all stars" composta da più elementi che si alternano sul palco e che ripropongono grandi classici della musica hard rock.
Questa terza edizione vedrà inoltre la partecipazione di Cowboys for Dimebag, all-star tribute benefit band: uno speciale collettivo riunito in un tributo ai Pantera assolutamente fuori dagli schemi. Alcuni importanti esponenti della scena rock/metal italiana ed altrettanti artisti emergenti si ritrovano per ricordare Dimebag Darrell Lance Abbott, imbracciando il proprio strumento e suonando alcuni dei più noti brani dei PANTERA, insieme a qualche "chicca".
Nati per commemorare il decennale della scomparsa di Dimebag Darrell, storico chitarrista dei Pantera, con quello che doveva essere uno show tributo esclusivo, forti del successo riscontrato i Cowboys For Dimebag diventano una all-star band 100% benefica, che si esibisce ogni volta in cui é possibile fare del bene.
Perché "Cowboys For Dimebag" non é un progetto, non é un business.
I "C.F.D." sono una causa.
DJ from ROCK AGAINST CANCER:
Dopo i Live la serata continua fino a tarda notte con il dj set made in Rock Against Cancer: rock, metal, glam, heavy and every f*****n' sound of destruction!
Info –
http://www.liveclub.it
Inserita da:
Jerico
il 20.01.2015 - Letture:
1806
Articoli Correlati
Altre News di MetalWave
Notizia Precedente
Notizia Successiva