Lilyum «Ultimatum» (2009)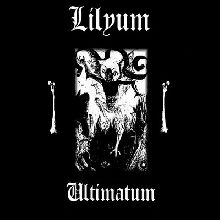 Autore:
Snarl

»
Recensione Pubblicata il:
--
Visualizzazioni:
1964
Band:
Lilyum




Titolo:
Ultimatum
Nazione:
Italia
Formazione:
Kosmos Reversum:: Guitars, Drum Programming, Additional Vocals
Lord J.h. Psycho: Vocals, Guitars, Bass, Keyboards, Samples
Genere:
Durata:
48' 51"
Formato:
EP
Data di Uscita:
2009
Etichetta:
Distribuzione:
---
Agenzia di Promozione:
---
Recensione
Non ho parole: Accadde più o meno che l'anno scorso i torinesi Lilyum (da non confondere con altre bands col nome simile recensite di recente) mi presentarono il loro primo demo da recensire, in primavera fu la volta del loro secondo demo, e ora la bands capitanata da Kosmos Reversum ci ha presentato questo Full length di quasi 50 minuti! Creativi questi ragazzi, non c'è che dire. Fortunatamente, poi, dopo l'ascolto di quest'album si può senz'altro dire che oltre ad essere creativi, i Lilyum hanno stoffa. Le potenzialità a dire il vero erano emerse sin dal buon "The knife rises", un EP che aveva il pregio di picchiare, ma che essendo molto corto non mi permetteva di valutare con precisione quanto questi ragazzi avevano stoffa, e come sarebbero stati sulla lunga distanza.
Con "Ultimatum" ogni dubbio è fugato nel migliore dei modi: ci troviamo di fronte a una band che ha personalità, che ha talento per quanto riguarda la compattezza delle canzoni, il cambio delle atmosfere all'interno delle stesse (che rendono perciò il disco variegato, a differenza di quanto la copertina magari potrebbe far pensare) con le canzoni che spesso iniziano con un certo mood e finiscono con uno completamente diverso, manifestando quindi delle capacità compositive ottime da questo punto di vista. Ma non solo: la musica dei Lilyum sa anche essere statica, monocorde, come la penultima "Banished to life", dove per cinque minuti su otto c'è un andamento lento e stentoreo che anche dopo cambia solo leggermente. Eppure, il brano non annoia affatto: non si trascina stancamente, ma coinvolge in maniera egregia. L'esempio migliore delle capacità dei Lilyum, però, è dato dall'ottima "Seclusion": quasi 10 minuti di incedere alternato con tempi Darkthrone e tempi lenti, con pochi riff (che però hanno diverse variazioni di tastiera, soprattutto alla fine), e con atmosfere con una tragicità tangibile, mischiate ad altre trame più dal feeling apatico, quasi spento. E non è neanche finita qui: "Not of this breed" inizia con un riff tipicamente da headbanging, che potrebbe rifarsi almeno in parte a "Only true believers" degli Armagedda, finché non fanno capolino delle influenze anomale nello stacco centrale come note di pianoforte, influenze industrial e cori! Una band che gioca a fare la eccentrica, con anche risultato ammirabili.
Manco a dirlo, il risultato ci sta tutto. I Lilyum allo stato attuale sono un duo estremamente compatto ed affiatato, che riesce a manifestare una propria personalità maturata in circa un anno di lavoro, e che manifesta diversi pregi sia compositivi che soprattutto di intensità nelle loro composizioni; non ci sono difetti in questo cd, non c'è secondo me il nome di una band a cui si rifanno i Lilyum, non ci sono dubbi o tentennamenti, ma solo bravura. Spero solo che col tempo restino ancorati alla loro matrice predominante black metal, che comunque è massimamente presente. Da ascoltare e custodire.
Track by Track
Ouverture - Casus Belli

75

Finally it's the end

75

Regimental Thanatocracy

80

Seclusion

90

Not of this breed

85

Banished to life

90

A ghost along the river

80
Giudizio Confezione
Qualità Audio:

75

Qualità Artwork:

70

Originalità:

90

Tecnica:

90
Recensione di
Snarl

»
pubblicata il --. Articolo letto
1964
volte.
Articoli Correlati