Lilyum «Crawling In The Past» (2010)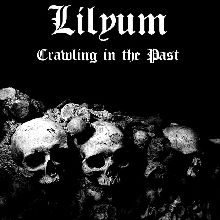 Autore:
Snarl

»
Recensione Pubblicata il:
--
Visualizzazioni:
1938
Band:
Lilyum




Titolo:
Crawling In The Past
Nazione:
Italia
Formazione:
kosmos reversum: lead guitars, bass
lord j h psycho: vocals, guitars
frozen: drums
Genere:
Durata:
50' 39"
Formato:
CD
Data di Uscita:
2010
Etichetta:
Distribuzione:
---
Agenzia di Promozione:
---
Recensione
E arrivano al quarto album i Lilyum (terzo se non si conta il differente debut "OigreS") i Torinesi Lilyum, band prolificissima che ora ci si presenta con un nuovo full length caratterizzato dall'avere un batterista vero e proprio che è accreditato come batterista full time anche se viene dall'altra parte d'Italia: la Sicilia.
Orbene: il nuovo disco, che esce per la Maleventum e non più per la Salute Recs, ci presenta 9 tracce più outro di un black metal dalle influenze abbastanza variegate, come tentazioni heavy metal, ma anche rallentamenti (vedi "Carrion season" e "Tighten the ranks"), fino a forti tendenze old school tipo darkthrone degli ultimi album come nella doppietta micidiale "Self necrosis" e "order of the locust", che costituiscono il picco di quest'album. A tutto questo si aggiungano parti che conferiscono un pathos più tangibile nei brani come "A fundamental negation", alcune soluzioni stilistiche tipiche dei precedenti due album, cioè "Ultimatum" e "Fear Tension Cold", e avrete ottenuto il nuovo album dei Lilyum, cioè un disco black metal grezzo e dalle velocità medio veloci, dotato della solita (e sempre ben accetta) eclettica tendenza sia a esaltare il loro lato atmosferico, sia il loro lato più brutale come la già citata "Order of the Locust", una mazzata a metà tra ultimi Darkthrone e Armagedda che conclude poi con una parte eccellente più death oriented che non ci starebbe male sullo stesso "Soulside Journey". Spicca anche la bella prestazione vocale di Lord J. Psycho, che qui si sbizzarrisce con i suoi stili proponendo diverse alternative allo screaming, che culminano addirittura in un acutone nella parte heavy di "Carrion Season", oltre a diverse parti più sussurrate.
Insomma, un altro buon disco dai Lilyum, che però stavolta brilla appena meno dei due album precedenti. Nonostante il disco infatti sia bello e coinvolgente, non riesce più di tanto a distaccarsi dall'ombra dei due album precedenti, ne costituisce quasi una summa piuttosto che una nuova entità a sé stante, ma senza bissare l'assoluta maestosità della title track di "Ultimatum" o la ferocia old school della title track di "Fear Tension Cold". Insomma: quest'album ha le carte in regola per passare ancora una volta dignitosamente il test, ma mostra forse un pizzico di già sentito dai Lilyum. Per fortuna, è solo un aspetto negativo in mezzo a molti altri positivi: quest'album è e rimane qualcosa di molto buono paragonato alla media dei dischi underground italiani black metal. Per questo motivo il mio consiglio è sempre quello: buttatevi tranquillamente su quest'album e ascoltatelo, se non ancora conoscete questa band.
Track by Track
Whence not even reflections escape

70

A Fundamental Negation

75

Above Triumphs and Tribulations

70

Self Necrosis

80

Order of the Locust

85

Carrion Season

80

The Knives of Transience

75

Tighten the Ranks

75

Mine is the Silence

70

Crawling in the Past

70
Giudizio Confezione
Qualità Audio:

60

Qualità Artwork:

70

Originalità:

70

Tecnica:

80
Recensione di
Snarl

»
pubblicata il --. Articolo letto
1938
volte.
Articoli Correlati