Lilyum «The Knife Rises» (2009)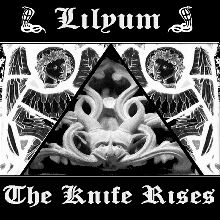 Autore:
Snarl

»
Recensione Pubblicata il:
--
Visualizzazioni:
2068
Band:
Lilyum




Titolo:
The Knife Rises
Nazione:
Italia
Formazione:
Kosmos Reversum :: Guitar
Lord J H Psycho:: Vocals Bass
Genere:
Durata:
11' 21"
Formato:
EP
Data di Uscita:
2009
Etichetta:
Distribuzione:
---
Agenzia di Promozione:
---
Recensione
Dopo circa 6 mesi dal loro "promo 2008", i Lilyum, band black metal piemontese capitanata da Kosmos Reversum, ritornano a produrre musica, e stavolta pongono alla mia attenzione un breve EP di poco più di dieci minuti di musica splittati in tre tracce + intro.
Ricordo benissimo il loro precedente lavoro, e ricordo anche di aver detto, in estrema sintesi, che ai Lilyum serviva migliorare in quanto a consistenza del songwriting (troppe influenze scollate tra loro), e soprattutto volevo vedere cosa erano capaci di fare su una release più lunga. Bene: qui musicalmente ci siamo, ma solo in parte, purtroppo! In pratica, il primo aspetto è stato sanato, e infatti ci troviamo di fronte a tre bei brani black metal old school che spesso (palesemente nelle ultime due canzoni) vanno ad attingere al thrash di bands come primi Bathory, Celtic Frost e Hellhammer. Siamo in effetti di fronte a un black metal retrogrado ma comunque ruggente, non smaccatamente simile a qualche gruppo in particolare, che non scimmiotta i Carpathian Forest né clona gli ultimi Darkthrone, anzi se ne discosta a tratti, andando alle volte a sfociare in uno stile tipico di qualche band black metal francese tipo Temple of Baal o Svest.
Il secondo aspetto, però, quello del test sulla durata dei Lilyum, non è pervenuto: essendo questa una release molto corta, anche più della precedente, il dubbio su quanto i Lilyum sappiano tenere alta la tensione anche su lunghe distanze resta una domanda insoluta, e questo è un problema che se da un lato non inficia la bontà delle composizioni, dall'altro lascia i Lilyum lì dove li avevamo visti nella loro precedente release, senza significativi risultati da questo punto di vista.
Insomma: questo "The knife rises" si apprezza, ma alla fine rimane dell'amaro in bocca perché avrei voluto sentire di più da loro, e invece così alcuni aspetti sul valore dei Lilyum restano insoluti. C'è anche un'altra cosa che zavorra (ma questi sono gusti miei, quindi non intaccano il voto) questa release: la drum machine. Non è programmata male, ed ha pure dei bei suoni, ma sinceramente dai Lilyum preferisco non sentirla più, e questo sia perché appiattisce molte cose dei brani che altrimenti da live fanno sfracelli ("Black Sand" su tutte), sia perché gli strumenti hanno un suono e la drum machine un altro, e questo conferisce all'EP un forte sapore sgradevole di "domestico" e rappezzato, quasi amatoriale.
Anche stavolta i Lilyum oltrepassano la barriera della sufficienza per delle canzoni di buona qualità, ma ora voglio il full length, o almeno 20 - 25 minuti di musica, perché quei limiti devono essere colmati, visto che io così non riesco bene a capire quanto potenziale la band abbia. Con un batterista vero e con più minuti di musica il voto sarebbe stato più alto.
Track by Track
Intro U Talking

60

Anti Life

65

Black Sand

70

Sickness

70
Giudizio Confezione
Qualità Audio:

60

Qualità Artwork:

70

Originalità:

70

Tecnica:

70
Recensione di
Snarl

»
pubblicata il --. Articolo letto
2068
volte.
Articoli Correlati