Lilyum «Nothing Is Mine» (2011)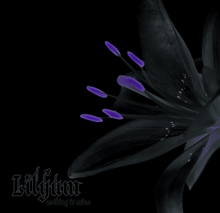 Autore:
Snarl

»
Recensione Pubblicata il:
--
Visualizzazioni:
2092
Band:
Lilyum




Titolo:
Nothing Is Mine
Nazione:
Italia
Formazione:
Kosmos Reversum: Instruments
Xes: Vocals
Genere:
Durata:
42' 40"
Formato:
CD
Data di Uscita:
2011
Etichetta:
Distribuzione:
---
Agenzia di Promozione:
---
Recensione
E ritornano I Lilyum in una veste abbastanza rinnovata, ovvero un suono un po' più definito dei precedenti album, Xes degli Infernal Angels alla voce, battiti al minuto notevolmente aumentati e presenti massivamente in tutto il disco e un deal discografico niente male. Tutto questo si condensa nel tempestoso "Nothing is mine", circa 43 minuti di violenza e cattiveria sonora senza compromessi che tira fendenti per quasi tutta la durata del disco, fatta eccezione per la penultima "I am the black plague" dove la chitarra di Kosmos Reversum si lascia andare ad un mid-tempo di stampo rock graffiante e aggressivo. Il resto del disco è invece, come detto, violentissimo. Pare quasi di sentire il loro capolavoro "Fear Tension Cold" per violenza e impatto, ma mandato al doppio della velocità e con una consistenza di songwriting non indifferente. Il tutto mentre Xes cesella le sue parti vocali donandogli quella solenne austerità già sentita nella sua band principale, come voci pulite strazianti e solenni tipiche della opener "Altar of darkness", o l'intensità della migliore del lotto "Into the fire", che tra l'altro presenta alcune dissonanze del tutto riuscite. Eccezionale anche "Hic fiu locus traitor", la cui parte centrale meno veloce rappresenta un vero punto di forza.
Tutto questo avviene con uno stile che ancora una volta per i Lilyum si manifesta diverso dall'album precedente. Se infatti "Ultimatum" era molto in stile Besatt e Armagedda, e "Fear Tension Cold" era old school e marcio, mentre "Crawling in the past" conteneva influenze death old school e anche acuti heavy, questo "Nothing is mine" è la pura furia sonora che concede poco e nulla alla melodia, e che invece si rifà a volte al portentoso "The fire god" dei Corpus Christii, mentre altre volte, come nella conclusiva "My darkened path", ci si rifà al secondo album dei Glorior Belli, sempre per l'intensità delle atmosfere. Ciò dimostra come gli ormai "Torinesi a metà" Lilyum abbiano uno stile parecchio versatile e in grado di cambiare pelle facilmente, a dimostrazione di un songwriting con molto potenziale e ampi margini.
Certo, si potrebbe obiettare che quest'album è un po' omogeneo, e che forse la soluzione presa dai Lilyum punta tutto sulla potenza fine a sé stessa, ma io invece preferisco pensare che mantenere l'attenzione alta per la durata di un intero cd che va spesso veloce non è facile, e che i Lilyum ce l'hanno fatta ancora una volta dove invece non tutti sarebbero riusciti: il rischio di rendere quest'album monotono c'era, ma per fortuna non è stato così. Non posso che consigliare ancora una volta l'ascolto di questo disco a chiunque abbia un occhio di interesse per il black metal underground, tra l'altro avvolto in una veste grafica comprensibile ma comunque criptica e oscura. Davvero ben fatto. Da comprare.
Track by Track
Intro – Nothing is mine

70

Altar of darkness

75

Fides Belialus

75

Slaves of hate

80

Hic fuit locus traitor

85

Into the fire

90

The eternal embrace of dark dreams

80

I am the black plague

85

My darkened path

85
Giudizio Confezione
Qualità Audio:

75

Qualità Artwork:

85

Originalità:

75

Tecnica:

80
Recensione di
Snarl

»
pubblicata il --. Articolo letto
2092
volte.
Articoli Correlati