Lilyum «Promo 2008» (2008)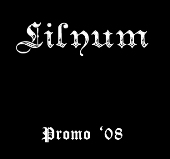 Autore:
Snarl

»
Recensione Pubblicata il:
--
Visualizzazioni:
1960
Band:
Lilyum




Titolo:
Promo 2008
Nazione:
Italia
Formazione:
Sergio Vinci - Guitar, drum programming
Melkor - vocals (Session)
Genere:
Durata:
16' 50"
Formato:
Data di Uscita:
2008
Etichetta:
Distribuzione:
---
Agenzia di Promozione:
---
Recensione
Quantomeno inconsueta l'evoluzione dei Lilyum: partiti come quartetto che suonava thrash – core e due demo all'attivo, ora sono costituiti dal solo Sergio Vinci, coadiuvato da Melkor (session alla voce), e fanno black metal! E con questa veste completamente nuova, i Lilyum ci propongono ora questo Promo cd costituito da 3 tracce per un totale di un quarto d'ora circa di musica.
Il Promo parte con l'iniziale "An absence of light", brano abbastanza semplice e minimalista il cui termine di paragone più adatto sembra essere dato dai Darkthrone di "Transylvanian Hunger" per l'estrema semplicità della struttura della canzone e dei riff, al limite con qualche rimando a certe black metal bands est europee, che poi va a finire in un intermezzo centrale dall'andamento più rockeggiante. "Cold World" rappresenta invece la parte forse più calma e melodica dei Lilyum, che ripropone forse le sonorità dei Bathory o anche di qualcosa degli ultimi Enslaved (In effetti 'sto brano non ce lo vedo male su "Isa"…). Per finire, il lato più furioso dei Lilyum viene esplorato nella conclusiva "Consumed", brano violento e globalmente interessante, che forse deve qualcosa ai Behemoth di "Grom". Il promo, dunque, pur durando un po' pochino riesce comunque a dare una certa qual idea delle capacità dei Lilyum, che sembrano cavarsela bene nelle ultime due canzoni grazie a belle trovate melodiche e a parti veloci abbastanza coinvolgenti, ma segnando un po' il passo nella prima canzone, che a me sinceramente pare abbastanza carina, ma niente di speciale. L'unico altro difetto che potrei citare è forse quello di una saltuaria mancanza di incisività (ravvisabile anche questa nella prima canzone).
In generale dunque questo Promo non è male, e anzi descrive accuratamente alcuni dei lati positivi dei Lilyum, non mancando però di lasciarne in sospeso altri come l'eterogeneità delle influenze e il risultato su una release più lunga, che dovranno essere chiariti con il prossimo lavoro. Per i pregi suddetti il giudizio sui Lilyum è positivo, tuttavia non so ancora dire con sicurezza (sempre per quanto detto sopra) se la band è già abbastanza matura da permettersi sin da ora di cercare una casa discografica (come dal loro myspace risulta), ad ogni modo in bocca al lupo!
Track by Track
An absence of light

60

Cold World

70

Consumed

70
Giudizio Confezione
Qualità Audio:

60

Qualità Artwork:

0

Originalità:

60

Tecnica:

70
Recensione di
Snarl

»
pubblicata il --. Articolo letto
1960
volte.
Articoli Correlati