Lilyum «Fear Tension Cold» (2010)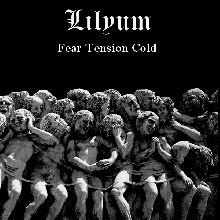 Autore:
Snarl

»
Recensione Pubblicata il:
--
Visualizzazioni:
2049
Band:
Lilyum




Titolo:
Fear Tension Cold
Nazione:
Italia
Formazione:
Kosmos Reversum :: Guitars, Bass, Drums
Lord J. Psycho :: Vocals, lyrics
Genere:
Durata:
31' 51"
Formato:
CD
Data di Uscita:
2010
Etichetta:
Distribuzione:
---
Agenzia di Promozione:
---
Recensione
La prolificità dei Lilyum è stupefacente: non è neanche uscito un anno (ma forse neanche sei mesi!) da che ho recensito il loro full length di debutto, "Ultimatum", che ora se ne escono con quest'altro disco, che era nato come split con una band svedese, ma che successivamente è stato ampliato a full length vero e proprio visto che poi lo split non si è fatto più! Pazzesco! Non c'è che dire: se comporre canzoni fosse come soffrire di eiaculazione precoce, i Lilyum sarebbero un caso disperato!
Facezie a parte, questo nuovo "Fear Tension Cold" è un album profondamente diverso rispetto a "ultimatum": niente tastiere, produzione diversa, niente cori, poca melodia, tutto è stato sostituito da un istinto old school black metal veramente putrido, dove delle chitarre comprensibili ma (secondo me) volutamente registrate zanzarose, si stagliano su tutto il disco con un volume ben più alto della batteria (che qui a giudicare dai credits sembrerebbe essere stata suonata dal factotum K. R.), a dargli un tocco molto old school, paragonabile ai Venom, giusto per darvi un'idea.
Musicalmente, poi l'album è quasi tutto giocato su dei tempi veloci o comunque molto mossi, trascinanti, accompagnati da riffs che spesso, soprattutto nell'opener "Dissolution is imminent" e nella finale "Hail Failure", hanno la caratteristica di essere non molto melodici, a corda libera (poche volte si usano altre tecniche) e quindi basati tutti sull'impatto. Altre volte l'istinto dei riff è più thrash, come nella accoppiata letale della Title track e di "Obsession", che tirano delle mazzate quasi più thrash che black old school, impossibili da ignorare in sede live (se i Lilyum ne facessero), con addirittura un bel riff direi quasi punk/thrash/black in stile Hellhammer a metà di "Obsession".
Altre volte, come in "The black slumber", i Lilyum mostrano la loro vena più tipicamente black, ed è qui che più spazio per la melodia. Ma la melodia di questo disco è amara, quasi rabbiosa, pur sempre violenta, ma a suo modo. Altre volte ancora, giusto per fare l'esempio opposto, i Lilyum non hanno problemi a far andare pure il brano in maggiore con un andamento che pare crust (o esagero?), senza assolutamente rovinarne la cinica negatività. La conclusione? È affidata a "Salvation", un brano ambient molto spoglio, semivuoto e molto spettrale, come se il titolo della traccia fosse beffardo.
I Lilyum ce l'hanno fatta ancora. E con questo disco, che va sentito tutto d'un fiato, vanno anche oltre ai già ottimi standard del loro precedente disco. E questo perché non è facile rinnovarsi, soprattutto se in così poco tempo, ma i Lilyum sono riusciti a cambiare pelle e proporre musica di diverso tipo. Questo dimostra che la band ha potenzialità e capacità a manipolare il genere. Non solo: il genere proprosto dai Lilyum, pur essendo Black senza alcun dubbio, mostra un grado di personalizzazione molto buono, che non li riconduce a nessun nome in particolare. Camaleontici, thrashettoni e personali. Non vedo difetti per questo disco, un album che ti investe in pieno, che va assimilato tutto d'un fiato, senza interruzione, che colpisce proprio come un buon shot di superalcolico. Lo devo ammettere: alzo le braccia! Qui ci troviamo di fronte a una band che nel giro di pochi mesi sa fare un album in maniera assolutamente personale, con le proprie forze. Io posso solo consigliare di andare a cercare questo nome a ogni blackster che ha un minimo di interesse per l'underground. Ne varrà la pena!
Track by Track
Intro - Chaos from Order

60

Dissolution is Imminent

85

Of Lead and Mercury

80

The Black Slumber

85

Fear Tension Cold

90

Obsession

90

Hail Failure - The End of a sick era

85

Salvation

80
Giudizio Confezione
Qualità Audio:

70

Qualità Artwork:

70

Originalità:

85

Tecnica:

80
Recensione di
Snarl

»
pubblicata il --. Articolo letto
2049
volte.
Articoli Correlati