ACCIAIO ITALIANO FESTIVAL 9: il programma di stasera a Mantova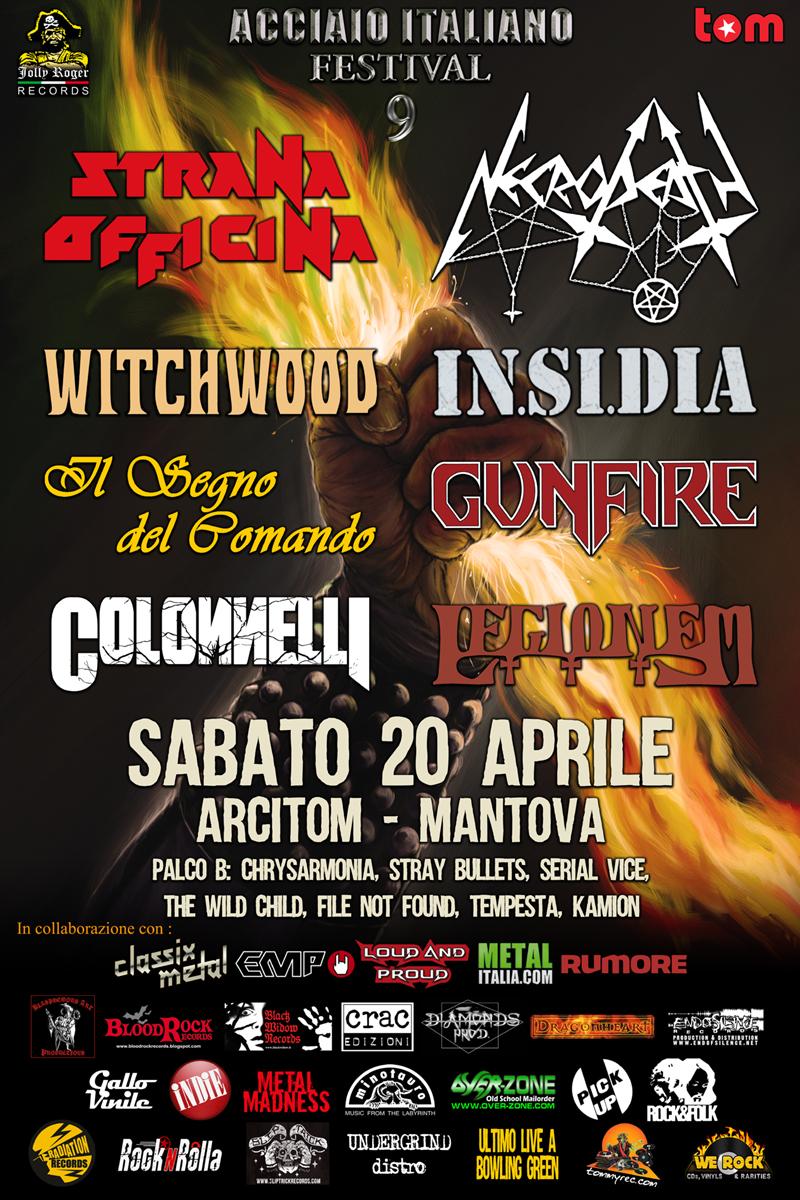 Jolly Roger Records in collaborazione con Arci Tom, Classix Metal, EMP Italia, Loud and Proud, Metalitalia.com e Rumore vi ricorda che l'appuntamento con "l'acciaio italiano" è per questo sabato 20 Aprile, presso l'Arci Tom di Mantova, 15 bands (8 palco principale + 7 bands vincitrici del contest "palco B"), una maratona di 9 ore all' insegna della musica Heavy rigorosamente ed orgogliosamente tutta italiana.
Per garantire un eccellente servizio alle bands e pubblico tutta la parte tecnica del palco A sara' gestita dalla stessa squadra presente fin dalla prima edizione (!), inoltre lo stesso Arci Tom ha provveduto a notevoli miglioramenti grazie a nuove attrezzature audio, di palco e di luci.
DOVE E QUANDO:
Arci Tom (Piazza Tom Benetollo 1, Mantova)
Apertura Porte: 15:30
Ingresso sottoscrizione 15,00 € con tessera Arci o Uisp, di qualsiasi circolo.
(per chi ne fosse sprovvisto è possibile fare la tessera Arci direttamente in cassa il giorno del concerto, al prezzo "agevolato" di 10,00 €, il prezzo abituale è infatti 13,00 €)
Ingresso gratuito under12 accompagnati.
Ampio parcheggio, accesso per disabili, terrazza esterna, servizio ristoro (piadine, panini, pizzette, patatine fritte).
Evento FB:
https://www.facebook.com/events/284372275585276/
ORARI BANDS:
*** PALCO A ***
STRANA OFFICINA dalle 23.15
NECRODEATH 22:00 - 22:55
WITCHWOOD 20:45 - 21:40
IN.SI.DIA 19:40 - 20:25
IL SEGNO DEL COMANDO 18:40 - 19:20
GUNFIRE 17:40 - 18:20
COLONNELLI 16:50 - 17:20
LEGIONEM 16:00 - 16:30
*** PALCO B ***
CHRYSARMONIA 21:40 - 22:00
STRAY BULLETS 20:25 - 20:45
SERIAL VICE 19:20 - 19:40
THE WILD CHILD 18:20 - 18:40
FILE NOT FOUND 17:20 - 17:40
TEMPESTA* 16:30 - 16:50
KAMION* 15:40 - 16:00
* Sostituiscono Forged in Blood e Rawfoil classificati nei primi 7 ma non disponibili.
PREMI:
I primi ingressi riceveranno a scelta in OMAGGIO uno dei seguenti articoli:
ATHLANTIS - The Way to Rock N Roll CD
Gentilmente offerto da Diamonds Prod. prod.
SKANNERS - LIBRO + CD
VA PENSIERO - LIBRO
Gentilmente offerti da Crac Edizioni
BURNING GROUND - Last day of Light CD
CHRONIC HANGOVER - Nero Inferno Italiano CD
JOE PERRINO'S GROG - Bomba CD
SUNRUNNER - Ancient Arts of survival CD
UFOSONIC GENERATOR - The Evil Smoke Possession CD
Gentilmente offerti da Minotauro Records
Inoltre Cd + Poster del festival, gadgets e buoni gentilmente offerti rispettivamente da Jolly Roger Records, EMP Italia e Over-Zone (fino ad esaurimento)
In cassa sara' possibile acquistare pacchetti ingresso + CD o LP tra moltissimi titoli Jolly Roger Records (fino ad esaurimento)
Come lo scorso anno saranno previsti stand vendita Cd, Lp e merchandise delle bands.
Un sincero ringraziamento a Massimo e tutto lo staff Arci Tom, a Guido, Stefano, Vitty, Gabriele e tutto lo staff tecnico ed ovviamente a tutto il caloroso e numeroso pubblico che segue con interesse e passione questa manifestazione. Grazie! senza tutti voi il festival non avrebbe luogo.
Si ringraziano sentitamente inoltre tutte le bands per la loro disponibilita', tutte quelle che hanno aderito al "contest" e tutti gli sponsors: Blasphemous Art Records, BloodRock Records, Black Widow, Crac Edizioni, Diamonds Prod., Dragonheart, End of Silence Records, Gallo Vinile, Indie, Metal Madness Records, Minotauro Records, Over-Zone, Pick Up Distribuzioni, Rock & Folk, Radiation Records, Rocknrolla Eventi, Sliptrick Records, Tommy Records, "Ultimo Live a Bowling Green" libro di Mariano Fontaine (Gruppo Albatros Il Filo), Undergrind Distro, We Rock Music Store. Uno speciale ringraziamento ad Andrea Franceschi bassista e grafico dei Silverbones che ha realizzato il magnifico e "metallico" pugno della locandina.
Inserita da:
Jerico
il 20.04.2019 - Letture:
978
Articoli Correlati
Altre News di MetalWave