FIRE AND FURY FEST: con GRIM REAPER, SKANNERS e altri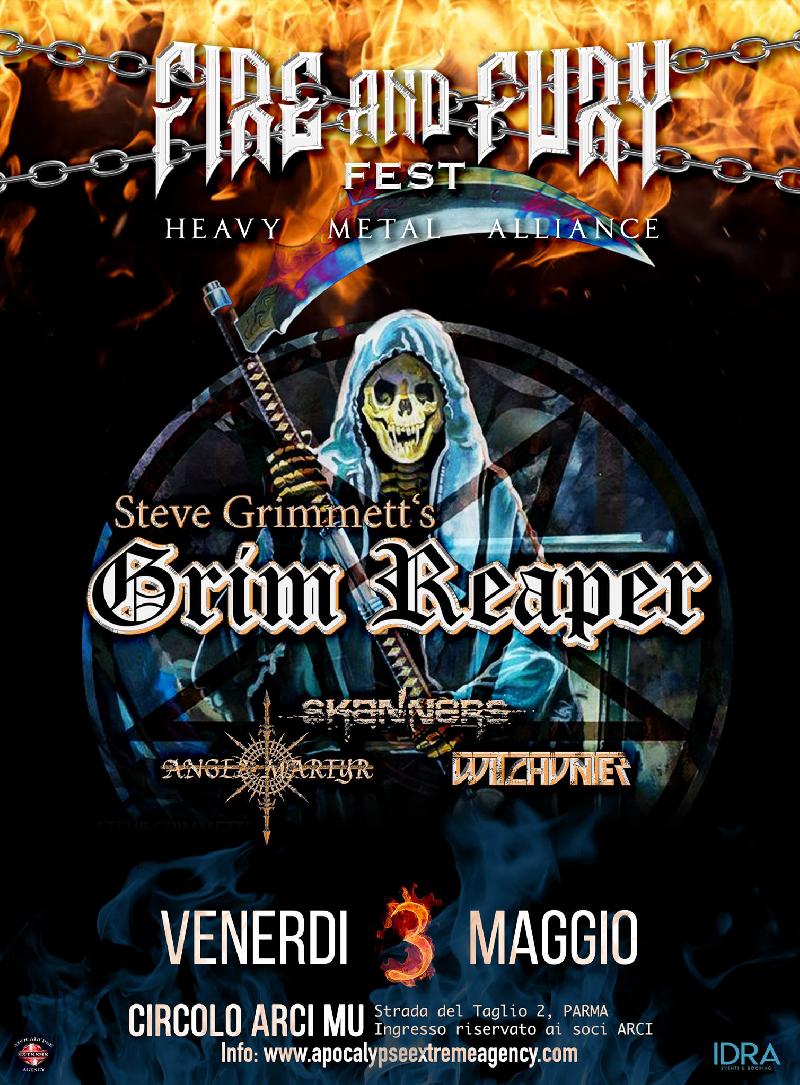 Apocalypse Extreme Agency, IDRA Eventi, in collaborazione con Cerberus Booking presentano Fire And Fury Fest- Heavy Metal Alliance. Il festival si terrà il prossimo venerdi 3 maggio presso il Circolo Mu di Parma.
Gli Headliner del festival saranno i leggendari GRIM REAPER, nome di spicco della NWOBHM al quale si attribuiscono di capolavori come "See you in hell", "Rock you to hell" e "Fear no Evil". Dopo l'ultimo album "Walking in the shadows" uscito nel 2016, la storica band Inglese non è ancora riuscita a presentare i brani in sede live in Italia, questo anche per problemi di salute del leader Steve Grimmet ad ora fortunatamente risolti.
Prima di loro sul palco del Circolo Mu, gli SKANNERS che, da oltre 30 anni, continuano a solcare i palchi di tutta europa senza compromessi. Una storia, iniziata nel lontano 1981 a Bolzano, e che continua tuttora, costellata da cannonate sotto forma di album che fanno parte dell'epopea del Metallo Tricolore, ci faranno rivivere i momenti salienti della loro carriera attraverso la loro musica.
Altra conferma del Fire and Fury fest sono gli abruzzesi WITCHUNTER, una delle rivelazioni degli ultimi anni nella scena heavy/speed italiana, dopo anni di assenza, tornano a Parma per mettere a ferro e fuoco il palco del Circolo Mu.
Il compito di aprire la kermesse è stato affidato ai toscani ANGEL MARTYR , nati nel 2010 dalle ceneri dei Wraith'sing e fortemente ancorati al caro vecchio heavy metal di stampo epico che dagli anni '80 in poi ha messo a ferro e fuoco, partendo dalla terra d'Albione, il mondo intero.
Dopo i concerti Dj set old school fino a tarda notte.
Il Circolo Arci Mu è provvisto di parcheggi gratuiti e sarà possibile gustare ottima birra, una vasta selezione di cocktails e tanto altro ancora.
VENERDI 3 MAGGIO
FIRE AND FURY FEST
-Heavy Metal Alliance-
Con:
STEVE GRIMMETT'S GRIM REAPER
SKANNERS (Exclusive show)
WITCHUNTER
ANGEL MARTYR
BIGLIETTI
Il costo del biglietto alla cassa è di 18 euro
Ingresso riservato ai soci Arci.
Presso:
Circolo Arci MU
Strada del Taglio 2
Parma
Apertura cancelli ore 21:00
Inserita da:
Jerico
il 20.04.2019 - Letture:
864
Articoli Correlati
Altre News di MetalWave