COWBOYS for DIMEBAG: All-Star Tribute BENEFIT SHOW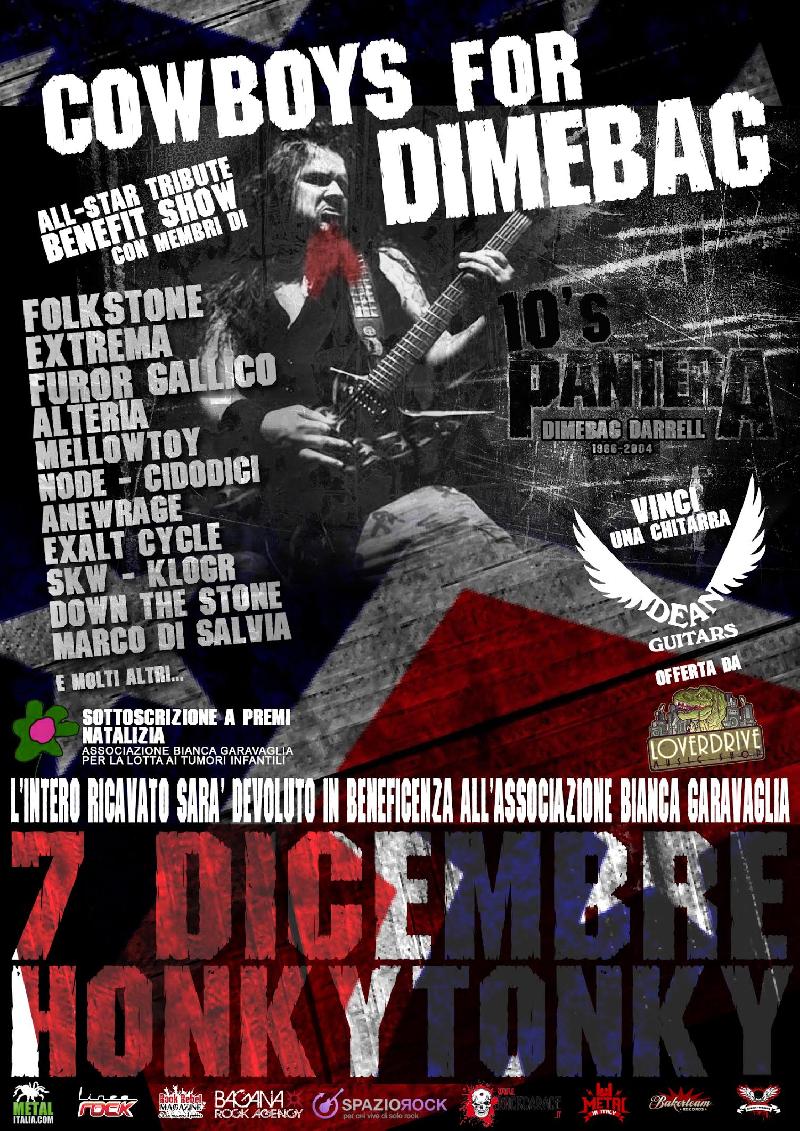 Dieci anni fa il mondo della musica perse uno dei suoi più grandi esponenti, quando, nel corso di una performance in Ohio con la sua nuova band DamagePlan, Dimebag Darrell Lance Abbott venne ferito a morte, sul palco.
Domenica 7 Dicembre 2014 al Honky Tonky di Seregno (MB) a dieci anni esatti da quel terribile avvenimento, alcuni dei più importanti esponenti della scena rock/metal italiana si ritrovano per ricordare il chitarrista, suonando 16 dei più noti brani della discografia dei PANTERA.
Parteciperanno membri di Folkstone, Extrema, Furor Gallico, Alteria, Mellowtoy, Node, Anewrage, Skw, Down The Stone, Cidodici, Klogr e molti altri, tutti insieme per più di una buona causa.
Il ricavato verrà infatti interamente devoluto all'Associazione Bianca Garavaglia, da anni impegnata sul fronte della lotta ai tumori infantili.
L'ingresso é GRATUITO ma all'entrata ed all'interno del locale sarà possibile fare una donazione ai volontari di "Musica per Carlo" per partecipare non ad una ma a due sottoscrizioni a premi!
Con la vostra donazione potrete vincere una chitarra DEAN gentilmente offerta da LOVERDRIVE MUSIC SHOP di Como e partecipare alla Lotteria di Natale dell'Associazione Bianca Garavaglia, aggiudicandovi numerosi premi che vi riveleremo nei prossimi giorni.
Non é ancora tutto. Il live show sarà accompagnato dalla proiezione dei "Vulgar Display Of Videos", dal dj set di Emi Mellowtoy e dalla musica diffusa, tutta in omaggio alla discografia di Darrell Lance "Dimebag" Abbott.
Evento Ufficiale:
http://www.facebook.com/events/316940238501469/?ref_newsfeed_story_type=regular&pnref=story
Ingresso: GRATUITO con tessera ACSI (costo 5€, con validità annuale per tutto il 2015)
http://www.abianca.org
http://www.facebook.com/LOVERDRIVE.MUSIC.SHOP
http://www.honkytonky.it
Inserita da:
Jerico
il 20.11.2014 - Letture:
2329
Articoli Correlati
Altre News di MetalWave
Notizia Precedente
Notizia Successiva