METALITALIA.COM FESTIVAL 2017: confermati i GOBLIN di Claudio Simonetti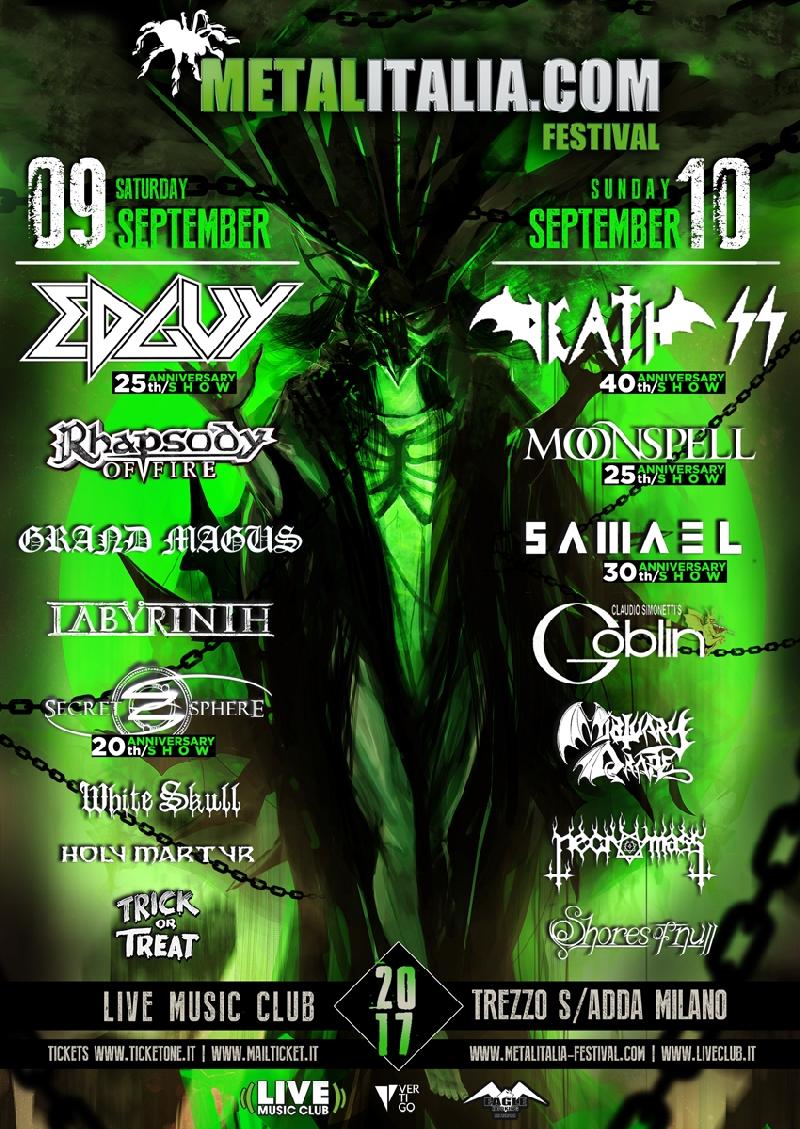 Metalitalia.com, Vertigo ed Eagle Booking Live Promotion sono liete di annunciare l'ultima band per il Metalitalia.com Festival 2017, evento che si terrá nei giorni 9 e 10 settembre al Live Club di Trezzo sull'Adda (MI). A completare la giornata del 10 settembre saranno i leggendari GOBLIN di Claudio Simonetti con uno show che raccoglierá vari brani tratti dalle colonne sonore di vari film, tra cui i famosi capolavori del maestro dell'horror Dario Argento! Durante lo show la band disporrá di un grande schermo sul quale verranno proiettati spezzoni dei film, per un evento dal notevole impatto scenico e atmosferico.
Di seguito il bill completo del festival:
Sabato 9 settembre 2017
EDGUY (25th anniversary special show)
RHAPSODY OF FIRE
GRAND MAGUS
LABYRINTH
SECRET SPHERE (20th anniversary special show)
WHITE SKULL
HOLY MARTYR
TRICK OR TREAT
Domenica 10 settembre
DEATH SS (40th anniversary special show)
MOONSPELL (25th anniversary special show)
SAMAEL (30th anniversary special show)
GOBLIN di Claudio Simonetti
MORTUARY DRAPE
NECROMASS
SHORES OF NULL
BIGLIETTI:
I biglietti sono in vendita attraverso il circuito Ticketone rivendite autorizzate ai seguenti prezzi:
Biglietto singola giornata: 35€ + prevendita, 40€ in cassa
Abbonamento due giornate: 60€ + prevendita, 70€ in cassa
Evento Facebook:
http://www.facebook.com/events/2298434727049131/
Come in occasione delle precedenti cinque edizioni, il Metalitalia.com Festival offrirà anche un'ampia area esterna dove sarà possibile incontrare gli artisti in meet & greet aperti a tutto il pubblico e nella quale saranno presenti numerosi stand di merchandise, CD, vinili, strumenti musicali, punti ristoro e molto altro. Il Live Club è inoltre provvisto di ampi parcheggi gratuiti e un ristorante al piano superiore, dal quale sarà possibile assistere direttamente al concerto.
Info:
METALITALIA.COM FESTIVAL
http://www.metalitalia-festival.com
http://www.facebook.com/Metalitalia.comFestival
Evento Facebook
http://www.facebook.com/events/2298434727049131/
METALITALIA.COM
http://www.metalitalia.com
VERTIGO
http://www.vertigo.co.it
http://www.facebook.com/vertigo.co.it
EAGLE BOOKING LIVE PROMOTION
http://www.eaglebooking.com
http://www.facebook.com/eaglebooking.livepromotion
LIVE CLUB
http://www.liveclub.it
POWERED BY
Tuborg
Inserita da:
Jerico
il 18.07.2017 - Letture:
1601
Articoli Correlati
Altre News di MetalWave
Notizia Precedente
Notizia Successiva