«The Darkest Tour – Filth Fest Part. 2»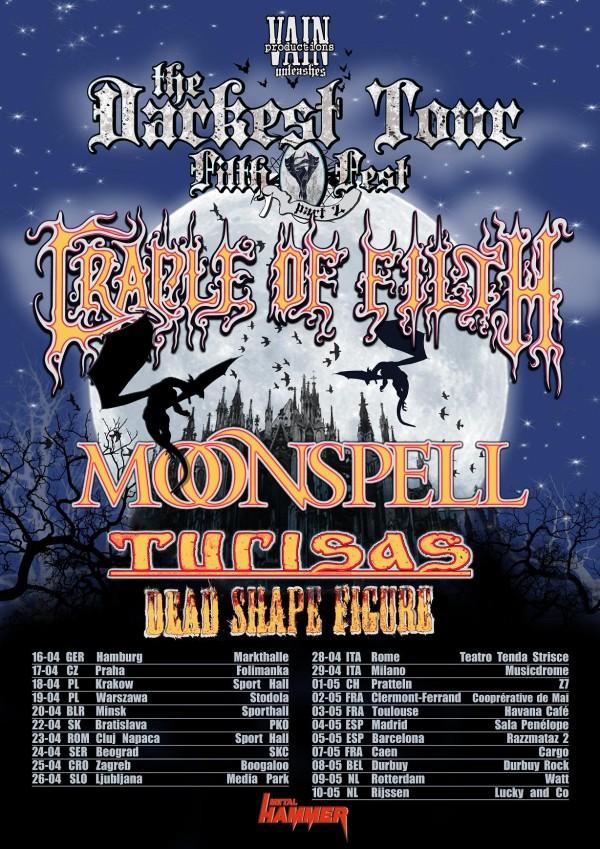 Data dell'Evento:
29.04.2009
Nome dell'Evento:
The Darkest Tour – Filth Fest Part. 2
Band:
Cradle of Filth





Moonspell
Turisas
Dead Shape Figure


Luogo dell'Evento:
Music Drome
Città:
Milano (MI)
Promoter:
Get Smart Agency

Autore:
Clode

»
Visualizzazioni:
3092
Live Report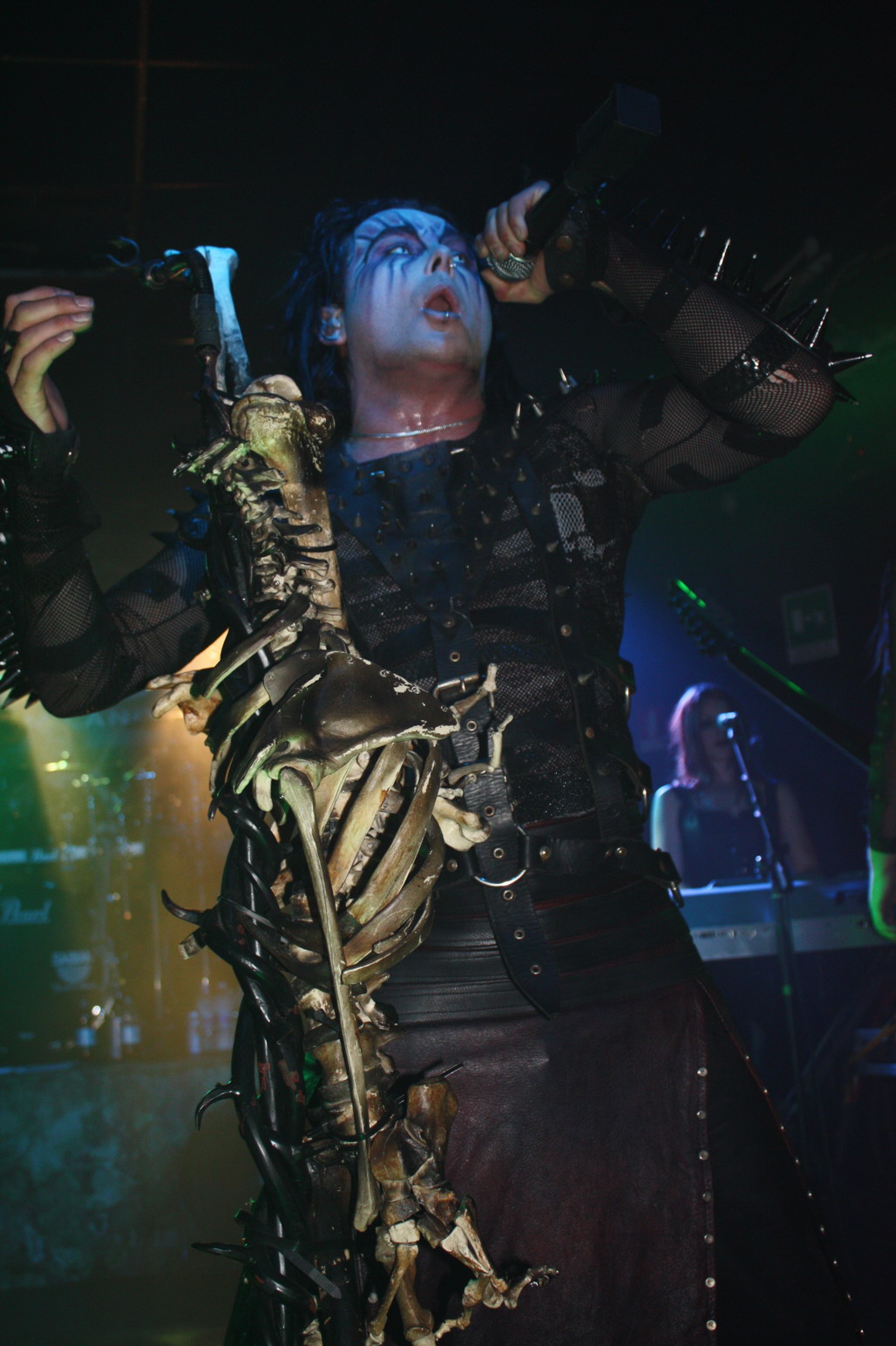 Siamo alla fine di un aprile insolitamente freddo e piovoso quando mi appresto a raggiungere il Music Drome di Milano, locale nato dalle "ceneri" del famoso Transilvania Live. Per fortuna il tempo regge fino a quando la maggior parte dei presenti, che non sono certo pochi, non entra nel locale: infatti, per questa seconda calata italiana del Darkest Tour, chiamato anche Filth Fest, il pubblico non è mancato pur trattandosi di una serata infrasettimanale.
I primi a salire sul palco sono i Dead Shape Figure, band finlandese che onestamente non conoscevo, autrice di un death/metalcore piuttosto violento. Purtroppo i cinque ragazzi di Helsinki non hanno molto tempo per convincere gli astanti della bontà della loro proposta; così mi lasciano con una sensazione di già sentito, anche se devo ammettere che il loro show è stato davvero devastante, merito soprattutto del cantante che non si è certo risparmiato, urlando ed incitando la folla.
Ero molto curioso di vedere finalmente i Turisas dal vivo e la mia attesa è stata premiata da uno show con i fiocchi e particolarmente divertente.
L'apertura delle danze è affidata a To Holmgard and Beyond, opener dell'ultimo album, ormai targato 2007, The Varangian Way.
I sei guerrieri finlandesi fanno ballare e cantare il pubblico con tutti i loro pezzi migliori, complici anche il violoncellista Olli, indiavolato dal primo all'ultimo secondo, e la fisarmonicista Netta che lancia sguardi ora ammaliatori, ora divertiti ai ragazzi delle prime file.
Passa poco più di mezz'ora ed è gia tempo per l'ultimo pezzo invocato a gran voce da tutti, Battle Metal, che ci riporta sui campi di battaglia e al primo album del gruppo. Nel complesso, un concerto che convince e lascia soddisfatti un po' tutti.
L'atmosfera si fa cupa per accogliere la più famosa band metal portoghese, i Moonspell, autori del dvd di fresca uscita "Lusitanian Metal".
Quando Fernando e soci salgono sul palco la risposta del pubblico si fa subito più calda, tanto che questo show risulterà il più gradito e seguito dai ragazzi accorsi. Complice soprattutto la non impellenza di promuovere un album in uscita, il concerto si trasformerà in una sorta di best of, infatti i Moonspell sanno bene cosa piace ai loro fan e non si fanno pregare più di tanto per elargire perle estratte dai loro primi, amatissimi album: Opium, Vampiria, Alma Mater si alternano a nuovi classici come Nocturna, Luna e Scorpion Flower, singolo tratto dall'ultimo album.
Appena il tempo di bearsi dell'antemica Full Moon Madness, con un Fernando scatenato a picchiare sui piatti della batteria, che è gia tempo per gli headliner della serata: dopo i vampiri lusitani, è il momento dei Cradle of Filth, i vampiri Inglesi.
È un ironico e saltellante Dani Filth che, con le sue urla lancinanti ed i suoi growl profondi, ci accompagna nei meandri dell'oscura e orrorifica decadenza che la musica dei Cradle.
Ricordo di averli visti nel 1999 headliner all'ormai defunto Dynamo Fest, così ritrovarli in un locale dalla capienza non proprio stellare mi fa un certo effetto. Da segnalare che, dopo il concerto dei Moonspell, il Music Drome si è parzialmente svuotato, cosa che mi fa riflettere sulla "salute" di questa band.
Tra gli undici pezzi proposti dalla band quelli che hanno riscosso maggiori applausi sono gli ormai leggendari Dusk and Her Embrace, Principle of Evil Made Flesh, Cruelty and the Beast e la "ballad" Nymphetamine dove, al posto dell'assente Sarah Jezebel, il ruolo di voce femminile viene momentaneamente ricoperto dalla tastierista Rosie Smith, a dire il vero non con gli stessi risultati.
Che dire infine di questo Darkest Tour? Un carrozzone di band di alto valore e musicalmente eterogenee, tanto da dare spazio agli amanti molte tra le sonorità principali del metal estremo e, per questo, ben riuscito.
Immagini della Serata
Recensione di
Clode
Articolo letto
3092
volte.
Articoli Correlati