METALITALIA.COM FESTIVAL 2017: show speciali di EDGUY, DEATH SS, MOONSPELL e SAMAEL e la prima dei nuovi RHAPSODY OF FIRE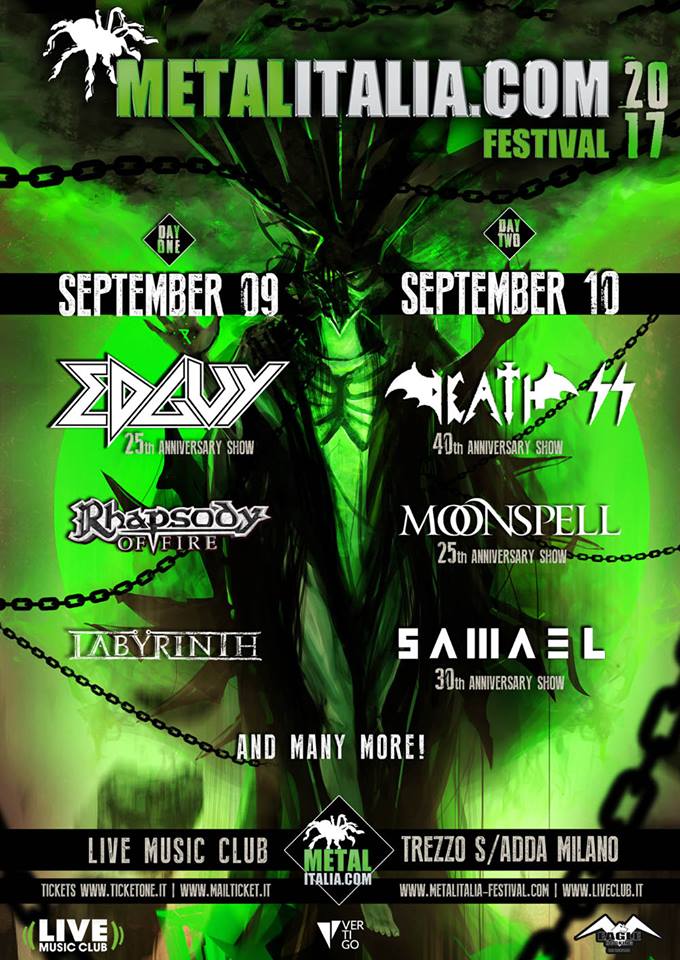 Metalitalia.com, Vertigo ed Eagle Booking Live Promotion sono lieti di annunciare le prime e importanti conferme per il Metalitalia.com Festival 2017, evento che si terrà Sabato 9 e Domenica 10 settembre al Live Club di Trezzo sull'Adda (MI).
SABATO 9 SETTEMBRE
Headliner della prima giornata del festival saranno gli EDGUY! La power metal band tedesca capitanata dal carismatico Tobias Sammet proporrà in data esclusiva italiana un grande show celebrativo del proprio 25° anniversario con una lunga carrellata di classici.
Prima di loro i RHAPSODY OF FIRE terranno la loro prima attesissima data nel nostro paese con la nuova formazione con Giacomo Voli alla voce e riproporranno in una nuova veste i brani che li hanno resi famosi in tutto il mondo.
Farà parte del bill anche un altro nome di assoluto rilievo nel panorama metal italiano: i LABYRINTH, rilanciati alle vette della scena power classic metal dall'ottimo nuovo album "Architecture Of A God" uscito ad aprile.
DOMENICA 10 SETTEMBRE
Con grande piacere annunciamo che in occasione di questa seconda giornata del festival, torneranno sulle scene dopo anni di attesa i leggendari DEATH SS con uno show esclusivo che celebrerà i quarant'anni di carriera di una delle band più prestigiose e stimate del nostro paese. Il gruppo sarà accompagnato da un nuovo e imponente set scenografico studiato appositamente per questo evento.
Sotto di loro in questa giornata dal taglio più oscuro, altri due show speciali per due grandi nomi del metal internazionale: i MOONSPELL con un show per i loro 25 anni di attività e i SAMAEL con uno spettacolo dedicato al loro trentennale
Rimanete sintonizzati perchè ci saranno altre conferme e sorprese per entrambe le giornate.
Come in occasione delle precedenti cinque edizioni, il Metalitalia.com Festival, oltre a un ricco cast con altre band che annunceremo in seguito, offrirà un'ampia area esterna dove sarà possibile incontrare gli artisti in meet & greet aperti a tutto il pubblico e nella quale saranno presenti numerosi stand di merchandise, CD, vinili, strumenti musicali, punti ristoro e molto altro. Il Live Club è inoltre provvisto di ampi parcheggi gratuiti e un ristorante al piano superiore, dal quale è possibile assistere direttamente al concerto.
METALITALIA.COM FESTIVAL 2017:
Sabato 9 settembre 2017
EDGUY (25th Anniversary Special Show), RHAPSODY OF FIRE, LABYRINTH e altri
Domenica 10 settembre
DEATH SS (40th Anniversary Special Show), MOONSPELL(25th Anniversary Special Show), SAMAEL (30th Anniversary Special Show) e altri
BIGLIETTI:
I biglietti sono in vendita attraverso Ticketone.it e rivendite autorizzate ai seguenti prezzi:
Biglietto singola giornata: 35€ + prevendita, 40€ in cassa
Abbonamento due giornate: 60€ + prevendita, 70€ in cassa
Info:
METALITALIA.COM FESTIVAL
http://www.metalitalia-festival.com
http://www.facebook.com/Metalitalia.comFestival
METALITALIA.COM
http://www.metalitalia.com
VERTIGO
http://www.vertigo.co.it
http://www.facebook.com/vertigo.co.it
EAGLE BOOKING LIVE PROMOTION
http://www.eaglebooking.com
http://www.facebook.com/eaglebooking.italy
LIVE CLUB
http://www.liveclub.it
Inserita da:
Jerico
il 29.05.2017 - Letture:
869
Articoli Correlati
Altre News di MetalWave