HOUSE OF ROCK: parte il nuovo locale nel novarese con 4 serate da urlo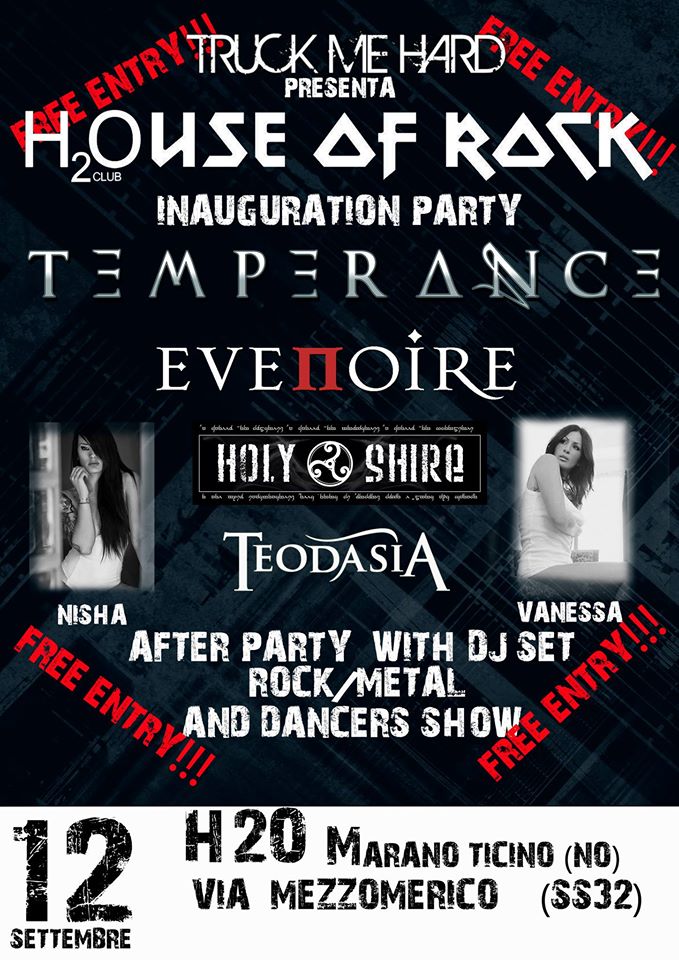 Apre i battenti l'H2O Club, il nuovo locale nel novarese, con le serate denominate HOUSE OF ROCK ogni venerdì!
Si parte con i primi 4 appuntamenti da urlo:
Venerdì 12 settembre:
Female Voice Festival con TEMPERANCE, EVENOIRE, HOLY SHIRE & TEODASIA
Venerdì 19 settembre:
Schwarze Sonne - Rammstein Tribute
Venerdì 26 settembre:
DGM ( Release Party Vinyl Momentum ) , Loreweaver & Frozen Sand
Venerdì 3 ottobre:
ALTERIA ( Ultima data del tour) , Sixty Miles Ahead & Anticlockwise
A seguire, dj set rock metal al 100% per tutta la notte!
H2o è anche STEAK HOUSE TEXAS GRILL! Sarà possibile prenotare il tavolo al 0321-97575 o al 347- 4701015.
http://www.texasgrill.it/
Ingresso Gratuito per la serata d'inaugurazione del 12 settembre, dove saliranno sul palco durante il dj set le bellissime ballerine Nisha & Vanessa!
Non mancate a questa prima serie di grandi party rock metal!!!
H2O LIVE CLUB
via mezzomerico (SS32), 28040 Marano Ticino - Novara
Per info:
http://www.facebook.com/h2ouseofrock
http://www.truckmehard.com
http://www.facebook.com/truckmehard
Inserita da:
Jerico
il 11.09.2014 - Letture:
2100
Articoli Correlati
Concerti
13 Nov. 2022

Temperance + LionSoul + Eternal Idol @ "Legend Club", Milano (MI)

12 Nov. 2022

Temperance + LionSoul + Eternal Idol @ "La Fabbrica Degli Artisti", Cerea (VR)

11 Nov. 2022

Temperance + LionSoul + Eternal Idol @ "Astro Club", Fontanafredda (PN)
Altre News di MetalWave