Teodasia «Crossing The Light» (2010)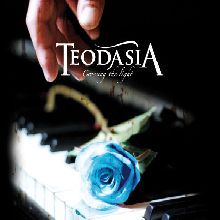 Autore:
moro mou

»
Recensione Pubblicata il:
--
Visualizzazioni:
2104
Band:
Teodasia






Titolo:
Crossing The Light
Nazione:
Italia
Formazione:
Francesca Prevedello :: Voce Michele Munari :: Tastiere Nicola Falsone :: Basso
Fabio Compagno :: Chitarra Francesco Gozzo :: Batteria
Genere:
Durata:
17' 16"
Formato:
CD
Data di Uscita:
2010
Etichetta:
Distribuzione:
---
Agenzia di Promozione:
---
Recensione
I Teodasia sono un gruppo melodic metal di Cazzago (Ve) e, come tale,
la sua formazione aderisce e rispetta le classiche regole di genere: voce femminile,
chitarra, basso, batteria e naturalmente tastiere.
Complessivamente, niente di nuovo sotto al sole. Anzi, le
sonorità sono piuttosto aderenti a gruppi come Nightwish in primis, Within Temptation e chi più ne ha più ne metta. Tornano immancabili le cavalcate di chitarra e batteria, i vocalizzi melodici della cantante, i cambi di ritmo, i cori in sottofondo, i tipici arrangiamenti, gli assoli di chitarra e di tastiera per dare enfasi in certi studiati passaggi.
Il primo lavoro a cui sono approdati i Teodasia, l' EP "Crossing the light", si apre con l'intro ("Crossing" nello specifico) dal sapore
molto ambient. Anzi, direi che potrebbe benissimo essere usato come colonna sonora di film o videogiochi di genere fantasy.
Seguono "Loosing my breath" in stile direi nightwishiano, "Magic Mirror" con un' interessante nota di apertura a suon di clavicembalo e le sue divagazioni epic/power metal.
La successiva "Through the Light" ha tutte le carte in regola per diventare
il cavallo di battaglia alla conquista del pubblico più ampio per la sua orecchiabilità; tanto è vero che è già stato sfornato il relativo videclip. Infine "King's Land" e "King's Land part 2" (bonus track), alle quali possiamo associare un "come sopra"
per la mini cavalcata finale e la chiusura a suon di tastiere e sonorità ambient.
L' EP è supportato da una buona produzione e la cantante Francesca Prevedello (non credo si tratti di una soprano perchè mancano i classici gorgheggi) è talentuosa quanto basta da
inserirsi benissimo nel sound di genere e nei suoi voli melodici.
I Teodasia fanno musica con sincerità, consapevoli e fedeli alla linea, niente da eccepire su questo. Non delude neanche la tecnica strumentale, solo ritengo che per essere apprezzati ancora di più debbano sviluppare una vena davvero
originale, così da non lasciare in bocca, a fine ascolto, il sapore così netto
di "già sentito".
Per il resto, il pubblico amante dei gruppi sopracitati certamente non verrà deluso,
anzi, sarebbe interessante avere come nuovo ammirevole punto di riferimento un gruppo melodic italiano, a patto che questo dimostri la sua capacità di innovazione e di
traino rispetto invece al ruolo che finora appare purtroppo subordinato.
Track by Track
Crossing

70

Loosing My Breath

65

Magic Mirror

70

King's Land

65

King's Land part 2 (bonus track)

65
Giudizio Confezione
Qualità Audio:

80

Qualità Artwork:

65

Originalità:

60

Tecnica:

70
Recensione di
moro mou

»
pubblicata il --. Articolo letto
2104
volte.
Articoli Correlati