Temperance «The Earth Embraces Us All» (2016)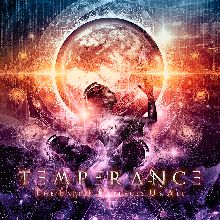 Autore:
reira

»
Recensione Pubblicata il:
13.09.2016
Visualizzazioni:
1807
Band:
Temperance





Titolo:
The Earth Embraces Us All
Nazione:
Italia
Formazione:
Chiara - Vocals
Marco - Lead Guitar & Vocals
Luca - Bass
Giulio - Drums & Keys
Genere:
Modern Melodic Metal
Durata:
1h 0' 35"
Formato:
CD
Recensione
Dopo il successo di Limitless, i Temperance tornano con rinnovata energia e un album ricco di idee.
In questo The Earth Embraces Us All troviamo elementi del precedente lavoro, ma anche una maggiore maturità compositiva e un'affinità di gruppo notevole.
I pezzi sono undici, suonati con bravura e personalità: pare infatti che i Temperance stiano trovando la strada giusta per differenziarsi dalle molteplici band in circolazione che suonano uno stile simile.
Nel complesso la qualità di questo nuovo lavoro è alta: la chiave melodica la fa da padrona, accostata a una ventata di positività che pochi sanno trasmettere e che si adatta ai gusti di tutti gli amanti del genere.
Ognuno può quindi trovare una song che piaccia più di altre. Personalmente ho trovato molto belle Maschere (sempre bello sentire cantare anche in italiano), Revolution (carica) e The Restless Ride (stupenda a dir poco).
Che altro aggiungere? Avevo già colto l'occasione di recensire i Temperance. La prima volta era per curiosità, ora l'ho fatto in cerca di una conferma.
Questi ragazzi sono molto bravi e stanno ottenendo il successo che meritano. Tanto di cappello.
Track by Track
Thousand places

80

At the edge of space

80

Unspoken words

80

Empty lines

80

Maschere

85

Haze

80

Fragments of life

80

Revolution

85

Advice from a caterpillar

80

Change the rhyme

80

The restless ride

90
Giudizio Confezione
Qualità Audio:

90

Qualità Artwork:

80

Originalità:

75

Tecnica:

85
Recensione di
reira

»
pubblicata il 13.09.2016. Articolo letto
1807
volte.
Articoli Correlati
Interviste
Live Reports
Spiacenti!

Non sono disponibili Live Reports correlati.
Concerti
Spiacenti!

Non sono disponibili concerti correlati.