METALITALIA.com FESTIVAL 2013: DESTRUCTION co-headliner e ultime conferme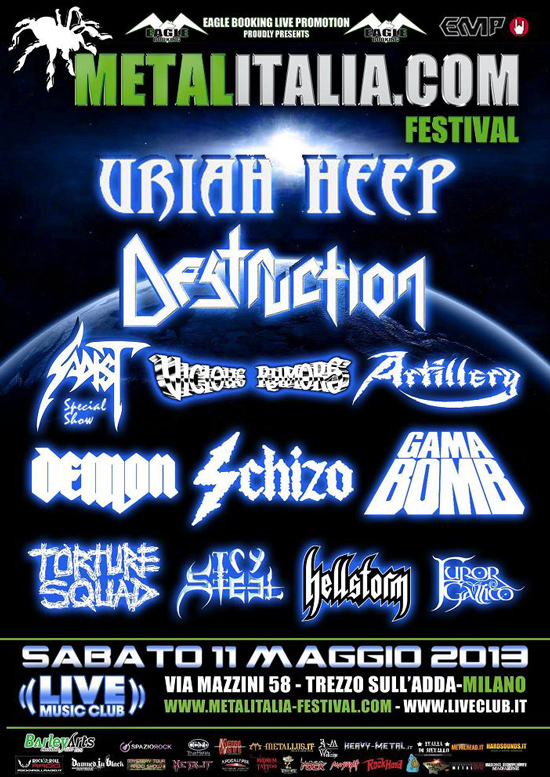 Eccoci ad annunciare il secondo prestigioso headliner del METALITALIA.com FESTIVAL. E' da poco uscito via Nuclear Blast il loro ultimo album "Spiritual Genocide" che sta riscuotendo un grosso successo in tutto il mondo, fanno parte della storia della musica estrema e sono fonte di ispirazione per tutti coloro che hanno voluto intraprendere un cammino musicale in questa direzione; parliamo infatti della leggendaria thrash metal band tedesca DESTRUCTION!
Un altro nome scelto a rappresentare il tricolore sono gli extreme thrasher milanesi HELLSTORM, con ormai 15 anni di carriera alle spalle ed un ottimo disco, "Into the Mouth of the Dead Reign" uscito lo scorso novembre con sorprendenti dati di vendita. Un vanto per il nostro territorio.
Siamo infine lieti di annunciare anche i FUROR GALLICO, degna rappresentanza italiana del sempre più popolare folk metal. La band è attualmente al lavoro sul nuovo album, la cui uscita è prevista entro l'anno.
Questo dunque il bill completo dell'evento:
METALITALIA.com FESTIVAL 2013
11 maggio 2013
LIVE MUSIC CLUB
Via Mazzini 58, Trezzo Sull'Adda Milano (MI)
URIAH HEEP
DESTRUCTION
SADIST (special show)
VICIOUS RUMORS
ARTILLERY
DEMON
SCHIZO
GAMA BOMB
TORTURE SQUAD
ICY STEEL
HELLSTORM
FUROR GALLICO
Apertura cancelli: ore 13:00
Evento Facebook:
http://www.facebook.com/events/319017201543267/
Nell'area estiva, appositamente attrezzata anche in caso di maltempo, oltre all'immancabile METAL MARKET con CD e merchandising saranno presenti anche stand di artisti, tatuatori, performer, punto ristoro, area lounge e altro.
Il LIVE MUSIC CLUB è provvisto di ampi parcheggi gratuiti e un ristorante al piano superiore, dal quale è possibile assistere direttamente al concerto.
Il costo del biglietto in promozione è di € 30 più diritti di prevendita. Prezzo in cassa € 35
Le prevendite sono disponibili sui seguenti circuiti e rivendite autorizzate:
TICKET ONE
M@ILTICKET
LIVE CLUB
VIVA TICKET
TICKET.IT
Info:
METALITALIA.com FESTIVAL Official Web Site
http://www.metalitalia-festival.com
METALITALIA.com FESTIVAL Official Fb page
http://www.facebook.com/Metalitalia.comFestival
METALITALIA.com
http://www.metalitalia.com
LIVE CLUB
http://www.liveclub.it
EAGLE BOOKING LIVE PROMOTION:
http://www.eaglebooking.com
Official Sponsor:
EMP Mailorder Italia
http://www.emp-online.it
Official Event Partner:
BARLEY ARTS PROMOTION
http://www.barleyarts.com
Inserita da:
Jerico
il 28.02.2013 - Letture:
1822
Articoli Correlati
Altre News di MetalWave
Notizia Precedente
Notizia Successiva