METALITALIA.com FESTIVAL 2013: aggiunti VICIOUS RUMORS, DEMON e show speciale dei SADIST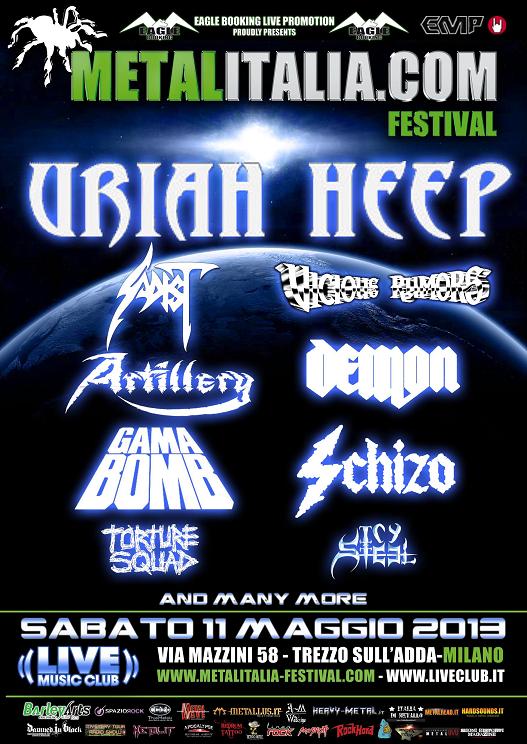 Arrivano finalmente altre importanti conferme ad ampliare quello che sarà il bill 2013 del Metalitalia.com Festival 2013. Si aggiungono alle fila VICIOUS RUMORS, DEMON e SADIST con uno show speciale!
I VICIOUS RUMORS sono una delle band più longeve del panorama della bay area californiana, nata nel 1979, si possono sicuramente annoverare tra i pionieri dell'heavy metal ed ancora qualcosa di più per quello che riguarda il power metal americano. ll 26 Aprile uscirà il loro nuovo album "ELECTRIC PUNISHMENT" edito da Steamhammer e distribuito da SPV.
I DEMON li possiamo considerare come una leggenda, tanto che anche gli stessi Metallica li menzionano tra le loro band ispiratrici, così come i Blind Guardian hanno incluso una loro cover ("Don't break the circle") nel loro master album "Follow the blind", ma le citazioni sono innumerevoli.
Data la rarità dei loro spettacoli, la presenza dei DEMON contribuisce a rendere il Festival un evento d'eccezione!
Confermata anche la presenza dei SADIST, indiscussi alfieri italiani del progressive death metal, che riserveranno in esclusiva al pubblico presente una sorpresa davvero speciale: in occasione del ventennale di "Above The Light" (1993), glorioso e seminale masterpiece della storia Sadist, la band eseguirà infatti dal vivo una setlist interamente dedicata all'album, accompagnata sul palco da un quartetto d'archi. Una vera eccellenza che arricchirà il già prestigioso bill del Metalitalia.com Festival 2013!
A Breve maggiori informazioni su bands, orari ed altro.
Sabato 11 Maggio 2013
METALITALIA.com FESTIVAL 2013
URIAH HEEEP, SADIST, VICIOUS RUMORS, ARTILLERY, DEMON, SCHIZO, GAMA BOMB, TORTURE SQUAD, ICY STEEL... and many more!
LIVE MUSIC CLUB
Via Mazzini 58, Trezzo Sull'Adda Milano (MI)
Evento Facebook:
http://www.facebook.com/events/319017201543267/
Apertura cancelli: ore 13:00
Il costo del biglietto in promozione è di € 30 più diritti di prevendita. Prezzo in cassa € 35
Le prevendite saranno disponibili da Venerdì 25 Gennaio 2013 sui seguenti circuiti e rivendite autorizzate:
TICKET ONE
M@ILTICKET
LIVE CLUB
VIVA TICKET
TICKET.IT
Info:
METALITALIA.com FESTIVAL Official Web Site
http://www.metalitalia-festival.com
METALITALIA.com FESTIVAL Official Fb page
http://www.facebook.com/Metalitalia.comFestival
METALITALIA.com
http://www.metalitalia.com
LIVE CLUB
http://www.liveclub.it
EAGLE BOOKING LIVE PROMOTION:
http://www.eaglebooking.com
Official Sponsor:
EMP Mailorder Italia
http://www.emp-online.it
Official Event Partner:
BARLEY ARTS PROMOTION
http://www.barleyarts.com
Inserita da:
Jerico
il 08.02.2013 - Letture:
1455
Articoli Correlati
Altre News di MetalWave