BORN TO BE A LIVE: il bill del Quarantine Online Concert 2020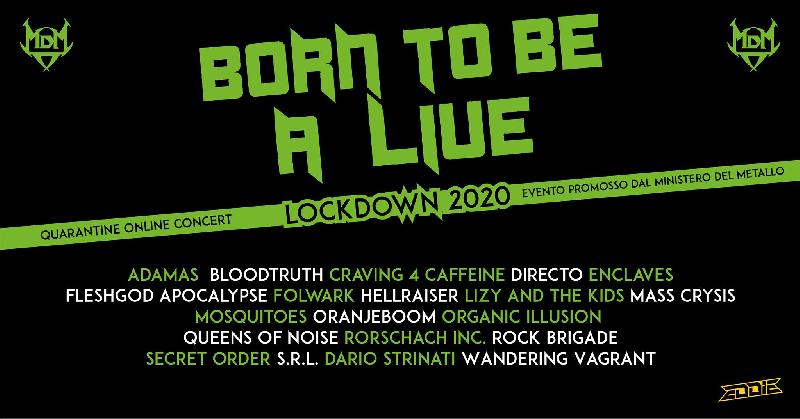 Per i Vostri Affezionatissimi del Ministero del Metallo, come per tutti Voi, la quarantena è stata dura:
l'ansia, l'angoscia per le notizie terrificanti con cui i TG ci hanno bombardato, la paura per i propri cari, il senso di asfissia dentro le quattro mura di casa, quello di insicurezza per chi comunque ha continuato a lavorare e per chi non sa se ci tornerà, sono sentimenti che noi tutti abbiamo condiviso in questi mesi. Anche l'odio per Pappalardo.
Da gran cazzoni quali siamo, signore comprese, non possiamo non pensare che la pandemia ci abbia portato via quello che ci rendeva tollerabile il nostro nemico numero uno (la vita, ovviamente): un palco, le casse (audio), le casse (di birra), le band sopra, gli amici a pogare e a svitarsi il collo sotto, l'acufene, il sudore, Ozzy che cade, la lurza incredibile, e la felicità a fine serata per aver organizzato qualcosa di speciale per noi, ma soprattutto per Voi.
La sospensione degli eventi con musica dal vivo e i timidi accenni di riapertura che si prevedono verso giugno, ci hanno fatto molto riflettere su cosa avremmo potuto fare per dare una mano, sia alle band inchiodate a casa e impossibilitate a suonare per farsi conoscere, che alle istituzioni impegnate a risolvere la pandemia, con uscite economiche senza precedenti.
Il risultato di questa riflessione è Born To Be A Live, l'home concert del Ministero del Metallo, che vedrà la partecipazione di moltissime band umbre con le quali abbiamo collaborato nei lunghi anni di macelli combinati dalla vostra associazione preferita:
ADAMAS
BLOODTRUTH
CRAVING CAFFEINE
DIRECTO
ENCLAVES
FLESHGOD APOCALYPSE
FOLWARK
HELLRAISER
LIZY AND THE KIDS
MASS CRYSIS
MOSQUITOES
ORANJEBOOM
ORGANIC ILLUSION
QUEENS OF NOISE
ROCK BRIGADE
RORSCHACH INC
SECRET ORDER
S.R.L.
STRINATI
WANDERING VAGRANT
L'appuntamento è per giovedì sera, il fatidico subito dopo la riapertura della "pesca" fuori regione e badate, è l'unica volta in vita nostra (speriamo), che il MdM vi chiederà di mettere il culo sul divano: perciò mettete al fresco le birre, scaldate il collo, preparate le vostre cuffie preferite e DAJE!
DONAZIONI:
Fondo per le famiglie degli operatori sanitari che hanno perso la vita nella lotta al Coronavirus - Sempre con voi
Le donazioni hanno l'obiettivo di sostenere le famiglie di medici e infermieri che hanno perso la vita a causa del Covid-19 svolgendo sul campo le attività di contrasto al coronavirus. È possibile donare tramite bonifico sia dall'Italia sia dall'estero attraverso le seguenti coordinate bancarie:
Banca Intesa Sanpaolo Spa
Filiale di Via del Corso 226 - ROMA
Intestato a Pres. Cons. Min. Dip. Prot. Civ. -Vittime Sa
-IBAN: IT66J0306905020100000066432
-BIC: BCITITMM
La Croce Rossa Italiana è in prima linea dall'inizio dell'allerta Covid-19 in modo capillare su tutto il territorio nazionale attraverso migliaia di volontari e operatori che stanno lavorando senza sosta per sostenere la popolazione.
Puoi donare attraverso i seguenti canali:
Bonifico Bancario
conto Solidarietà dedicato solo alla raccolta fondi:
-IBAN IT93H0200803284000105889169
-intestato ad Associazione della Croce Rossa Italiana
-Tramite PayPal, Carta di Credito al link
https://donazioni.cri.it/donazioni/dona-per-emergenza-coronavirus
-Chiamando il numero verde 800 065510
-inviando un sms solidale al numero 45505, l'sms ha il valore di 2 euro oppure chiama da telefono fisso per donare 5 e 10 euro.
Inserita da:
Jerico
il 01.06.2020 - Letture:
930
Articoli Correlati
Altre News di MetalWave
Notizia Precedente
Notizia Successiva