Adamas «Evil All Its» (2010)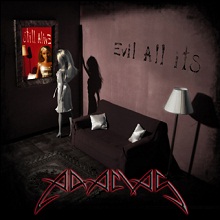 Autore:
carnival creation

»
Recensione Pubblicata il:
--
Visualizzazioni:
1872
Band:
Adamas






Titolo:
Evil All Its
Nazione:
Italia
Formazione:
Faithful Father :: Vocals
Urghiolu :: Guitar
Burellovski :: Guitar
Spellbounder :: Keyboards
Mr. Ice :: Bass
Magnosuuvucchieri :: Drums
Genere:
Durata:
33' 22"
Formato:
CD
Data di Uscita:
2010
Etichetta:
Distribuzione:
---
Agenzia di Promozione:
---
Recensione
Gli Adamas nascono nel recente 2007 per volere del cantante Luigi Castellani e di suo fratello Eugenio, batterista; entrambi desiderosi di generare una band che avrebbe solcato le scene italiane e non, con una buona dose di energia.
Ciò viene concretizzato, dapprima con l'EP autoprodotto dal titolo "Exarco" (datato 2009), poi con il disco vero e proprio -ivi recensito-, "Evil All Its".
Un suono fresco e potente nonostante si rifaccia moltissimo a band come Children Of Bodom per quanto riguarda gli arrangiamenti delle tastiere e dei synth, Megadeth, per riff e modo di cantare del singer, ma anche Blind Guardian, Iron Maiden, Savatage, gli ultimi Metallica e i primi Testament.

Indi aspettatevi pure un Thrash Metal dai connotati eccezionalmente melodici con riff taglienti sì, ma anche con la giusta dose di fraseggi armonici i quali donano respiro e non consentono all'estremo di soffocare il sound generale. Quest'ultimo mi è sembrato prodotto sufficientemente bene per ascoltare tutti gli strumenti miscelati tra loro in modo corposo e adatto al genere proposto.
Dicevo "simili ai Megadeth" anche se ancora molto lontani dalla precisione perfetta della band di Mustaine e soci. Gli Adamas sembrano infatti un gruppo molto omogeneo ma ancora leggere imprecisioni sui riff appaiono chiare per cui è imperativo dire che ai nostri va lasciato del tempo per assestare tutti i particolari.
Il disco si lascia ascoltare senza intoppi e, tra atmosfere belliche (Baghdad Singin' In The Raid) e sperimentazioni che strizzano l'occhio al Progressive Metal (Still Alive e Revenge...Best Served Cold) la mezzoretta di durata dell'album scorre che è un amore.
Un dolce preludio per un futuro capolavoro, chissà. Per ora posso dire "Promossi!".
Track by Track
Baghdad Singin' In The Raid

65

Bitch Night

70

Adamas

65

Pics From life

65

Still Alive

70

Bloody Bridge

60

Revenge...Best Served Cold

70
Giudizio Confezione
Qualità Audio:

75

Qualità Artwork:

65

Originalità:

65

Tecnica:

70
Recensione di
carnival creation

»
pubblicata il --. Articolo letto
1872
volte.
Articoli Correlati