COWBOYS for DIMEBAG: All-Star Tribute BENEFIT SHOW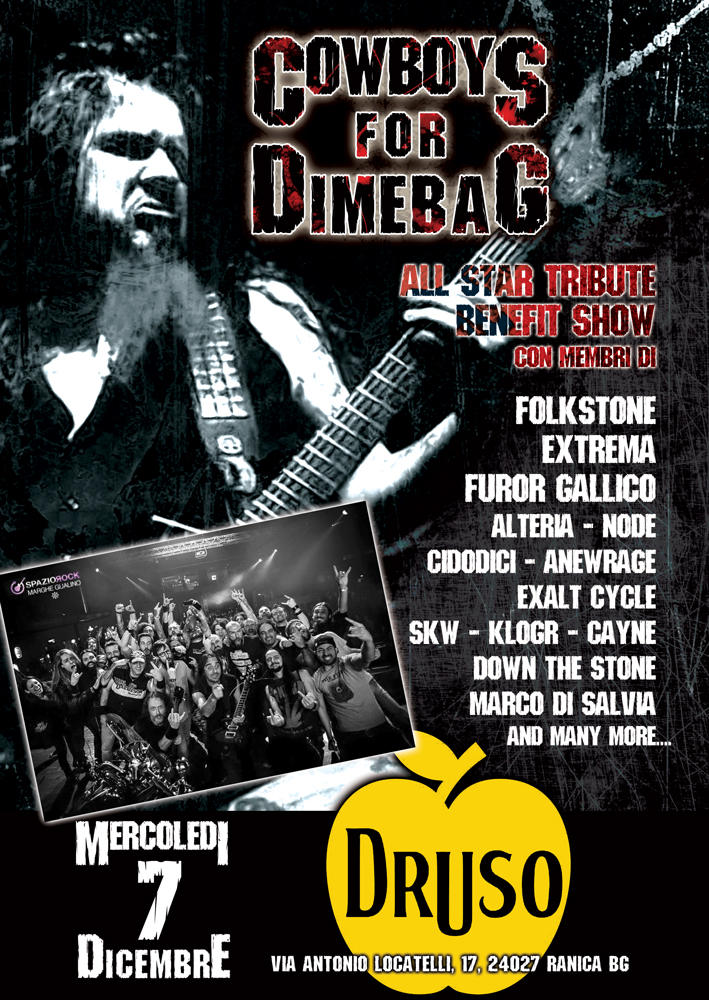 Questo Mercoledì 7 Dicembre 2016 al Druso di Ranica (BG), alcuni dei più importanti esponenti della scena rock/metal italiana si ritroveranno per ricordare Dimebag Darrell, scomparso dodici anni or sono, dando vita ad una festa a sfondo benefico: il ricavato verrà infatti interamente devoluto come sempre all'Associazione Bianca Garavaglia, impegnata sul fronte della lotta ai tumori infantili.
Parteciperanno membri di Folkstone, Extrema, Furor Gallico, Alteria, Mellowtoy, Node, Anewrage, Skw, Down The Stone, Cidodici, Pino Scotto Band e molti altri, tutti insieme per più di una buona causa.
In scaletta, oltre ai brani più famosi della discografia dei Pantera anche un breve omaggio a Lemmy, il leader dei Motorhead scomparso lo scorso Dicembre e spesso omaggiato dalla band di Darrell con la cover di 'Ace Of Spades'.
Al termine del live un intero dj set in omaggio ai dischi preferiti ed alla discografia di Darrell Lance "Dimebag" Abbott. Getcha Pull!
Evento Ufficiale:
http://www.facebook.com/events/1673861006259361/
Apertura porte: h 21.00
Inizio concerti: h 22.00
Ingresso: offerta minima 5€
http://www.abianca.org
http://www.facebook.com/drusobergamo
http://www.facebook.com/cowboysfordimebag
Inserita da:
Jerico
il 07.12.2016 - Letture:
1671
Articoli Correlati
Altre News di MetalWave