FESTA BIKERS 2015: altre conferme e novita'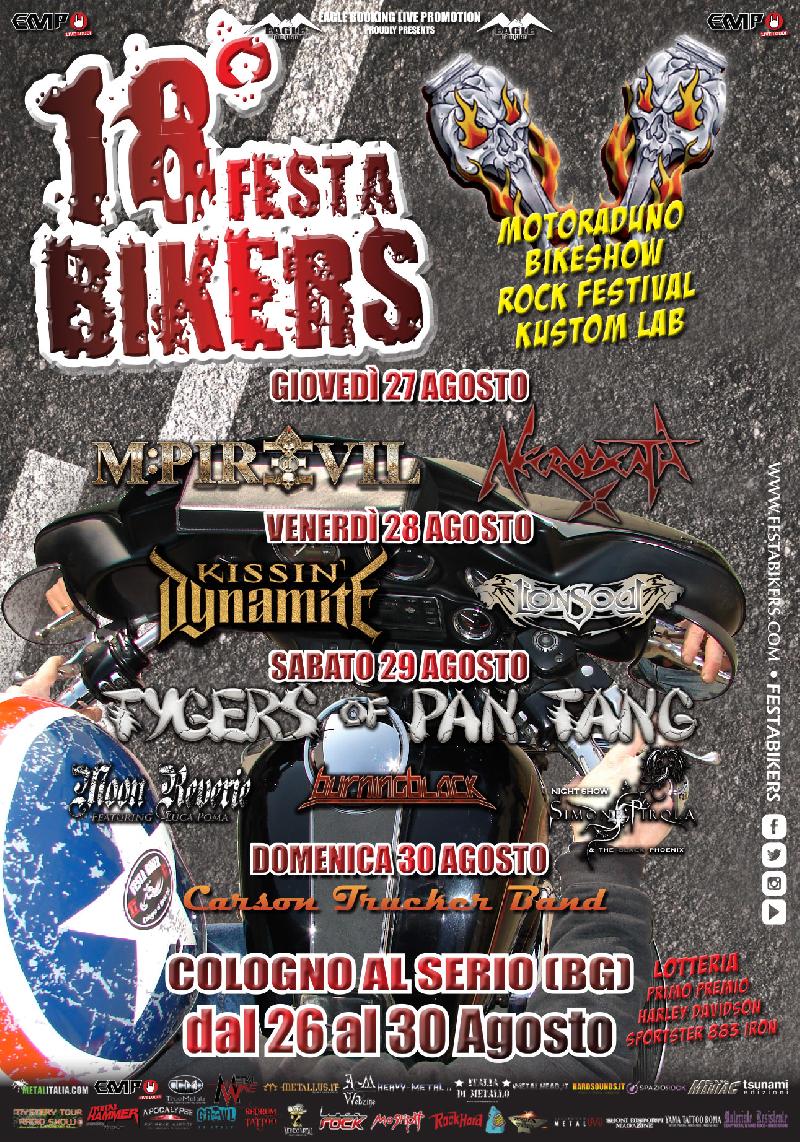 Giunge alla 18a edizione la Festa Bikers di Cologno al Serio che come consuetudine si svolgerà l'ultima settimana di Agosto da Mercoledi 26 a Domenica 30.
Come tutti gli anni, nell'estesa area della festa, troverete un numero di stand tale da formare un vero e proprio Metal Market con articoli che vanno dall'abbigliamento (giubbotti, stivali, magliette…) all'oggettistica (dal Dark all'Heavy), Vinili ed oggetti da collezionismo, mobili ed accessori in stile Rock e Fantasy, fino agli immancabili costruttori di moto ed una schiera di artigiani con prodotti d'eccellenza.
Parlando di ristorazione, dopo il successo dell'anno scorso, oltre al Ristorante - Pizzeria, un'ampia Birreria e ai due bar dislocati nel quartiere della Festa, sarà disponibile un intero tendone dedicato esclusivamente agli Hot Dog in ogni loro combinazione, mentre al ristorante, oltre alla classica cucina locale e Biker, saranno disponibili anche menù e piatti dedicati agli amici vegetariani.
Per chi volesse godersi la Festa in famiglia sarà disponibile un'area ricreativa dedicata ai bambini più piccoli con tanto di attrezzature ed uno staff di educatori (Bikers).
Musicalmente parlando, anche gli spettacoli saranno numerosi e diversi e si svolgeranno sul Palco Centrale sul Palco 2 della zona preparatori.
I gruppi che si esibiranno saranno i seguenti:
MERCOLEDì 26 AGOSTO:
Serata Country con Diego Albano – Country Dance Entertainment (palco centrale)
GIOVEDI 27 AGOSTO:
M:PIRE OF EVIL, NECRODEATH (palco centrale)
VENERDI 28 AGOSTO:
KISSIN' DYNAMITE, LIONSOUL (palco centrale)
SABATO 29 AGOSTO:
TYGERS OF PAN TANG, MOON REVERIE, BURNING BLACK (palco centrale)
NIGHT SHOW: SIMONE PIROLA & BLACK PHOENIX (palco centrale)
DOMENICA 30 AGOSTO:
CARSON TRUCKER BAND (Rock'n' Roll & Country Rock) (palco centrale)
Pomeriggio Country Line Dance con Letizia Gipsy Country (palco 2 zona preparatori)
Ci teniamo a ricordarvi che per chi partecipa a "piedi" l'ingresso è gratuito , mentre per chi parteciperà al motoraduno, l'iscrizione è di 10 € e comprende un Gadget della manifestazione ed un biglietto della lotteria valida per vincere una Harley Davidson Sportster 883 Iron.
Data la larga disponibilità di superfici coperte, la manifestazione si svolgerà con qualunque condizione atmosferica.
Facciamo inoltre presente che Festa Bikers è una manifestazione benefica, i cui proventi vengono totalmente devoluti in beneficenza ad un discreto numero di enti e fondazioni a scopo umanitario, tra cui in primis L'Associazione per le Cure Palliative Hospice di Bergamo (associazione che cura i malati terminali di tumore), e che i suoi proventi derivano esclusivamente dagli stand autogestiti come il ristorante e la birreria.
FESTA BIKERS
Cologno Al Serio (Zona Industriale) BG
26 AL 30 Agosto 2015
Info:
http://www.festabikers.com
Supported by:
EMP Mailorder Italy
http://www.emp-online.it
Inserita da:
Jerico
il 17.06.2015 - Letture:
1928
Articoli Correlati
Altre News di MetalWave
Notizia Precedente
Notizia Successiva