Decapitated + Hate + Dies Irae + Crionics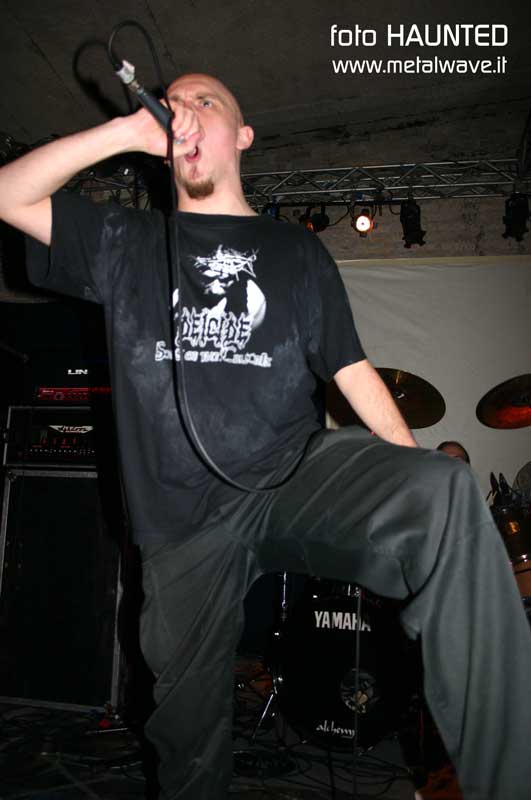 Data dell'Evento:
20.02.2005
Band:
Decapitated
Hate


Dies Irae
Crionics
Luogo dell'Evento:
Circolo degli Artisti
Città:
Roma
Promoter:
Kick Agency

Autore:
_agares_

»
Visualizzazioni:
2374
Live Report
Era da molto che si vociferava della venuta dei Decapitated nella capitale, e non appena ho avuto la conferma di queste voci, metalwave mi spedisce al concerto in questione, concerto tenutosi in quel del Circolo degli Artisti.
Accompagnato dall'insostituibile compagno di concerti Scolopendra ci rechiamo in loco ed il primo essere umano (?) che ci troviamo di fronte è il buon vecchio Benjo conosciuto su mIRC come Haunted :)

Il baldo giovane ci raconta del concerto dei Kreator e si parla del più e del meno quando ormai l'ora era giunta e ci addentriamo nei meandri del locale attendendo che il primo gruppo salga sul palco.
Serata interamente dedicata al metal estremo polacco, musica che a mio avviso ha ormai forgiato un sound personale dettato dai maestri Vader e ripreso in seguito da Behemoth e Decapitated e via dicendo.

Aprono le danze i Crionics un empio combo dedito ad un black metal non troppo ortodosso, alternando un riffing che sfocia sul black più classico al death-thrash a strutture più o meno articolate alla emperor (la cover di the loss and curse of reverence è stata molto piacevole n.d.r.) La sezione ritmica, molto compatta e dei bellissimi suoni hanno agevolato molto l'ascolto dei polacchi i quali hanno pensato a riscaldare l'atmosfera del locale ricevendo ottimi consensi dal pubblico.

Secondo giro ed eccoci al turno degli Hate come ho già detto prima sempre made in Poland. Mi stupisco ancora dei bei suoni che hanno tirato fuori i fonici, veramente un bel lavoro, per la prima volta ad un concerto metal sento il basso!
Gli Hate propongono un death metal sicuramente influenzato dai Vader. Unica pecca della band forse la batteria non molto affiatata e dinamica cosa comunque che non ha sfigurato vista la cristallinità dei suoni. Il sound del gruppo è caldo e massiccio e il loro riffing a volte sfocia nel Black per poi riprendersi negli stilemi classici del death metal.

Contiua il massacro con i Dies Irae, super band formata da membri dei Vader, Devilyn e Sceptic. La band è molto simile ai Decapitated sulle sonorità ma più che altro sulle strutture, sul riffing che alternano le due asce. "Beyond all Dimensions" è l'opener, continuano con "The Hunger", "Comrade of Death" e via discorrendo con "Zohak", "Sirius B" ecc...
Dies Irae veramente in forma, potenti e molto groovy. Gli spettatori reagiscono pogando e come si usa dire quì a Roma: "se fomentano 'na cifra". Probabilmente il gruppo migliore della serata.

Gli headliner, i Decapitated salgono sul palco solo dopo qualche minuto di attesa visti i problemi di tipo tecnico che si sono susseguiti dopo la performance dei Dies Irae. Per un momento ho pensato che ci fosse stato qualche guasto agli ampli o alle spie ma fortunatamente era solo un questione di surriscaldamento risolta con poco.
Il Combo sale e noto con rammarico che sono solo in quattro. Ebbene si, una chitarra solamente. Ho pensato: Non puoi riproporre cd come "Nihility" con una sola chitarra (e con un basso a sei corde pressocchè inutile) Comunque sia, i ragazzi si danno da fare sul palco e riscaldano l'ambiente, me compreso lanciando assalti feroci: "Nihility" "Spheres of Madness" eseguite alla perfezione, stacchi metronometrici e unA precisione veramente incredibile nei cambi. Si passa a "The Fury" e qualche ritorno a "Winds of Creation" ora mi sfugge il nome del brano da loro eseguito :p

Sicuramente uno dei migliori concerti che abbia visto a Roma, tutto merito dei fonici ovviamente Grind On!
Immagini della Serata
Recensione di
_agares_
Articolo letto
2374
volte.
Articoli Correlati