Ibridoma «Lady of Darkness» (2005)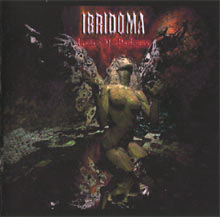 Autore:
BurdeN

»
Recensione Pubblicata il:
--
Visualizzazioni:
2378
Band:
Ibridoma




Titolo:
Lady of Darkness
Nazione:
Italia
Formazione:
batteria : Alessandro Morroni
chitarra ritmica : Pietro Alessandrini
chitarra solista : Simone Mogetta
basso : Lorenzo Petrini
voce : Christian Bartolacci
Genere:
Durata:
26' 12"
Formato:
Data di Uscita:
2005
Etichetta:
Distribuzione:
---
Agenzia di Promozione:
---
Recensione
Molto interessante questa band nostrana chiamata Ibridoma, a dire la verità dopo aver visto la copertina ero sicuro di trovarmi di fronte ad una proposta musicale incentrata maggiormente su sonorità estreme, ed invece sorpresa! Poiché mi sono ritrovato al cospetto di un signor hard rock, venato qui e lì da spruzzi di heavy metal classico, abbastanza melodico ed orecchiabile, molto trascinante, a tratti direi AOR.
In più prima di inoltrarmi più specificamente nella descrizione del demo vorrei spendere due parole per fare i complimenti alla band per l'ottima qualità sonora di questo demo intitolato "Lady of Darkness", pulita e cristallina, calza a pennello con lo stile suonato, sicuramente una nota di merito in più.
Bene, ora veniamo alla musica, il cd si apre subito con un mid tempo roccioso, ma al contempo molto orecchiabile e trascinante, si avvertono facendo attenzione una certa e piacevolissima influenza proveniente dagli ultimi Vision Divine, nello specifico quelli più rilassati e "dolci".
Ma per quanto mi riguarda è con la seconda traccia, "Cool Rain" che gli Ibridoma riescono a mettere in mostra le loro doti melodiche, chitarre acustiche e ritornelli che sanno tanto di ballata rock risultano molto trascinanti e coinvolgenti, non è di certo questa la canzone che cambierà la storia della musica, a dire il vero non è l'originalità il punto di forza del gruppo, ma poco importa quando ci sono le capacità per scrivere buona musica, come nel caso loro.
Con la seguente title track l'atmosfera si fa più malinconica, la musica diventa più cupa, i ritmi rallentano per trascinarsi in ambienti tristi e malinconici senza per questo risultare stucchevoli o noiosi, ma è con "Old Desire" che il discorso torna su tonalità più allegre, con un frizzante e robusto hard rock molto anni 80, il tutto impreziosito da arrangiamenti di Maiden-niana memoria.
Il cd si chiude con "Heavy Fire", un nome che di per se è tutto un programma, ed è proprio in questa occasione che l'influenza degli Iron Maiden emerge in tutta la sua forza, basta ascoltare il giro di basso iniziale per capire cosa intendo dire, sembra di sentire la band di Steve Harris nei momenti più epici e ricchi di phatos, complice anche un riff up tempo che ogni tanto fa capolinea questa canzone risulta molto scorrevole, di certo anche in questo caso non siamo di fronte ad un monumento di originalità ma comunque sia poco male, stiamo sempre parlando di una proposta musicale molto piacevole, indirizzata a tutti gli amanti di quello stile a cavallo fra hard rock e metal, nella sua accezione più melodica, debutto niente male, se posso dare un consiglio è quello di cercare soluzioni più personali, osare un po' di più insomma, le capacità si sono tutte.
Track by Track
Night Falling

68

Cool Rain

72

Lady of Darkness

70

Old Desire

65

Heavy Fire

70
Giudizio Confezione
Qualità Audio:

75

Qualità Artwork:

80

Originalità:

65

Tecnica:

70
Recensione di
BurdeN

»
pubblicata il --. Articolo letto
2378
volte.
Articoli Correlati