Ibridoma «Ibridoma» (2010)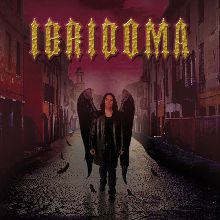 Autore:
Maglor

»
Recensione Pubblicata il:
--
Visualizzazioni:
2310
Band:
Ibridoma




Titolo:
Ibridoma
Nazione:
Italia
Formazione:
Christian Bartolacci: Voce
Marco Vitali: Chitarra
Simone Mogetta: Chitarra
Leonardo Ciccarelli: Basso
Alessandro Morroni: Batteria
Genere:
Durata:
50' 13"
Formato:
CD
Data di Uscita:
2010
Etichetta:
Distribuzione:
---
Agenzia di Promozione:
---
Recensione
Dopo ben tre anni dal loro riuscito EP "Page 26", ecco tornare gli Ibridoma con il loro primo full lenght, full lenght che porta il medesimo nome della band. Lo stile proposto è un metal classico dai colori scuri, che richiama alla mente certe sonorità della NWOBHM e del power germanico meno happy, caratterizzato dalla particolare timbrica vocale di Christian Bartolacci, pulita e affilata, che certo potrà non incontrare il gusto di tutti, ma che rappresenta indubbiamente un carattere distintivo della band.
Dal punto di vista formale "Ibridoma" è ben fatto, con discreti suoni, anche se forse un poco artificiali, e una prestazione dei singoli di buon livello.
Parlando delle composizioni, i nostri non inventano nulla di nuovo, ma riescono comunque nella non facile impresa di riproporre con personalità un genere che ha dato e detto molto, giocando anche la carta di un riuscito pezzo in lingua italica, "Ibrido" (oltre che la versione con testo alternativo in italiano di "Jenny" come ghost track al termine di "Lady of Darkness"). Atmosfere sulfuree e melodie cupe aleggiano per tutto il disco, sottolineate anche dai buoni arrangiamenti e armonizzazioni, sia di chitarre che di una tastiera mai troppo invadente.
Il livello medio dei brani è buono ed al mio orecchio i pezzi più riusciti sono l'opener "Red", l'aggressiva "Alone in the Wind", e la melodica "Night Falling".
"Ibridoma" è quindi sicuramente un lavoro riuscito, dedicato a tutti coloro che si cibano di metal classico, come già detto non ci si deve aspettare che la rivoluzione del metallo passi da qui, ma sicuramente abbiamo tra le mani un lavoro fatto con passione e fatto bene, e non è poco.
Track by Track
Red

75

I'm Not Sorry

70

Ibrido

70

Alone in the Wind

75

Jenny

70

Night Falling

75

Night of Crow

70

Page 26

70

Lady of Darkness

70
Giudizio Confezione
Qualità Audio:

70

Qualità Artwork:

70

Originalità:

70

Tecnica:

70
Recensione di
Maglor

»
pubblicata il --. Articolo letto
2310
volte.
Articoli Correlati