Ibridoma «Page 26» (2008)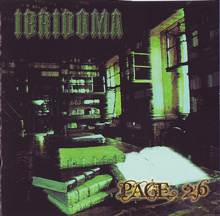 Autore:
Maglor

»
Recensione Pubblicata il:
--
Visualizzazioni:
2506
Band:
Ibridoma




Titolo:
Page 26
Nazione:
Italia
Formazione:
Alessandro Morroni: Batteria
Christian Bartolacci: Voce
Lorenzo Petrini: Basso
Marco Vitali: Chitarra Solista
Simone Mogetta: Chitarra Ritmica
Genere:
Durata:
27' 15"
Formato:
Data di Uscita:
2008
Etichetta:
Distribuzione:
---
Agenzia di Promozione:
---
Recensione
Gli Ibridoma sono una band nata nel 2001 con all'attivo un EP, uscito nel 2005 e dal titolo "Lady Of Darkness", e che si presenta oggi al pubblico con altri cinque pezzi di metallo cadenzato e dai toni crepuscolari che come stile mi hanno ricordato gli Angel Dust più cupi.
La resa sonora di questo "Page 26" è buona, con tutti gli strumenti al loro posto e una bella compattezza finale. La prova dei singoli, pur senza brillare per preziosismo tecnico (cosa che nel genere proposto non è comunque affatto richiesta), è buona con la sezione ritmica che non perde un colpo e dà ai brani un eccellente tiro. Va detto però che si sarebbe potuto curare di più, sia a livello sonoro che di esecuzione, le parti soliste di chitarra, non sempre all'altezza dei brani proposti. Convincente il lavoro di Christian Bertolacci dietro al microfono: il singer infatti possiede e utilizza in maniera efficace una voce particolare, che per timbrica mi ha ricordato quella di Brian Molko e che dà un tocco di personalità in più al lavoro.
Veniamo ora ai brani. I nostri, come ho già accennato, propongono un metal cadenzato dalle atmosfere cupe dove la ricerca di armonizzazioni, buoni arrangiamenti e melodie sulfuree convincono per tutta la mezz'ora scarsa di durata del disco anche se mi lasciano un po' perplesso i cambi di tempo in "Angels From Hell" e "Dreams on The Past", i quali risultano forse forzati soprattutto al primo impatto. Una menzione particolare va alla opener "Alone in the Wind", dove le melodie coinvolgenti si integrano perfettamente con l'atmosferico e mai invadente lavoro di tastiera del guest Daniele Rossi, e la malinconica ballad Juliet.
Un "peccato" a livello compositivo in realtà c'è, ma per fortuna si tratta solo di un "peccatuccio veniale" ed è costituito da un'eccessiva staticità dei brani che, se su cinque pezzi non pesa affatto e dà una piacevole sensazione di compattezza, in una prova sulla lunga distanza rischia di penalizzare la resa globale.
Un buon lavoro quindi per gli Ibridoma che si mostrano essere una band in grado di rielaborare con tocco personale delle sonorità estremamente classiche realizzando un prodotto che, seppur non privo di qualche difetto che col tempo si potrà certamente correggere, si lascia apprezzare a tutti i livelli.
Track by Track
Alone in the wind

80

Page 26

70

Angels Frome Hell

75

Dream on The Past

70

Juliet

80
Giudizio Confezione
Qualità Audio:

80

Qualità Artwork:

65

Originalità:

75

Tecnica:

70
Recensione di
Maglor

»
pubblicata il --. Articolo letto
2506
volte.
Articoli Correlati