Winterage «Winterage Ep» (2011)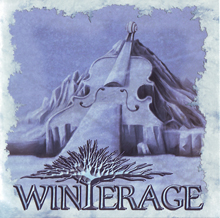 Autore:
reira

»
Recensione Pubblicata il:
--
Visualizzazioni:
1852
Band:
Winterage





Titolo:
Winterage Ep
Nazione:
Italia
Formazione:
Gabriele Boschi - violin
Dario Gisotti - keyboards, whistles, uilleann pipes
Riccardo Gisotti - guitars
Matteo Raganini - bass
Davide Bartoli - drums
Genere:
Durata:
30' 35"
Formato:
CD
Data di Uscita:
2011
Etichetta:
Distribuzione:
---
Agenzia di Promozione:
---
Recensione
I Winterage si formano nel 2008 attraverso l'idea comune di Gabriele (violino) e Dario (tastiera); al duo si aggiunge anche Riccardo (chitarra) e da quel momento i ragazzi si danno da fare sia per comporre musica propria sia per la ricerca di altri componenti. Tra il 2009 e il 2010, Davide (batteria) e Matteo (basso) si uniscono alla band, la quale ha finalmente la possibilità di esibirsi e farsi conoscere nella zona (Genova). La musica dei Winterage ha una base derivata dal power metal, ma accoglie in sè melodie barocche, medievali, folk, celtiche, nonchè delle influenze di epic e progressive metal: insomma un bel miscuglio! La peculiarità di questo gruppo è sempre stata l'assenza di parti vocali comunque abilmente sostituite dalla presenza del violino, tuttavia questa attitudine si modifica parzialmente con questo Ep, il primo lavoro dei cinque ragazzi liguri, il quale vede la collaborazione vocale di Daniele Zampello e Silvia Traverso, oltre a quella di Giacomo Biagi (violoncello) ed Elisabetta Boschi (flauto).
L'album inizia con "Wrath Of Revenge", una sorta di capolavoro che si dilunga per più di otto minuti; è una traccia molto epica direi, in cui due voci molto diverse si intrecciano alla melodia ben studiata del violino. Ecco, direi che a fare la differenza è proprio la presenza di quest'ultimo, suonato in maniera eccezionale! "Ancient Forces" è qualcosa di interessante, un misto tra folk e musica celtica, diciamo che ascoltare la prima parte di questo pezzo significa fare un enorme salto nel passato: decisamente è qualcosa di atmosferico! La seconda parte è un po' più metal, mi hanno ricordato i Nightwish agli esordi, quando ancora si permettevano di sperimentare. Con "Beltain" ritorniamo a sonorità epic metal, l'alternarsi di momenti energici a quelli di calma e dolcezza permette di entrare in sintonia con la band e di apprezzare completamente il loro lavoro; in "Power In My Veins" figurano nuovamente Daniele e Silvia, il ritornello è accattivante e, ancora una volta, la band riesce a intrecciare con estrema bravura gli stili che ho citato qualche riga precedente. "The Kings Of Fairies" alterna momenti di calma, basati sul suono del flauto e cornamusa, a momenti di energia in cui il violino sovrasta la chitarra: è un pezzo che va assaporato con il volume al massimo. "Kingdom Of Twilight" è un brano veloce, intenso e, per l'ennesima volta, troviamo conferma dell'originalità e delle capacità band in quanto musicisti e compositori.
Non credo di dover aggiungere molto a quanto ho scritto finora. I Winterage sono un gruppo "giovane", sconosciuto, ma con un grandissimo talento. La loro musica è qualcosa di magico e, per alcuni versi, sorprendente. Questi ragazzi sanno quello che vogliono e si impegnano seriamente per ottenerlo. Reputo interessante l'aggiunta di parti vocali all'interno di alcune tracce e spero che, in futuro, ciò non venga a mancare. Ho trovato le melodie piacevoli e ben studiate; come detto in precedenza, ho riscontrato leggeri accostamenti con i primi Nightwish. Personalmente, credo che questo cd verrà accolto positivamente da tutti gli amanti di sonorità ricercate.
Track by Track
Wrath Of Revenge

80

Ancient Forces

85

Beltain

80

Power In My Veins

75

The Kings Of Fairies

85

Kingdom Of Twilight

85
Giudizio Confezione
Qualità Audio:

85

Qualità Artwork:

75

Originalità:

90

Tecnica:

90
Recensione di
reira

»
pubblicata il --. Articolo letto
1852
volte.
Articoli Correlati