Winterage «Forest Of Consciousness» (2012)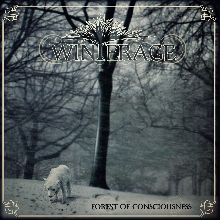 Autore:
MrSteve

»
Recensione Pubblicata il:
--
Visualizzazioni:
2140
Band:
Winterage





Titolo:
Forest Of Consciousness
Nazione:
Italia
Formazione:
Daniele Barbarossa - Voce
Silvia Traverso - Soprano
Gabriele Boschi - Violino
Dario Gisotti - Tastiere, Whistles
Riccardo Gisotti - Chitarre
Matteo Raganini - Basso
Davide Bartoli - Batteria
Genere:
Durata:
7' 2"
Formato:
CD
Data di Uscita:
2012
Etichetta:
Distribuzione:
---
Agenzia di Promozione:
---
Recensione
Scommetto che a voi metallari, che siate morbosi amanti delle frattaglie o nobili guerrieri nordici, il nome Winterage non dice granchè. Forse, se siete di Genova e frequentate i concerti della zona, avete sentito di un gruppo prevalentemente strumentale che fa power metal guidato da un violino classico,e l'avete lasciato li.
Beh, avete fatto male.
Con nemmeno abbastanza canzoni da farci un intero album nella loro discografia, gli Winterage sono diventati quasi subito uno dei miei gruppi undergrond preferiti, e questo nuovo singolo conferma che la loro evoluzione è costante e che continuerà ancora in futuro. Partiamo dal cambiamento più evidente: con questa canzone, da gruppo esclusivamente strumentale che erano, i ragazzi si sono definitivamente lanciati nel magico mondo della voce, dopo averci già tentato precedentemente con Power in my Veins (con risultati abbastanza scarsi). Stavolta, invece di un'improvvisato coretto hanno arruolato Daniele Barbarossa, un vero e proprio cantante le cui doti canore non saranno tecnicamente eccezionali ma spiccano per personalità, che sia in un contesto oscuro e tetro che nelle parti più power che si alternano nella canzone. Sembra infatti trovarsi perfettamente a suo agio, scambiando efficacemente battute con una soprano femminile, in quest'alternarsi tra piano lento e violino e vigoroso power metal orchestrale. Il pezzo farà anche parte della colonna sonora di Extreme Jukebox, film horror nostrano di prossima uscita, e il ruolo si comprende appieno ascoltando le parti più atmosferiche in cui il dialogo tra piano e violino riesce a strappare veri brividi. La produzione non è perfetta, ma poco ci manca.
Un brano di classe, elegante, con qualche piccola imperfezione ma in grado di soddisfare tutti gli appassionati del metal e fare la gioia di amanti del power e delle sonorità più vicine a queste festività terrificanti. Ed è anche in download gratuito attraverso Soundcloud. Sinceramente, cosa volete di più?
Track by Track
Forest of Consciousness

85
Giudizio Confezione
Qualità Audio:

80

Qualità Artwork:

80

Originalità:

85

Tecnica:

85
Recensione di
MrSteve

»
pubblicata il --. Articolo letto
2140
volte.
Articoli Correlati