METALITALIA.COM FESTIVAL 2017: aggiunti GRAND MAGUS, SECRET SPHERE, MORTUARY DRAPE, NECROMASS e altri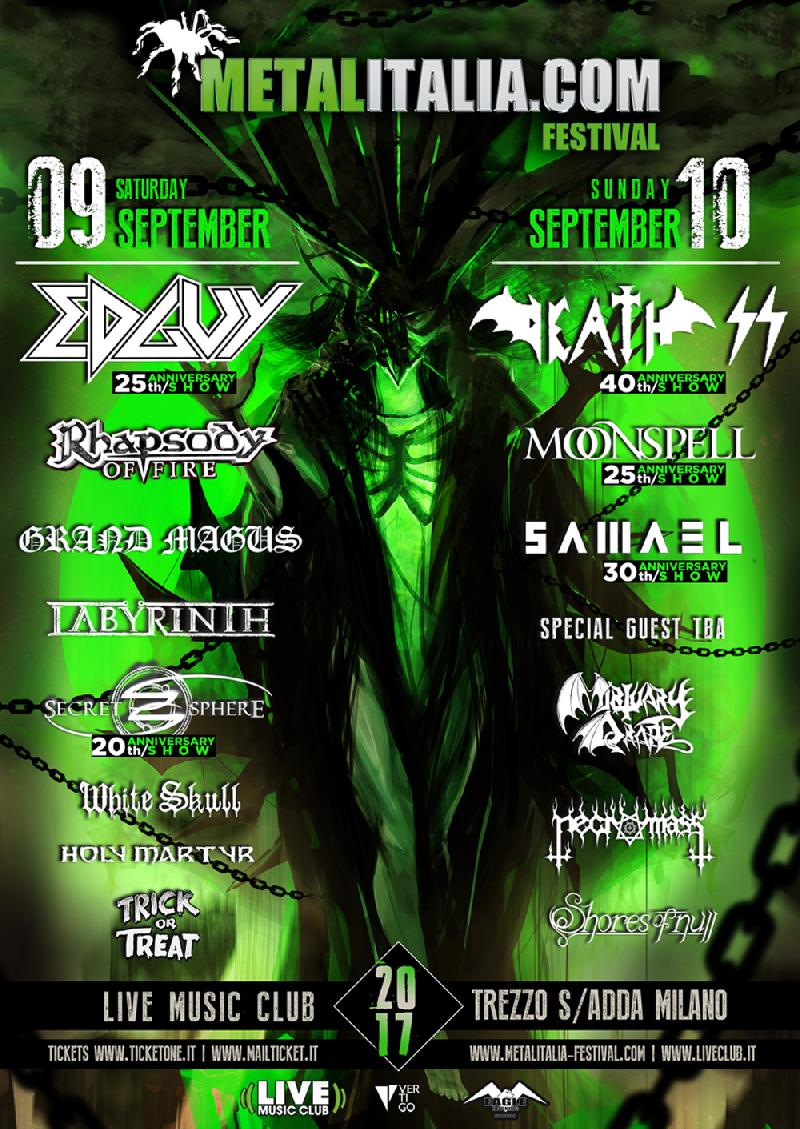 Dopo il lancio della due giorni del Metalitalia.com Festival 2017 in programma al Live Club di Trezzo sull'Adda per i giorni 9 e 10 settembre, Metalitalia.com, Vertigo ed Eagle Booking sono liete di annunciare le nuove aggiunte per il festival!
SABATO 9 SETTEMBRE
A fianco dei già annunciati EDGUY, RHAPSODY OF FIRE e LABYRINTH, avremo l'onore di ospitare gli epic doom metaller svedesi GRAND MAGUS, forti di una carriera ormai quasi ventennale e otto album con i quali hanno saputo forgiare un sound corposo, epico, battagliero e carico di atmosfere solenni ed evocative. Prima di loro si esibiranno i Nostri SECRET SPHERE in uno show che celebrerà il ventennale della band con una carrellata di classici affiancati da alcuni estratti del nuovo album "The Nature Of Time". Altre tre saranno le realtà italiane chiamate ad infiammare il palco già dal pomeriggio: gli storici WHITE SKULL, i TRICK OR TREAT e l'atteso ritorno dal vivo degli HOLY MARTYR!
DOMENICA 10 SETTEMBRE
Dopo gli show speciali di DEATH SS, MOONSPELL e SAMAEL, abbiamo l'onore di annunciare un'accoppiata che ha fatto la storia del metal occulto italiano: MORTUARY DRAPE e NECROMASS. Le due band saliranno sul palco del festival con la loro intera produzione scenografica per due show indimenticabili. Ad aprire la giornata gli SHORES OF NULL, melodic death-doom metal band che sta raccogliendo sempre più consensi sia in Italia che all'estero.
Rimane solo un'altra grande sorpresa per questa giornata e vi invitiamo ad aspettare il prossimo ed ultimo annuncio!
METALITALIA.COM FESTIVAL 2017:
Sabato 9 settembre 2017
EDGUY (25th anniversary special show)
RHAPSODY OF FIRE
GRAND MAGUS
LABYRINTH
SECRET SPHERE (20th anniversary special show)
WHITE SKULL
HOLY MARTYR
TRICK OR TREAT
Domenica 10 settembre
DEATH SS (40th anniversary special show)
MOONSPELL (25th anniversary special show)
SAMAEL (30th anniversary special show)
SPECIAL GUEST Tba
MORTUARY DRAPE
NECROMASS
SHORES OF NULL
Evento Facebook:
http://www.facebook.com/events/2298434727049131/
BIGLIETTI:
I biglietti sono in vendita attraverso Ticketone.it, Mailticket.it e rivendite autorizzate ai seguenti prezzi:
Biglietto singola giornata: 35€ + prevendita, 40€ in cassa
Abbonamento due giornate: 60€ + prevendita, 70€ in cassa
Come in occasione delle precedenti cinque edizioni, il Metalitalia.com Festival offrirà anche un'ampia area esterna dove sarà possibile incontrare gli artisti in meet & greet aperti a tutto il pubblico e nella quale saranno presenti numerosi stand di merchandise, CD, vinili, strumenti musicali, punti ristoro e molto altro. Il Live Club è inoltre provvisto di ampi parcheggi gratuiti e un ristorante al piano superiore, dal quale è possibile assistere direttamente al concerto.
Info:
METALITALIA.COM FESTIVAL
http://www.metalitalia-festival.com
http://www.facebook.com/Metalitalia.comFestival
METALITALIA.COM
http://www.metalitalia.com
VERTIGO
http://www.vertigo.co.it
http://www.facebook.com/vertigo.co.it
EAGLE BOOKING LIVE PROMOTION
http://www.eaglebooking.com
http://www.facebook.com/eaglebooking.livepromotion
LIVE CLUB
http://www.liveclub.it
Inserita da:
Jerico
il 14.06.2017 - Letture:
1382
Articoli Correlati
Altre News di MetalWave