Jumpscare «Three Marks Of Dreams» (2016)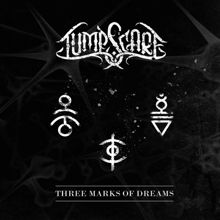 Autore:
Snarl

»
Recensione Pubblicata il:
28.12.2016
Visualizzazioni:
1296
Band:
Jumpscare






Titolo:
Three Marks Of Dreams
Nazione:
Italia
Formazione:
Lorenzo Gallo :: Vox
Vincenzo Mussolino :: Guitars
Salvatore Andrea Ciccarelli :: Bass
Graziano Ciccarelli :: Drums
Genere:
Rock / Metal / Alternative
Durata:
15' 43"
Formato:
EP
Data di Uscita:
2016
Etichetta:
Autoproduzione
Distribuzione:
---
Agenzia di Promozione:
---
Recensione
Ep di debutto per i campani Jumpscare, che ci propongono un metal moderno, molto "core" e anche alternative, che fa uso di voci pulite e parti più pesanti, per un risultato che di base è metalcore, ma che finisce per lambire anche i lidi dei Linkin Park, ad esempio.
L'ascolto di "Three marks of dreams", tuttavia, nasconde luci ed ombre: è chiaramente ascoltabile che la band è giovane, piena di entusiasmo e pure un po' ingenua ed acerba, perché è più che altro "Your Illusion" che funziona senza alcun intoppo, mentre altrove l'equilibrio va a perdersi. Ne sia un esempio una "Broken Lands", che conferma il mood rabbioso ma anche melodico del gruppo, che centra certi passaggi, ma ne aggiunge anche altri e per questo il risultato finale si annacqua per una eccessiva lunghezza del brano che lo rende prolisso e ridondante. E lo stesso discorso va fatto per "Succubus", con la piccola aggravante che questo brano dura 6 minuti e mezzo (decisamente troppo!) e che le melodie si fanno banali per questo.
Insomma: per esperienza posso dire che al debutto si possono fare tre errori: o proponi una roba amorfa e inconsistente, o usi troppe idee rendendo tutto confusionario, o ne usi troppo poche andando sul sicuro e peccando di prudenza. I Jumpscare appartengono a quest'ultima specie: il loro Ep di debutto mostra una personalità musicale ragionata e definita, ma che a volte va perdendosi e che risulta anche un po' appesantita dai fronzoli, finendo per faticare un po' a reggere i 4 minuti e mezzo di durata, e non facendocela affatto in 6 e mezzo. Il mio consiglio è di snellire il sound e soprattutto di andare al sodo in maniera più secca, prima di affrontare l'azzardo di fare un full length. Per ora, comunque, "Three marks..." dimostra potenziale. Da ascoltare per i fans del "core" più melodico e che non disdegna un largo uso di voci pulite.
Track by Track
Broken lands

65

Succubus

55

Your illusion

70
Giudizio Confezione
Qualità Audio:

70

Qualità Artwork:

65

Originalità:

65

Tecnica:

70
Recensione di
Snarl

»
pubblicata il 28.12.2016. Articolo letto
1296
volte.
Articoli Correlati
Interviste
Live Reports
Spiacenti!

Non sono disponibili Live Reports correlati.
Concerti
Spiacenti!

Non sono disponibili concerti correlati.