Jumpscare «Sowing Storms » (2017)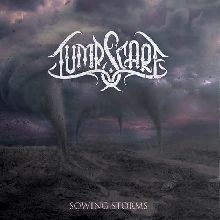 Autore:
Wolverine

»
Recensione Pubblicata il:
14.10.2017
Visualizzazioni:
1784
Band:
Jumpscare






Titolo:
Sowing Storms
Nazione:
Italia
Formazione:
- Lorenzo Gallo :: Voce;
- Salvatore Andrea Ciccarelli ::
Bass Guitar;
- Vincenzo Mussolino :: Guitar;
- Graziano Ciccarelli :: Drums;
Genere:
Metal / Alternative Metal
Durata:
12' 15"
Formato:
CD
Recensione
Sotto l'egida della Volcano Records Promotion, esordiscono i giovanissimi Jumpscare con questo Ep di tre tracce recante titolo "Sowing Storm" caratterizzante sia per il sound nitido che per la discreta soluzione dei brani disposta su un metal alternativo moderno e all'avanguardia; indubbiamente ciò che lascia un po' titubante l'ascoltare potrebbe essere la particolarità del clean cantato, dai tratti quasi esasperati e sin troppo coinvolti ma complessivamente miscelato nel contesto ritmico compositivo dei brani. E' ovvio poi che con tre soli brani non si può in alcun modo addivenire ad un giudizio complessivo proprio a causa della carenza di un'analisi maggiormente approfondita. I tre brani paiono comunque e come si accennava poc'anzi completi ed assolutamente dinamici al punto da rendere impossibile una disattenzione ma un pieno coinvolgimento. "My Purifying Day" con il suo riff particolarmente tenace sviluppa un'andatura ritmica tutta in crescendo offrendo un quadro compositivo assolutamente soddisfacente; la successiva "The Climb" gioca molto sul motivo d'apertura dal sapore quasi commerciale al punto da fare da portabandiera alla band per la modernità e l'intuitività sia del ritornello ritmico che cantato; "Sowing Storm (The Day of You Dark Decay)" è in definitiva un brano potente e allo stesso tempo compatto sotto il profilo ritmico – espressivo. A conti fatti, l'Ep ci presenta una neo band con del carisma ma anche con qualcosa indubbiamente ancora da perfezionare ma che a lungo andare porterà ad indiscussi, buoni risultati.
Track by Track
My Purifying Day

70

The Climb

75

Sowing Storm (The Day of You Dark Decay)

75
Giudizio Confezione
Qualità Audio:

70

Qualità Artwork:

70

Originalità:

75

Tecnica:

70
Recensione di
Wolverine

»
pubblicata il 14.10.2017. Articolo letto
1784
volte.
Articoli Correlati
Interviste
Live Reports
Spiacenti!

Non sono disponibili Live Reports correlati.
Concerti
Spiacenti!

Non sono disponibili concerti correlati.