Hyades «Abuse Your Illusions» (2005)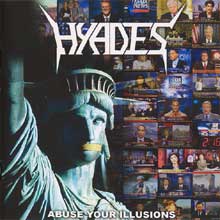 Autore:
Cynicalsphere

»
Recensione Pubblicata il:
--
Visualizzazioni:
2252
Band:
Hyades





Titolo:
Abuse Your Illusions
Nazione:
Italia
Formazione:
Marco Colombo - vocals
Lorenzo Testa - guitars
Marco Negonda - guitars
Roberto Orlando - bass
Mauro De Brasi - drums
Genere:
Durata:
47' 10"
Formato:
Data di Uscita:
2005
Etichetta:
Distribuzione:
---
Agenzia di Promozione:
---
Recensione
Lo abbiamo aspettato a lungo, siamo stati in ansia per lui, così tanto al punto da restare praticamente incollati ai monitor dei nostri pc pur di seguire in tempo reale tutti gli sviluppi sulla sua uscita...ma alla fine è arrivato!! "Abuse Your Illusions", il debutto su lunga distanza dei thrashers milanesi Hyades, irrompe prepotentemente nella discografia underground tricolore, colpendo dritto nel segno come un'autentica mazzata sui denti! E francamente ci voleva proprio! Dopo essere stati inondati per mesi di immondizia pseudo-modernista e modaiola, si torna finalmente a respirare un po' di sano ed incontaminato Heavy Metal suonato come si deve, con l'approccio giusto e senza la tanto sproloquiata ricercatezza stilistica, di cui si comincia davvero a non sentire più bisogno. Del resto la demo collection "No Bullshits...Just Metal", che mi sono trovato tra le mani qualche mese fa, già dava le prime avvisaglie di quale sarebbe stato il messaggio lanciato dai nostri con questo full-lenght. Ora, a distanza di poco tempo, le intenzioni del combo meneghino non solo ci appaiono nettamente più chiare, ma possiamo anche star certi che ogni qual volta l'occhio cadrà sul monicker Hyades sapremo fin da subito quel che c'aspetterà: nessuna concessione all'innovazione, chitarre grezze ed affilate come rasoi, drumming secco ed incalzante...in poche parole, Thrash Metal, signori! Quel tanto bistrattato thrash che molti bimbetti con i pantaloni a vita bassa e magliettine della prima ora definiscono "vecchio e sepolto". Poveri illusi! Ricredetevi di tanta ottusità ascoltando dalla prima all'ultima nota questi quarantasette minuti che Dio Metallo ci ha donato e poi ne riparliamo. E' davvero difficile credere di trovarsi di fronte a degli zombie se, una volta inserito il cd in piastra, ci ritroviamo come opening-track pezzi come "No Man's Land", serratissima ed aggressiva nel suo incedere. Ed è altrettanto improbabile pensarlo, continuando ad assaporare il granitico menù servitoci dagli Hyades, che assieme ad una ormai consolidata base di Thrash made in Bay Area possono vantare di un song-writing per nulla banale ed assolutamente efficace, specie per quel che concerne i testi. Tant'è vero che la maggior parte delle lyrics di "Abuse Your Illusions" sono un'aperta critica al mondo dei media, mistificatore delle masse e ormai noto mezzo di strumentazione politica: un tema piuttosto delicato, che i Nostri sanno comunque affrontare con aperta decisione e sottile ironia. Ed episodi come "Smart Bombs, Dumb War", rivolta ai pluriennali soprusi subiti dalla popolazione irachena, o "Liars", duro manifesto contro le menzogne del presidente Bush, ne sono la diretta testimonianza. Allo stesso tempo però, al quintetto lombardo non manca uno spiccato sense-of-humor e l'autocelebrativa (chiamiamola così) "Hyades" assieme alla più violenta riproposizione di "Fight For Your Right" dei Beastie Boys stanno qui a sottolineare il lato più scanzonato della band meneghina. Ma se tutto ciò ancora non vi basta ed è proprio la sana ignoranza thrash ciò che cercate, mettetevi davanti alle casse e sparatevi in serie "Blameless In the Deathrow", "September, 11" e "Shut the Fuck Up": tre micidiali fucilate per le vostre orecchie! Garantito!
Con dischi del genere incollati al lettore, ogni metal maniac di questo mondo può vivere felice per il resto dei suoi giorni. D'altra parte, se già si gode dell'importante appoggio di un'etichetta come la Mausoleum Records, possiamo star certi che degli Hyades sentiremo parlare ancora e fortunatamente a lungo. In Thrash We Trust!
Track by Track
No Man's Land

90

Smart Bombs, Dumb War

85

Hyades

80

Liars

90

Picture Of a World

80

Blameless in the Deathrow

85

September, 11

85

Shut The Fuck Up

80

Abuse Your Illusions

85

Fight For Your Right

90
Giudizio Confezione
Qualità Audio:

70

Qualità Artwork:

80

Originalità:

60

Tecnica:

80
Recensione di
Cynicalsphere

»
pubblicata il --. Articolo letto
2252
volte.
Articoli Correlati