Hyades «No Bullshit...Just Metal!» (2003)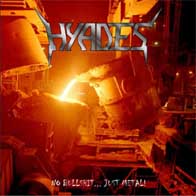 Autore:
Cynicalsphere

»
Recensione Pubblicata il:
--
Visualizzazioni:
2357
Band:
Hyades





Titolo:
No Bullshit...Just Metal!
Nazione:
Italia
Formazione:
Marco Colombo - voce
Marco Negonda - chitarra
Lorenzo Testa - chitarra
Roberto Orlando - basso
Mauro De Brasi - batteria
Genere:
Durata:
33' 34"
Formato:
Data di Uscita:
2003
Etichetta:
Distribuzione:
---
Agenzia di Promozione:
---
Recensione
In attesa del loro nuovo ed imminente studio album "Abuse Your Illusion", torniamo a rinfrescarci la memoria con gli Hyades, una delle band più promettenti del panorama metal nostrano. E per farlo, rispolveriamo dagli archivi questo "No Bullshit…Just Metal!", un cd special edition risalente al 2003, che in sé racchiude i brani presenti nei due precedenti demo in studio della band lombarda, "Hyades" e per l'appunto "No Bullshit…Just Metal!", entrambi datati 2002. Molto curato sia sotto l'aspetto della produzione, che per l'artwork, il cd in questione pone all'attenzione di chi lo ascolta un messaggio chiaro e diretto fin dal suo titolo: NIENTE FRONZOLI! SOLO METAL! Ed è questo quello che più ci piace della musica più bella del mondo. L'impostazione grezza e diretta del sound, l'immediatezza di intenti, la grinta e l'energia che trapela dalle voci, la pesantezza dei riff, le cavalcate di batteria furiose: tutte le caratteristiche che dovrebbe possedere un disco metal con gli attributi e che constatiamo con piacere essere presenti in questo lavoro, ben al di sopra della media qualitativa standard!
Quello degli Hyades è un thrash aggressivo e violento, fatto di accelerazioni da capogiro e massicci riff di chitarra (modello mattonata sui denti, per capirci), influenzato dal power teutonico, senza ovviamente scadere in banalità. Il tutto viene condito poi dal potente ed energico lavoro di Marco Colombo alla voce, singer dalla timbrica ruvida, ma efficace al tempo stesso. Roba che non passa certamente inosservata neanche al più distratto degli ascoltatori! E c'è poco da distrarsi anche nel corso dei trentatre minuti del disco, dove emergono canzoni di qualità indubbia e, artisticamente parlando, molto mature e ben confezionate. Tra gli episodi migliori, sono da segnalare la granitica opening-track "Burning" e la successiva "Sharpen the Iron", dagli influssi metal classici ma sempre fedele al trade-mark aggressivo della band. Non da meno sono poi "Rush of Deathbringers", dove spiccano maggiormente quelle influenze power prima accennate e la conclusiva "Back To the Future", che riprende il tema dell'omonimo film con Micheal J. Fox e Christopher Lloyd.
L'ottima fattura di questo lavoro non lascerà con le mani in mano tutti coloro che sono alla ricerca di un prodotto genuino, interessante, fresco, ma soprattutto duro come il marmo! Fa sempre piacere inserire su un lettore cd una scarica di adrenalina pura lunga più di mezz'ora. E anche le orecchie più intransigenti rimarranno soddisfatte. Un biglietto da visita niente male, anche in considerazione dell'album di prossima uscita, che sicuramente non deluderà le nostre aspettative. A chi non può fare a meno di aspettare, consigliamo vivamente di interessarsi a questo cd, ma i più pazienti sapranno essere ricompensati presto! Se c'è una band da supportare a viva voce, questa porta il nome di Hyades. Da seguire attentamente!
Track by Track
Burning

85

Sharpen the Iron

85

Night Time Remorse

80

Rush of Deathbringers

85

I'm Dynamite

75

Spirit of Vengeance

75

Epitaph

80

Back to the future

85
Giudizio Confezione
Qualità Audio:

80

Qualità Artwork:

80

Originalità:

80

Tecnica:

80
Recensione di
Cynicalsphere

»
pubblicata il --. Articolo letto
2357
volte.
Articoli Correlati