Hyades «The Roots Of Trash» (2009)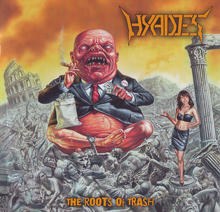 Autore:
Clode

»
Recensione Pubblicata il:
--
Visualizzazioni:
2190
Band:
Hyades





Titolo:
The Roots Of Trash
Nazione:
Italia
Formazione:
Mark Negonda :: Guitars
Lorenzo Testa :: Guitars
Marco Colombo :: Vocals
Jerico Biagiotti :: Bass
Rodolfo Ridolfi :: Drums
Genere:
Durata:
43' 0"
Formato:
CD
Data di Uscita:
2009
Etichetta:
Distribuzione:
---
Agenzia di Promozione:
---
Recensione
Tornano dopo due anni dal precedente "And the Worst is Yet to Come" i Bustesi Hyades, band che si è guadagnata sul campo l'appellativo di Kings of Thrash, e che esce nel 2009 con un disco senza compromessi dal titolo che mette subito in chiaro le intenzioni del gruppo: "The Roots of Trash".
L'album parte sulle note acustiche di Long Way Back Home, che sono un po' come la calma prima della tempesta, infatti la successiva I Belong to No One ci travolge con una furia thrash che mi ricorda i primi Testament.
A.F.M.S ha un inizio che non ti aspetteresti mai di trovare in un lavoro di questo tipo, da quanto è Doom e lento, ma è solo il principio, perché la canzone diviene ben presto violenta, tanto che dopo poco ci si ritrova a cantare con loro "Take a Whisky, Take a Beer!" assieme ad un Marco Colombo più incazzato e sguaiato che mai.
United in the Struggle è un pezzo dall'incedere tipicamente Thrash Bay Area ed è impreziosito da un bell'assolo centrale e, ancora, da un ritornello che ti si ficca nel cervello per non uscirne più.
The Great Deceit inizia con un riff decisamente più moderno rispetto ai canoni del cd, poi la canzone vira verso territori che la band conosce bene, tanto che mi fanno ricordare la bellissima Diciple of the Watch dei Testament; infine verso la metà del brano alcuni riff abbastanza complicati mi riportano alle memoria i Death del compianto Schuldiner… che pezzo ragazzi!
Il riff d'apertura di Still in the Trash mi ricorda alcuni pezzi dei Pantera e lo Stoner dei Down: è un pezzo sì veloce, ma ritmato al punto giusto per fare danni in sede live; mentre Alive But Dead si presenta subito come una vera killer song, dove è ancora la voce di Marco a farla da padrone insieme all'intreccio di chitarre imbracciate da Mark e Lorenzo.
Worse than the Silence ha veramente dei pregevoli stacchi di batteria, opera del tecnico Rodolfo che, insieme al bassista Jerico, porta avanti la sezione ritmica di questo terremotante brano thrash di vecchia scuola.
Anche The Moshing Reel ha delle parti, soprattutto di chitarra e batteria, decisamente più moderne e death rispetto al brano tipo che potete trovare in questo album, e questo è un bene, perché rende il disco molto più fluido e contribuisce alla maggiore diversificazione delle tracce.
Eccoci arrivati all'ultima song del disco, una cover, a dire la verità decisamente inaspettata, perché presa da un gruppo ormai poco metal: gli Offspring, con la loro Come Out and Play che arriva direttamente da quello "Smash" che li ha resi tanto famosi, ovviamente riproposta in chiave thrash e moderna. Direi che l'esperimento è riuscito a dovere, infatti gli Hyades riescono a conferire al pezzo quella cattiveria che mancava ai tempi alla band statunitense.
Alla fine di questa recensione non posso che consigliare a tutti gli amanti del thrash e, perché no, anche a quelli che vogliono ritornare indietro negli anni, quando dalla Bay Area uscivano band che sarebbero diventate, dopo poco, delle vere e proprie leggende: ragazzi, questi Hyades sono indiscutibilmente i loro eredi.
Track by Track
Long Way Back Home

75

I Belong to No One

80

A.F.M.S

85

United in the Struggle

75

The Problem is You

70

The Great Deceit

75

Still in the Trash

80

Alive But Dead

80

Worse Than the Silence

80

The Moshing Reel

85

Come Out and Play

70
Giudizio Confezione
Qualità Audio:

85

Qualità Artwork:

85

Originalità:

70

Tecnica:

80
Recensione di
Clode

»
pubblicata il --. Articolo letto
2190
volte.
Articoli Correlati