BUS 666 FEST 2018: tutti i dettagli della giornata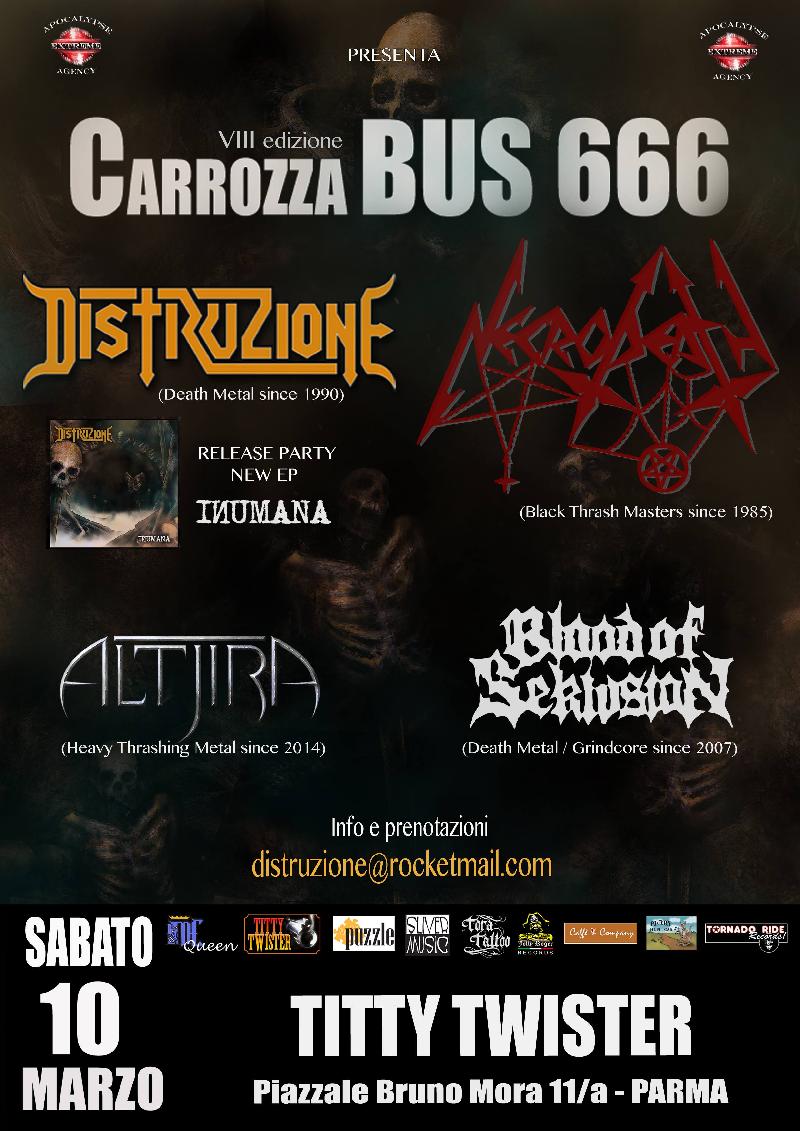 Fervono i preparativi per l'ottava edizione del BUS 666 FEST, previsto per Sabato 10 Marzo. Come da tradizione, il BUS 666 è un giro a tappe per le vie della città di Parma su un bus all'insegna del metal e soprattutto del divertimento. Le bands che andranno a completare il bill del festival sono gli heavy/thrashers parmigiani ALTJIRA e i deathsters modenesi BLOOD OF SEKLUSION.
Al termine del giro a Tappe che partirà alle ore 16:00 dal circolo Arci Titty Twister e che terminerà alle 20:10, dopo un abbondante buffet e i concerti dei ALTJIRA e BLOOD OF SEKLUSION, vedrà l'esibizione dal vivo dei deathsters DISTRUZIONE che ,con il loro stile inconfondibile, sono una vera istituzione per il festival e per gli amanti del death metal e, per questa occasione, presenteranno in esclusiva il loro nuovo Ep "Inumana" edito da JOLLY ROGER RECORDS. A chiudere la serata saranno gli storici black-thrashers NECRODEATH che, dopo il successo della scorsa estate al TrueMetal.it festival "Italian Aggression" Edition, ritornano a Parma e in promozione al loro ultimo lavoro in studio "The age of Dead Christ".
Di seguito il programma della giornata:
ore 16.00- ritrovo al Titty Twister
ore 16.45 -partenza con il bus 666
ore 17.15 -tappa al "Circolo Arci McQueen" con concerto degli Altjira
ore 18.20 -tappa allo "Sliver Studio" con concerto dei Blood of Seklusion
ore 19.20- tappa al "Bar Caffè & Company"
ore 20.10 -ritorno al Titty Twister per la cena a buffet
ore 21.45- concerto Distruzione
ore 22.45- concerto Necrodeath
Al termine dei concerti Dj set old school all nite By Dimitri Corradini
SABATO 10 MARZO 2018
BUS 666
Con:
NECRODEATH
DISTRUZIONE
BLOOD OF SEKLUSION
ALTJIRA
Evento Facebook:
https://www.facebook.com/events/173716006549793/
La quota di partecipazione è di 22 euro a persona e comprende:
tragitto su bus con autista + shots nelle tappe bar + una consumazione e buffet+ pacchetto completo per tutti i concerti
L'ingresso solo per il concerto finale, per chi non partecipa al giro completo è di 10 EURO.
Nei locali "Mc Queen" e "Titty Twister", ingresso riservato ai soci Arci
INFO E PRENOTAZIONI:
distruzione@rocketmail.com
Official Partner
TORA TATTOO STUDIO INK
TORNADO RIDE RECORDS
PERRY HI-FI CAR
Info:
http://www.apocalypseextremeagency.com
http://www.facebook.com/apocalypseextremeagency
http://www.facebook.com/Distruzionedeathmetal
http://distruzione.weebly.com
Inserita da:
Jerico
il 29.01.2018 - Letture:
1011
Articoli Correlati
Altre News di MetalWave
Notizia Precedente
Notizia Successiva