EVO FOR DENIS FESTIVAL 2017: orari e dettagli della quinta edizione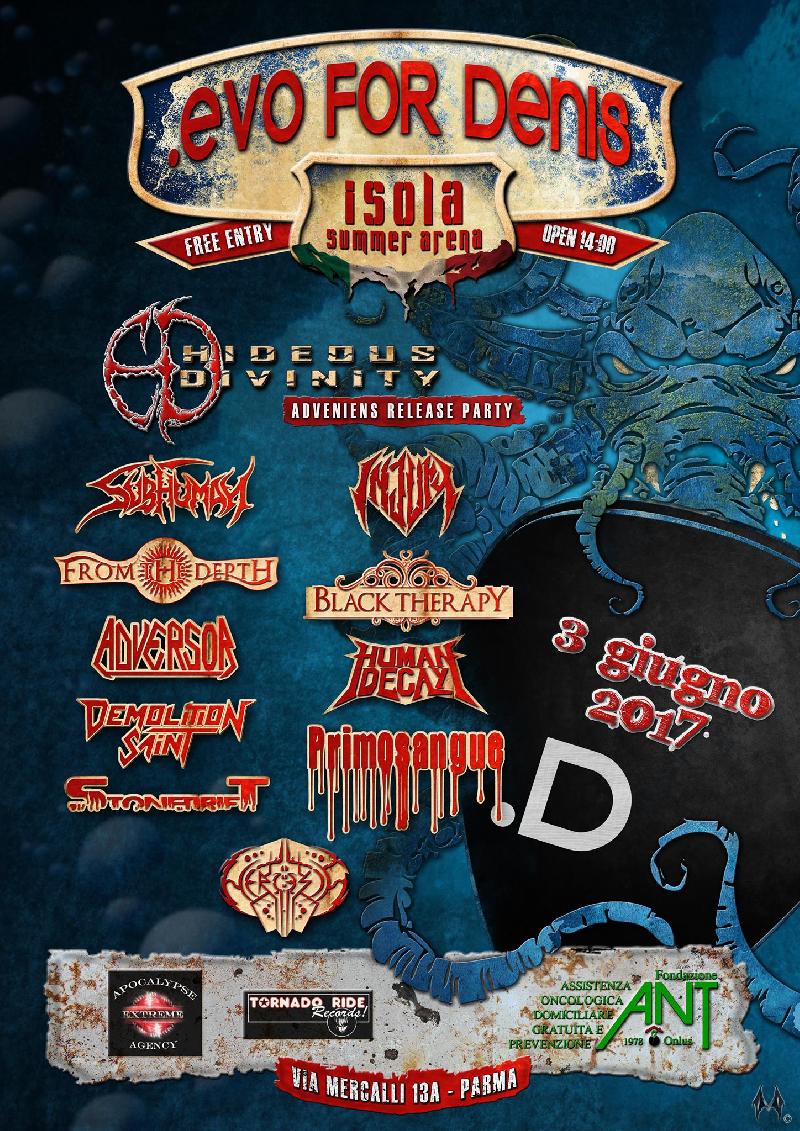 Fervono i preparativi per l'EVO FOR DENIS 2017, festival metal benefico giunto alla sua quinta edizione, organizzato per onorare la memoria di DENIS BARBIERI, amministratore dell'.evoforum scomparso nel 2013. SABATO 3 GIUGNO presso l'ISOLA SUMMER ARENA di Parma, si alternaranno sul palco 11 bands per oltre 9 ore di musica, il tutto ad INGRESSO GRATUITO. Novità di quest'anno è la location rinnovata, infatti i concerti si terranno in un campo da calcio, rivestito da una tensostruttura che coprirà palco e pubblico, completamente aereata, dove si potrà assistere ai concerti al riparo dal sole e da eventuali intemperie.
Di seguito gli orari ufficiali:
23:30- HIDEOUS DIVINITY
22:30- SUBHUMAN
21:30- INJURY
20:30- FROM THE DEPTH
19:30- BLACK TERAPY
18:35- ADVERSOR
17:40- HUMAN DECAY
16:45- DEMOLITION SAINT
16:00- PRIMOSANGUE
15:15- STONEDRIFT
14:30- HERCESIS
Durante il festival sarà possibile fare donazioni che verranno devolute totalmente all'A.N.T. (Associazione Oncologica Domiciliare Gratuita e Prevenzione). Per ogni donazione verrà rilasciato un biglietto numerato, con il quale potrete partecipare all'estrazione di 2 biglietti per il TRUE METAL FESTIVAL -ITALIAN AGGRESSION EDITION, che si terrà a L '8 luglio presso l'Isola Summer Arena con BULLDOZER, SCHIZO, NECRODEATH, STRANA OFFICINA, IN.SI.DIA., DISTRUZIONE, RAIN, GAME OVER e ULVEDHARR offerti da Apocalypse Extreme Agency e Eagle Booking.
Grazie anche a TORNADO RIDE RECORDS, che sarà presente il giorno del festival con il suo stand, sarà possibile inoltre vincere un box 4 CD dei Metallica del mitico live a Torino del 1993, una vera rarità per collezionisti. per vincerlo basta acquistare un biglietto presso lo stand al costo di 5 euro. Tutto l'incasso sarà devoluto all'associazione ANT.
Saranno presenti vari stands con merchandising, dischi, t-shirts, ampio parcheggio gratuito e inoltre sarà possibile mangiare e bere ottima birra.
EVO FOR DENIS V
con: HIDEOUS DIVINITY-SUBHUMAN-INJURY-FROM THE DEPTH-BLACK TERAPY-ADVERSOR-HUMAN DECAY-DEMOLITION SAINT-PRIMOSANGUE-STONEDRIFT-HERCESIS
@ ISOLA SUMMER ARENA
C/O L'ISOLA RISTO BAR
Via Mercalli 13/A
Parma (PR)
Apertura canceli ore 14:00
Inizio concerti ore 14:30
INGRESSO GRATUITO
Evento Facebook
http://www.facebook.com/events/243049772791577/
L'EVENTO SI TERRA' ANCHE IN CASO DI PIOGGIA.
Info:
http://www.apocalypseextremeagency.com
http://www.facebook.com/apocalypseextremeagency
thrashdisasterfest@gmail.com
Inserita da:
Jerico
il 31.05.2017 - Letture:
1634
Articoli Correlati
Altre News di MetalWave
Notizia Precedente
Notizia Successiva