Injury «Unleash The Violence» (2011)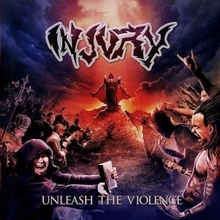 Autore:
HeavyGabry

»
Recensione Pubblicata il:
--
Visualizzazioni:
2177
Band:
Injury




Titolo:
Unleash The Violence
Nazione:
Italia
Formazione:
Mirco Bennati - bass
Andrea Artioli - rhythm guitar
Paolo Menozzi - lead guitar
Gianmarco Agosti - drums
Renato G. Sauro - vocals
Genere:
Durata:
40' 42"
Formato:
CD
Data di Uscita:
2011
Etichetta:
Distribuzione:
---
Agenzia di Promozione:
---
Recensione
Il panorama italiano di label dedicate al metal non è vastissimo, ma non c'è dubbio che mai come negli ultimi anni la passione e dedizione dei pochi elementi verso un lavoro irto di difficoltà ed incertezze si è dimostrata sconfinata. In questa ristretta cerchia rientra di sicuro la Punishment 18 Records, che pesca a piene mani principalmente nell'underground nazionale, sbagliando raramente. Ad un roster già ricco di thrash di tutto rispetto si vanno ad aggiungere gli Injury, giovani promesse che nel giro di soli tre anni dalla formazione hanno guadagnato l'attenzione del pubblico e, appunto, dell'etichetta piemontese.
Bisogna chiarire subito che nel caso di "Unleash The Violence" è inutile prolungarsi in un'analisi track by track, dato che i brani del disco presi uno ad uno potrebbero dire poco, ma ascoltandoli tutti d'un fiato la sensazione è nettamente diversa. Altra cosa da tenere a mente è che l'adorazione verso i fasti thrash del passato da parte di questi ragazzi è praticamente sconfinata, quindi non aspettatevi alcuna innovazione sostanziale. Di nomi se ne potrebbero fare mille, ma nel caso degli Injury questo più che orientare l'ascoltatore avrebbe un effetto controproducente, portando ad un circolo vizioso di paragoni storici. In casi come questi la mortificazione delle proposte attuali va assolutamente evitata, perché la ragione di tanta adorazione c'è, non è un semplice rivolgersi indietro senza curarsi della personalità. Se guardiamo alla preparazione tecnica, all'intesa tra i componenti della band, ad una registrazione raffinatissima che non va a sminuire nemmeno brani volutamente grezzi come "The Execution", ma nel contempo mette in risalto i passaggi di una intricatissima "Fear Of Nothing" (curiosamente lasciata in chiusura assieme a "Denying My Soul", a mio parere i picchi migliori del disco), allora non possiamo liquidare gli Injury come semplici emuli dei loro predecessori tedeschi o americani.
A voler essere cattivi, una nota stonata è nella copertina, fin troppo simile a quella dell'ultimo lavoro dei Deicide, arrivato sul mercato solo pochi mesi prima degli Injury. Ma, tolto questo particolare, possiamo goderci un discreto debutto thrash metal tutto italiano e lasciare il tempo a questa band per evolversi e personalizzare ulteriormente il proprio stile, anche di poco, perché tutti gli altri elementi ci sono già.
Track by Track
Ignorance

80

The Execution

70

Busy Killing

70

Violence Unleashed

75

Messiah Of The Undone

75

Food For Vultures

70

Death Routine

70

Fear Of Nothing

85

Denying My Soul

80
Giudizio Confezione
Qualità Audio:

80

Qualità Artwork:

65

Originalità:

70

Tecnica:

85
Recensione di
HeavyGabry

»
pubblicata il --. Articolo letto
2177
volte.
Articoli Correlati