ROCKINPARK 2015: i dettagli della data milanese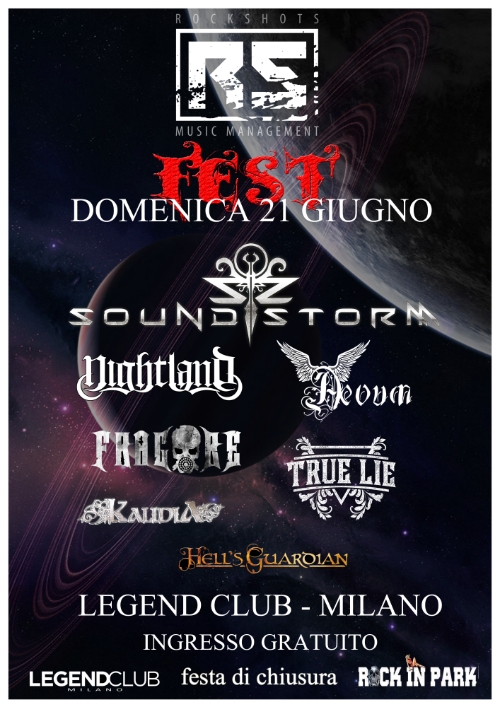 ROCKINPARK 2015 - LEGEND CLUB - MILANO
Domenica 21 Giugno - MILANO - ORE 19.00 | EVENTO Facebook
https://www.facebook.com/events/735411109912349/
INGRESSO LIBERO
SOUND STORM + NIGHTLAND + AEVUM + FRAGORE + TRUE LIE + KALIDIA + HELL'S GUARDIAN
Questa la line up del primo Rockshots Metal Fest che si terrà in occasione della giornata di chiusura della programmazione estiva del Rock in Park il prossimo 21 giugno al Legend Club di Milano
I Sound Storm, dopo l'ottimo successo riscontrato quest'anno in occasione del DragonFest di aprile e maggio in giro per l'Europa, si prenderanno un attimo di pausa nelle registrazioni del nuovo album e saranno gli Headliner dela serata presentando al pubblico italiano la nuova line up condita da alcune grandi sorprese!
La line up del Rockshots Fest si completa con altre 6 bands del nostro roster, Nightland, Aevum, Fragore, True Lie, Kalidia ed Hell's Guardian, un variegato di stili e generi, dal metal più classico a quello più estremo, che potranno soddisfare i palati più esigenti.
All'interno del Legend Club saranno presenti numerosi stand dove potrete incontrare le bands acquistando il loro merchandise, oltre all'intero staff di ROCKSHOTS, che sarà lieto di incontrare nuove band!
Siamo sempre alla ricerca di nuovi talenti da lanciare con il nostro Management, e da produrre con la nostra etichetta ROCKSHOTS Music, quindi non esitate a sottoporci in questa occasione il vostro materiale inedito, vi aspettiamo al nostro stand!
ROCKSHOTS FEST
ROCKINPARK 2015 - LEGEND CLUB - MILANO
Domenica 21 Giugno - MILANO - ORE 19.00 | EVENTO Facebook
INGRESSO LIBERO
ROCKSHOTS FEST 2015- LINE UP
SOUND STORM (Symphonic Metal) Italy |
http://www.powerofsoundstorm.com/
Co-headliner insieme ad Haggard prima nel Symphonic Blast tour (7 date) e ora nel Dragonfest tour
Official Video "Promises"
http://www.youtube.com/watch?v=P9X3rICCX9E
Official Video "Torquemada"
http://www.youtube.com/watch?v=nTbNXYVDay4
NIGHTLAND (Epic Death Metal) Italy |
http://www.nightland.it/
Nuovo album "Obsession" in uscita il 20 Febbraio per Rockshots Music, per la band di Pesaro già in tour con i Fleshgod Apocalypse nel 2014.
Official Video " Icarus":
https://www.youtube.com/watch?v=zwHPEa8mZvU
AEVUM (Gothic Metal) -
http://www.aevumband.com
In tour con Haggard e Sound Storm nel Symphonic Winter Blast tour e ora nel Dragonfest
Official Video "Lost Soul":
http://www.youtube.com/watch?v=jZaqrHxQUL8
FRAGORE (Thrash/Death) |
https://www.facebook.com/FRAGOREOFFICIAL
Thrash/Death dalle radici classiche e dal sound moderno. Prodotto da Ettore Rigotti (Disamonia Mundi, Soilwork, etc.)
Official Live Video - "Resurrection Nemesis"
https://youtu.be/P-v7V8MrrTE
TRUE LIE (Modern Metal) |
http://www.trueliemetal.onweb.it/
Il loro primo disco "At The First Glare Of a Colder Sky" (ToReactRecords, 2014) è stato accolto come un'autentica rivelazione in campo modern metal
Official Video "Just For A While" -
https://youtu.be/Bd4tAF0juM4
Official Video "As The Dawn Broke" -
https://youtu.be/fLdYJ8j1cPQ
KALIDIA (Power Metal) |
https://www.facebook.com/KalidiaBand
Una delle più interessanti power metal band italiane degli ultimi tempi. Sonorità power e sinfoniche impreziosite dalla potente voce di Nicoletta Rosellini.
Official Video "Lies' Device" -
https://youtu.be/yU-3VztyKgU
HELL'S GUARDIAN (Melodic Death/Folk Metal) |
http://www.hellsguardian.com/
Dopo il primo disco "Follow Your Fate" uscito nel 2014, gli Hell's Guardian presenteranno il nuovo materiale al Rockshots Fest dell'ep "Ex Adversis Resurgo" in uscita il prossimo 25 Luglio
Official Video "Aways From My Fears" -
https://youtu.be/zM0XMwU8UEY
Inserita da:
Jerico
il 15.06.2015 - Letture:
1962
Articoli Correlati
Interviste
Spiacenti!

Non sono disponibili Interviste correlate.
Concerti
Spiacenti!

Non sono disponibili concerti correlati.
Altre News di MetalWave
Notizia Precedente
Notizia Successiva